Hyundai Home Shopping Shares Surge in Seoul Debut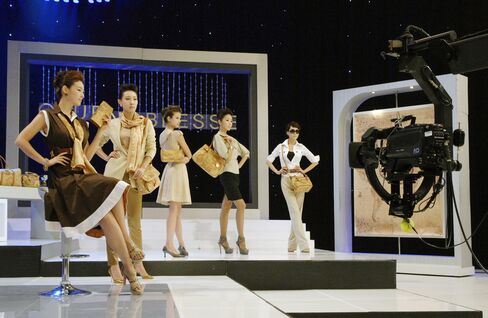 Hyundai Home Shopping Network Corp., partly owned by South Korea's second-biggest department-store operator, surged on its trading debut on demand from investors who missed buying the stock in its initial public offering.
The company advanced as much as much as 48 percent and gained 45 percent to 130,500 won at the close on the Korea Exchange, compared with the IPO price of 90,000 won. The benchmark Kospi stock index added 0.9 percent.
The South Korean home-shopping channel operator raised 270 billion won ($232 million) by offering 3 million shares at the top end of its marketed range. Hyundai Home Shopping will use the funds for capital spending and new businesses, according to an Aug. 25 filing.
"The company's market share gain is likely to continue for a while," Mirae Asset Securities Co. analysts led by Han Kook Hee wrote in a note today. "The company has an efficient cost structure, while its ample cash could be used for new, overseas businesses for long-term growth driver." Mirae started coverage of the stock with a "buy" rating and a share-price estimate of 145,000 won.
South Korean companies have raised 9.4 trillion won in IPOs this year, almost three times the 3.4 trillion won of shares sold last year, according to data compiled by Bloomberg. Hyundai Home Shopping said in a filing its profit last year rose 62 percent to 95.5 billion won.
Retail sales are benefiting from an economy that was forecast by the central bank in July to grow 5.9 percent this year, more than the 5.2 percent estimate in April. Private consumption will probably increase 3.9 percent this year, the central bank said.
The Seoul-based company received bids for 147 times the shares allocated to individual investors in the IPO, said Hyundai Securities Co., which arranged the share sale. HMC Investment Securities Co. and HI Investment & Securities Co. also managed the initial stock sale, while Woori Investment & Securities Co. helped sell the international portion of the shares.