Allied Irish Races to Raise $6.3 Billion After Sale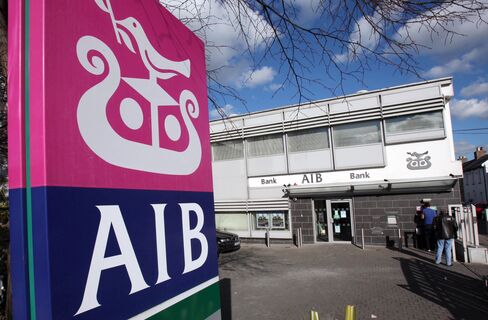 Allied Irish Banks Plc, which raised 2.5 billion euros ($3.2 billion) selling assets in Poland, has got another three months to find twice that much to avoid being taken over by the government.
Ireland's second-largest lender was ordered in March by the regulator to raise 7.4 billion euros by the end of the year, with the Finance Ministry ready to step in if the Dublin-based bank failed. Spain's Banco Santander SA agreed last week to buy Allied Irish's Polish unit, Bank Zachodni WBK SA.
"AIB is like Cinderella at the ball and we are getting close to midnight," said James Forbes, senior equity strategist at Irish Life Investment Managers in Dublin. "The bank got a slightly higher-than-expected price for its Polish businesses, and now it has to move quickly."
Ireland was among the first countries in Europe to react to the financial crisis over the past two years by protecting depositors and then raising taxes and cutting spending to reduce debt. Now the country is being tested again as the government tries to shield the economy from what Standard & Poor's called the "increasing burden" of the banking system.
"Increasing fear of the unknown in relation to the banking system fueled paranoia in the market over the past month or so," said Jim Ryan, a director with Dublin-based Glas Securities, which specializes in bonds. "But we've seen a few pieces of jigsaw fall into place in recent days."
Bond Spread
The premium investors charge to hold Irish 10-year debt over the German equivalent, Europe's benchmark, rose to a record 373 basis points in the past month amid concern that the cost of bailing out the banks would overwhelm the public finances.
That spread narrowed to 338 points yesterday, the lowest since S&P downgraded Ireland's credit rating on Aug. 24, and rose to 343 today.
Banks are grappling with surging bad debts after a decade-long real estate boom ended, with prices falling by 50 percent. Ireland's economy has shrunk about 10 percent in the past two years, the deepest recession in its modern history.
The government nationalized Anglo Irish Bank Corp. last year and pumped a combined 7 billion euros into Bank of Ireland Plc and Allied Irish to help keep them alive. The state already has an 18.77 percent stake in Allied Irish, and said it's prepared to take control if necessary.
Trying Hard
Colm Doherty, Allied Irish's managing director, said Sept. 10 that he got a "tremendous price" for Zachodni in Poland given the "tight timeframe" for raising money.
"Colm will be doing his damnedest to avoid handing over majority of the bank to the government," said Mike Soden, former chief executive officer of Bank of Ireland. "The real problem is what will he be left with after he has sold assets."
Doherty, 52, took the top job in November, succeeding Eugene Sheehy, who resigned. Doherty joined the bank in 1988 and headed up the capital markets unit for a decade.
The Dubliner took over a bank staggering under the weight of surging bad debts. The lender has sold 6.02 billion euros of loans to the government agency set up to assume bad debts at a discount of as much as 48.5 percent. In all, the bank will sell about 20 billion euros of assets, eroding its capital.
To counter that, Doherty is selling its U.K. division, comprising a business bank in Britain and a consumer branch network in Northern Ireland, as well as its 22.4 percent stake in U.S. regional lender M&T Bank Corp., and Zachodni.
State Control
"There's an expectation" in the market that Allied Irish will end up owned by the government, Forbes said. "Though not to the same extent" as Royal Bank of Scotland Group Plc, which is 68.4 percent-controlled by the U.K. government, he said.
Allied Irish can raise 4.5 billion euros from its three foreign assets, leaving a 2.9 billion-euro shortfall, Emer Lang, an analyst with Dublin-based securities firm Davy, said. Doherty said he would approach shareholders and, most likely, the government in the fourth quarter to get more money.
Allied Irish declined 4 cents, or 4.6 percent, to 74.7 cents in Dublin trading, after rising 4.8 percent yesterday. The stock has fallen 71 percent over the last year.
"It's still too early to call" whether Allied Irish can avoid majority state control, said Lang. "It all hinges on how much he can get from the market."