Aer Lingus Deepens Talks With British Airways, Rivals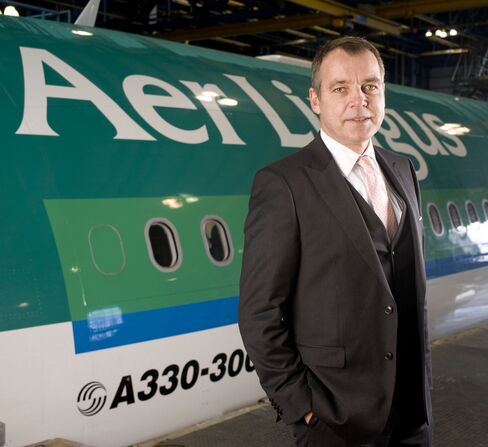 Aer Lingus Group Plc is stepping up talks with Oneworld airline alliance leader British Airways Plc and carriers from the rival Star and Skyteam groups as it seeks to decide which of the three global blocs to join next year.
The Irish company has been in contact with Oneworld, where British Airways is acting as its sponsor, and those negotiations are set to intensify, Chief Executive Officer Christoph Mueller said in an interview. United Airlines and KLM will fulfill the role of intermediaries in discussions with Star and Skyteam.
Aer Lingus's decision is complicated by the roughly equal contribution to revenue of existing agreements with alliance members, Mueller said. It currently codeshares with British Airways on Irish flights to London Heathrow, with KLM on Dutch services and with United on trips to North America and London.
"It's not like selecting a country club according to which one has the most golf courses," Mueller said. "We have to discuss what they can do for us and what can we do for them. We bring the entire Irish market to the table so I think everybody is interested in securing that for their alliance portfolio."
Oneworld is the 11-10 favorite to lure Aer Lingus, Irish bookmaker Paddy Power Plc said today. Star is rated a close second at 5-4, with Skyteam a longer-odds bet at 4-1.
Pricing Issue
Negotiations will include bargaining over fares on offer to Aer Lingus passengers with alliance carriers such as Oneworld's British Airways and Cathay Pacific Airways Ltd. and Star's Swiss International, part of Deutsche Lufthansa AG, the CEO said.
"Oneworld, say, might be the best alliance on paper, from the connectivity we gain and cost synergies," Mueller, 48, said in the interview in London yesterday. "But if we have to pay more for a seat to Melbourne or Hong Kong than I currently pay with KLM I can be a member of an alliance until the cows come home: my Irish customers will book themselves on KLM."
Oneworld has 11 members, including American Airlines, Iberia Lineas Aereas de Espana SA of Spain, with which British Airways plans to merge this year, Australia's Qantas Airways Ltd. and Helsinki-based Finnair Oyj. BA CEO Willie Walsh, chief at Aer Lingus before taking up his current post, is leading a recruitment drive, acting as sponsor for Russia's S7 Airlines, India's Kingfisher Airlines and German operator Air Berlin Plc.
"Being a smaller airline in a larger alliance, usually you're able to leverage that very effectively, so you're happy with that situation," Finnair CEO Mika Vehvilainen said yesterday in an interview in London.
Strategy Switch
Dublin-based Aer Lingus is seeking alliance membership after Mueller, CEO for a year, said in January he'd stop trying to undercut larger Irish rival Ryanair Holdings Plc, Europe's largest discount carrier, and offer frills including better food and faster check-in to customers willing to pay more.
Aer Lingus had been a member of Oneworld until 2006, when it pulled out saying revenue benefits weren't sufficient. The company had sales of 1.21 billion euros ($1.6 billion) in 2009, versus 3 billion euros at Ryanair in the 12 months to March 31.
A 29 percent stake in Aer Lingus held by Ryanair after two failed takeover bids is likely to be an issue in talks but shouldn't hinder the alliance plan, according to Mueller, who says CEO Michael O'Leary has been less vocal in criticizing Aer Lingus's business model in recent months.
"Ryanair is just a financial investor, they are not disturbing us," said the CEO, adding that alliance membership is an executive decision that doesn't need a shareholder vote.
'Scare Off'
In the longer term, Aer Lingus is open to a future ally taking a minority holding but doesn't aim to be taken over, Mueller said. The stake held by Ryanair, which has no alliances and operates routes without connections, might also "scare people off from taking a large shareholding," he said.
Aer Lingus fell 1 percent to 97 cents in Dublin, snapping a four-day gaining streak. That pares the stock's advance this year to 52 percent and values the company at 518 million euros.
Ryanair, up 0.6 percent today, has added 22 percent for a market capitalization of 5.97 billion euros, while British Airways, whose shares are 26 percent higher, is valued at 2.71 billion pounds ($4.2 billion).
Under Mueller, Aer Lingus has secured cost cuts through agreements with unions and adopted a "modular" strategy using the same aircraft to carry business passengers between London and Dublin and tourists to destinations in the Mediterranean.
Aer Lingus may add a second aircraft on the Washington- Madrid route, its only long-haul service not involving Ireland, after the venture with United Airlines turned profitable in five months, Mueller said. The CEO says he's "optimistic" that demand for flights between Dublin and the U.S. will justify adding more seats once the airport's second terminal opens in November.
A slump in traffic to U.K. regional airports has been offset by stronger demand from mainland Europe, he said.
Before it's here, it's on the Bloomberg Terminal.
LEARN MORE