China's Demand May Weaken Case for Holding Back Yuan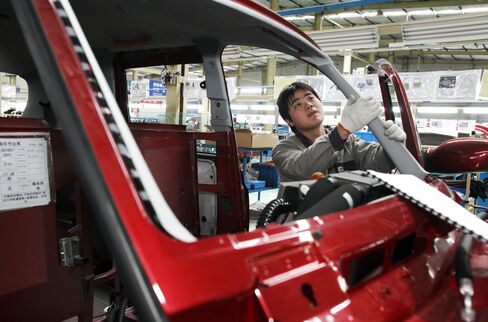 Evidence of strengthening domestic spending in China undermined the case for Premier Wen Jiabao's government to resist a faster pace of currency appreciation days before U.S. lawmakers meet to address the issue.
Industrial production rose 13.9 percent in August from a year before, the most in three months, and retail sales and lending figures topped economists' estimates, statistics bureau and central bank data released Sept. 11 in Beijing showed. Imports also accelerated, in another sign Chinese growth is picking up after a second-quarter moderation.
"Solid domestic demand may ease the government's concern over allowing faster yuan gains," said Wang Qing, Hong Kong- based chief China economist at Morgan Stanley Asia Ltd., who previously worked for the International Monetary Fund. "Widening trade surpluses and intensifying political pressure from abroad" may also spur appreciation, he said.
Policy makers may already be responding, with the yuan touching a record high today as the currency extended gains against the dollar to 0.9 percent since a peg was scrapped in June. Failure to allow further advances risks provoking U.S. legislators to approve a bill offering protection against imports from countries that "misalign" currencies.
The House Ways and Means Committee is scheduled to hold a hearing Sept. 15 on China's exchange rate. The topic may also be addressed at meetings of the Group of 20 major nations next month.
Yuan Outlook
The currency gained 0.06 percent to 6.7650 per dollar as of 9:47 a.m. in Shanghai, according to the China Foreign Exchange Trade System. It touched 6.7568, the strongest level since the central bank unified official and market exchange rates at the end of 1993, according to data compiled by Bloomberg. Non deliverable yuan forwards indicated that increases may be limited to about 1.7 percent in the next 12 months.
Inflation is 1.25 percentage points above the benchmark one-year deposit rate, the latest data showed. So-called negative real interest rates often encourage savers to shift money into assets such as real-estate, sparking risk of bubbles.
Li Daokui, an academic adviser to the central bank, said his personal view is that China should raise deposit rates slightly or let them float, according to an interview transcript posted on a state television website on Sept. 11. A second adviser, Xia Bin, wrote in the China Daily newspaper today that accelerating inflation gives "a perfect opportunity to introduce floating deposit rates."
No 'Imminent' Move
China has so far refrained from following counterparts from South Korea to Malaysia and India in boosting benchmark rates in Asia from world-recession lows. Analysts are divided in their forecasts for when the People's Bank of China may follow suit.
Australia and New Zealand Banking Group Ltd. said Sept. 11 that China should gradually "normalize" rates, initially raising the deposit rate. Credit Suisse AG economist Tao Dong said while he favors higher rates, policy makers may make no "imminent" move, preferring to support growth.
Industrial output growth accelerated for the first time in nine months, excluding seasonal distortions in January and February, an advance that may ease concern the government could overshoot in cooling the economy. Officials' tightening measures have included curbs on credit growth and property speculation and closures of energy-intensive and polluting factories.
$80 Billion of Loans
Economists had anticipated a 13 percent annual rise in production, according to the median of 29 estimates in a Bloomberg News survey, after a 13.4 percent increase in July. Consumer prices jumped 3.5 percent, the most in 22 months, as food costs climbed. Retail sales increased 18.4 percent, partly boosted by rising costs.
The central bank reported August new loans of 545.2 billion yuan ($80 billion) and a 19.2 percent increase in M2, the broadest measure of money supply. Both numbers were above economists' estimates. The rebound in M2 growth was the first in nine months.
The Shanghai Composite Index has climbed 12 percent from this year's low in July on speculation the government may ease tightening measures, which range from restrictions on house purchases to a 7.5 trillion yuan annual limit for banks' new lending.
Bank of America-Merrill Lynch forecasts gross domestic product will expand at least 9.4 percent at an annual pace this quarter and 9 percent in the final three months of the year, aiding the global recovery as elevated unemployment caps U.S. growth.
'Softer Landing'
"Domestic demand is robust and the Chinese economy is heading for a smoother and softer landing than people had feared," said Lu Ting, a Hong Kong-based economist at Bank of America-Merrill Lynch.
The U.S. congressional hearing will include debate on two separate pieces of legislation providing import protection. President Barack Obama, whose chief economic adviser Lawrence Summers visited Beijing last week, has yet to publicly reveal whether he would veto such bills.
Treasury Secretary Timothy F. Geithner, in a Sept. 8 interview with Bloomberg Television, reiterated the administration's view that "we'd like to see them move more quickly" on the exchange rate.
Crisis Policy
If signed by Obama, the legislation could spark retaliation including the sale of U.S. Treasuries by China, Stephen Roach, Morgan Stanley Asia chairman, said last week. China is the biggest foreign holder of U.S. government debt, at $843.7 billion in June.
Among the data released Sept. 11, urban fixed-asset investment grew 24.8 percent in the first eight months of 2010 from a year earlier, after a 24.9 percent gain for January-through-July. Producer price inflation slowed to an annual 4.3 percent pace from 4.8 percent in July. Imports jumped 35 percent from a year earlier. Last month also saw gains in sales of autos, led by SAIC Motor Corp. and FAW Car Co., and property.
"This is a positive set of data which shows the economy has ended its deceleration," said Stephen Green, Shanghai-based head of China research for Standard Chartered Plc. The economy expanded 10.3 percent in the second quarter from a year earlier after an 11.9 percent gain in the first three months of 2010.
Before it's here, it's on the Bloomberg Terminal.
LEARN MORE