Sofia Coppola Conquers Venice With Hollywood-Based 'Somewhere'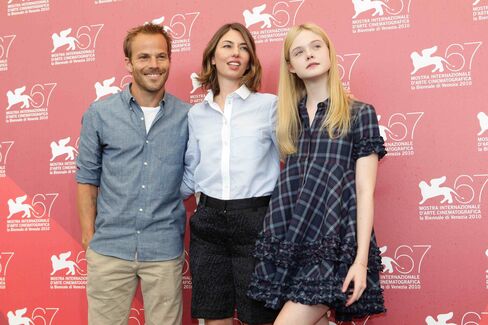 Sofia Coppola followed in her father's footsteps by winning a Golden Lion at the Venice Film Festival, and said she hoped the prize would come as a boost to small-scale movies not shot in 3-D.
Coppola, 39, collected the top trophy on Sept. 11 with "Somewhere," the story of a jaded actor living it up in a Hollywood hotel. Her father Francis Ford Coppola had secured a career Golden Lion in Venice in 1992.
Other U.S. contenders failed to impress jury head Quentin Tarantino and his panel. They included "Black Swan" by Darren Aronofsky, and "Barney's Version" starring Dustin Hoffman.
"She won it fair and square in a complete unanimous vote," said Tarantino after the red-carpet ceremony. "We were enchanted by the movie when we first saw it, but it proceeded to get better and better and better as the days went on."
Coppola, wearing a strapless dress, recalled two other Los Angeles movies she loved -- "Shampoo," from 1975, and "American Gigolo" from 1980 -- and said she was stylistically inspired by the 1960s French New Wave, particularly Jean-Luc Godard. She welcomed the award.
"It's going to help our film," she said, "and also encourage small personal films to be seen -- not in 3D."
"Somewhere" is the tongue-in-cheek portrayal of Johnny Marco (Stephen Dorff), a Ferrari-driving star who runs from any kind of emotional bond. Occasionally, he summons pole dancers to his Chateau Marmont suite, where they appear in pairs and matching outfits.
When his 11-year-old daughter Chloe (Elle Fanning) unexpectedly stays over, she gives him the taste of another life, and makes him question his own.
Natalie Portman
Among the more than 20 other entries, Aronofsky (who won the Golden Lion in 2008 for "The Wrestler" with Mickey Rourke) divided opinion with "Black Swan," a horror movie set in the ballet world and starring Natalie Portman. Its only win: the best young talent prize for supporting actress Mila Kunis.
Hoffman played the part of a TV producer and hockey fanatic in "Barney's Version," directed by Richard J. Lewis.
Julian Schnabel, who snagged four Academy Award nominations for his 2007 "The Diving Bell and the Butterfly," won nothing with "Miral," inspired by the life of his orphaned Palestinian girlfriend Rula Jebreal.
Instead, a Spanish and a Polish director scooped most of the major awards. Spain's Alex de la Iglesia won the best-director and best-script trophies for "Balada Triste de Trompeta" ("A Sad Trumpet Ballad"), the plight of a pair of clowns during the Spanish Civil War.
U.S. Military
Poland's Jerzy Skolimowski bagged the Special Jury Prize for "Essential Killing" -- about a man captured by the U.S. military in Afghanistan who escapes from a secret European detention center to a forest. The movie's male lead Vincent Gallo took the best-actor award.
Honored as best actress was Ariane Labed for the Greek coming-of-age picture "Attenberg" (by Athina Rachel Tsangari).
Festival-goers on Venice's Lido island this year found the venue turned into a building site, as organizers overhauled the complex built by Mussolini to turn it into a year-round convention hub like that in Cannes.
The Hotel des Bains, the setting of Luchino Visconti's 1971 "Death in Venice," was also covered in scaffolding. The sprawling seafront edifice is being converted into a luxury apartment block.
Still, the Lido, with its villas and swaying palm trees, wasn't short on glamour. Catherine Deneuve and Ben and Casey Affleck were three of the many stars who stepped off their speedboats and onto the red carpet.
Before it's here, it's on the Bloomberg Terminal.
LEARN MORE