Ruble Bond Debut to Cut Yield on Foreign Demand: Russia Credit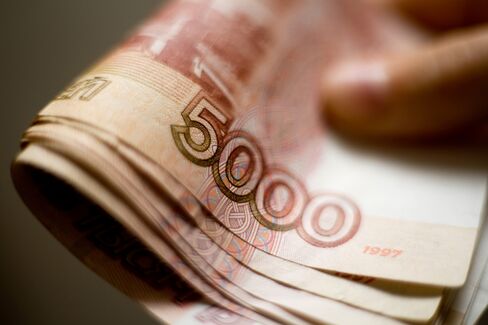 Sept. 13 (Bloomberg) -- Russia's plan to lure international investors to ruble securities through its first overseas sale of local-currency debt may reduce borrowing costs as bondholders snap up emerging-market securities.
The government may sell as much as $3 billion of ruble bonds with maturities of up to five years, Deputy Finance Minister Dmitry Pankin said Sept. 8. The yield may be about 25 basis points below the rate on Russia's domestic bonds known as OFZs, according to Sergey Dergachev, who helps manage $6 billion of emerging-market debt at Union Investments in Frankfurt, and Paul McNamara at Augustus Asset Managers Ltd.
President Dmitry Medvedev is seeking to boost the ruble's place in central bank reserves and diminish the use of the dollar, leading China and Russia to plan trading of each others' currencies for the first time, according to three bankers in China and a statement from the Micex Stock Exchange last week. The 54 percent 18-month rally in emerging-market domestic bonds helped the Philippines, Chile and Colombia raise $2.8 billion this year in international sales of locally denominated bonds, according to data compiled by Bloomberg.
"Demand for the issue is likely to be massive," said McNamara, who oversees $4.9 billion of emerging-market debt at London-based Augustus, including ruble Eurobonds sold by Russian Agricultural Bank. "There's been huge demand for all the global local-currency sovereign issues."
Russia is considering its second sale to international bondholders this year after a 12-year absence since its default on $40 billion of domestic debt in 1998. The government needs to step up borrowing after raising 26 percent of the 1.2 trillion rubles ($39 billion) of domestic debt sales targeted for this year, according to central bank data.
Reserve Currency
The world's largest energy exporter almost tripled its borrowing program from 415.9 billion rubles last year to help plug a budget deficit the government estimates will be equivalent to 5.3 percent of gross domestic product this year. Russia's economy shrank by 7.9 percent in 2009, the most on record.
The government plans to introduce laws by November to allow the sale of ruble-denominated debt abroad, Pankin said. There has been no final decision on the timing of the sale, he said.
Medvedev called for the ruble to become an international reserve currency in a speech at the St. Petersburg International Economic Forum in June and repeated his idea for a supranational currency to replace the dollar in worldwide funding.
Less Volatile
China's central bank sent out a document last week allowing banks to apply for ruble trading licenses and the approval process may take three weeks, according to a banker, who asked not to be identified because the process isn't public.
The Micex Stock Exchange is making preparations to trade the ruble against the yuan in an initiative that has the backing of the country's central bank, Ruben Aganbegyan, the head of the bourse, said at a press conference in Moscow on Sept. 8. Moscow-based United Co. Rusal, the world's biggest aluminum producer, plans to become the country's first company to sell bonds in yuan, Oleg Mukhamedshin, head of capital markets, told reporters in Moscow on Sept. 2.
The ruble Eurobond sale is a "move in exactly the right direction," Sergey Vasiliev, deputy chairman of VEB, the development bank overseen by Prime Minister Vladimir Putin, said at a conference on Sept. 9. "It will help the ruble greatly in becoming a global reserve currency."
Inflation Concern
The ruble, which lost 35 percent of its value in the six months to January 2009 as commodity prices tumbled, has stabilized this year as oil prices rebounded and the economy returned to growth. While the ruble has weakened 1.4 percent versus the dollar this year, swings in the currency are near the lowest since before the collapse of Lehman Brothers Holdings Inc. in September 2008. Implied volatility on one-month dollar-ruble options fell to 8.4 percent on Sept. 10, near the low of 8.1 percent in April, data compiled by Bloomberg show.
The currency's stability has helped companies sell a record 477.3 billion rubles of bonds this year, a 10 percent increase from the same period last year and 25 percent more than in 2008, data compiled by Bloomberg show. The average price of ruble-denominated corporate bonds rose 4.7 percent to 95.81 percent this year, according to the MICEXCBI index of debt securities traded on the Micex Stock Exchange.
The government has sold fewer ruble bonds than planned this year as local investors demanded higher yield premiums than the finance ministry was willing to pay.
The lack of domestic demand for government bonds is "in part due to uncertain inflation prospects," Sergei Voloboev, an economist at Credit Suisse Group AG in London, said in an interview. The Economy Ministry last week raised its forecast for inflation this year to as much as 8 percent from as little as 6 percent, as the country's worst drought in at least 50 years boosts food prices.
Bigger Pool
"Issuance of ruble Eurobonds would offer access to sovereign ruble debt instruments to a much bigger pool of non-resident investors who are naturally more focused on exchange rate prospects than inflation," Voloboev said. "A lot of foreigners who would like to get ruble exposure currently have limited ways of achieving that."
Emerging-market bonds denominated in local currencies have rallied 54 percent in the past 18 months, according to JPMorgan Chase & Co.'s GBI-EM Global Diversified Index. Investors are becoming more confident as the International Monetary Fund forecasts developing economies will expand 6.4 percent as a group next year, almost three times faster than the 2.4 percent growth in advanced economies.
Philippines, Chile
The Philippines attracted at least seven times more orders than the 44.1 billion pesos ($1 billion) of 4.95 percent bonds due 2021 sold last week in the country's debut overseas issue of local-currency debt. Colombia raised the equivalent of $1.3 billion in locally denominated bonds in April and Chile borrowed $520 million in July.
"We continue to see strong demand for ruble debt and issuing sovereign ruble bonds abroad will tap that," said Nikita Gusakov, head of debt capital markets at Citigroup Inc. in Moscow, which arranged the international ruble bond sale for Russian Agricultural Bank in March. "This is a way for market participants to diversify their holdings and, as oversubscription of the Chile and Philippines deals show, there is expectation that emerging market currencies will continue to perform well."
Russian Agricultural
Russian Agricultural Bank, or Rosselkhozbank, the state-owned lender to the farming industry, sold 30 billion rubles of 7.5 percent, three-year bonds to foreign investors in March. The yield was about 7 to 8 basis points below the lender's local debt, Gusakov said. The bonds are yielding 7.410 percent today.
While the Russian government's ruble bond sale is likely to be "huge," demand may be lower than for the Philippines, said Dergachev at Union Investments. The Philippine peso has climbed 9.5 percent against the dollar during the past year. Investor perception of the ruble is "more mixed," said Dergachev.
Bondholders suffered losses after Russia's sale of dollar bonds in April. The government's 10-year dollar notes fell 7.3 percent in their first month of trading in April, the biggest decline among 22 dollar securities offered by emerging nations in 2010. The notes returned to full face value in July, data compiled by Bloomberg show.
"This time the market will not be that happy about such extreme tight spreads in this new ruble issue," Dergachev said. "This issue needs to compensate investors for higher currency risk, supply risk and to restore Russia's issuer reputation in the markets."
The yield on five-year ruble Eurobonds may be 25 to 40 basis points below domestic debt, Dergachev said.
Default Swaps
Russia's dollar bonds due in 2020 gained today, lowering the yield by 3 basis points, or 0.03 percentage point, to 4.618 percent, the lowest level since Sept. 6. The government's ruble notes due November 2014 were unchanged, leaving the yield at 6.85 percent.
The extra yield investors demand to hold Russian debt rather than U.S. Treasuries fell 5 basis points to 205, according to JPMorgan's EMBI+ indexes. That compares with 153 for debt of similarly rated Mexico and 207 for Brazil, which is rated two steps lower at Baa3 by Moody's.
The so-called yield spread on Russian bonds is 69 basis points below the average for emerging markets, down from a 15-month high of 105 in February, according to JPMorgan Indexes.
The cost of protecting Russian debt against non-payment for five years using credit-default swaps fell 3 basis points to 161 today, according to data provider CMA. The contracts pay the buyer face value in exchange for the underlying securities or the cash equivalent should a government or company fail to adhere to its debt agreements.
Currency Hedge
Credit-default swaps for Russia, rated Baa1 by Moody's Investors Service, its third-lowest investment grade ranking, cost the same as the contracts for Turkey, which is rated four levels lower at Ba2. Russia swaps cost as much as 40 basis points less on April 20.
The ruble appreciated 0.6 percent to 30.7300 per dollar by 1:42 p.m. in Moscow today, its strongest level since Sept. 6. Non-deliverable forwards, or NDFs, which provide a guide to expectations of currency movements and interest rate differentials and allow companies to hedge against currency movements, show the ruble at 30.9293 per dollar in three months.
Russian companies have sold 166.6 billion rubles of local-currency bonds overseas since the lifting of capital restrictions in 2006, according to data compiled by Bloomberg. That compares with 2.7 trillion rubles of domestic bonds and $100.1 billion of foreign-currency bonds issued by companies in the same period.
Ruble bonds sold overseas will be "easier to transact for a lot of people," said Jeremy Brewin, who helps manage $1.9 billion of emerging markets assets at Aviva Investors in London. The yield on five-year government Eurobonds in rubles would probably be about 6.5 percent were it to price now, compared with a current yield of 7.2 percent for OFZs on Sept. 10.
To contact the reporter on this story: Denis Maternovsky in Moscow at dmaternovsky@bloomberg.net
To contact the editor responsible for this story: Gavin Serkin at gserkin@bloomberg.net