KNOC to Sell $1 Billion Debt as Asia Buys Resources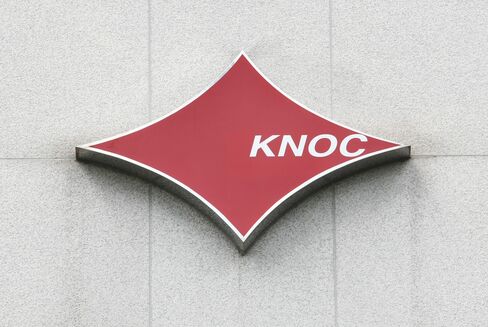 Korea National Oil Corp. , engaged in a $2.6 billion hostile takeover of Dana Petroleum Plc, plans to sell debt to fund acquisitions as Asia's biggest economies compete to secure energy resources.
State-owned energy explorer known as KNOC plans to raise between $500 million and $1 billion selling bonds, said a company spokesman based in Gyeonggi, South Korea, who declined to be identified because the timing and size of the sale haven't been decided. The plan was first reported by the Yonhap News Agency yesterday.
The price of the company's dollar-denominated bonds maturing July 2014 fell to the lowest since July 28 as investors expect the government to allow the sale of new debt. South Korea's government said in January it will "closely monitor" state-run firms' plans for overseas bond sales to prevent a rise in overseas borrowing and volatility in the currency market.
"South Korea has curbed aggressive foreign-currency bond sales to prevent a rapid appreciation of the won, but the government will allow the sale by KNOC to fund acquisitions," Peter Park, a fixed-income analyst at Woori Investment & Securities Co., said by telephone in Seoul. "KNOC's bonds will attract global investors as the country's economy is recovering fast and is more stable than that of European nations."
Bond Price
KNOC's $1 billion, 5.375 percent bonds maturing July 2014 fell to 107.749 cents, the lowest since July 28, according to BNP Paribas prices. The yield rose to 3.229 percent from 3.151 percent on Sept. 10. The dollar has declined 0.5 percent against the won this year.
South Korea, the world's biggest importer of liquefied natural gas, joins China, Japan and India in seeking to buy stakes in the resources needed to boost their economies. State and private companies in the four nations have bid for more than $56 billion worth of energy assets worldwide this year, according to data compiled by Bloomberg.
China Petrochemical Corp. in April paid $4.65 billion, about 20 percent more than analysts expected, for a 9 percent stake in oil-sands producer Syncrude Canada Ltd. Together with Cnooc Ltd., the Chinese oil company may offer at least $7 billion for Brazil oil assets and a stake in OGX Petroleo & Gas Participacoes SA, two people with knowledge of the matter said on Sept. 10.
Sumitomo Corp., Japan's third-largest trading house, aims to increase investments in energy assets by 50 percent to 150 billion yen ($1.8 billion) in five years, Tadashi Kobayashi, energy division general manager, said earlier this month.
Final Offer
KNOC said in a statement last week that its offer of 1,800 pence ($27.64) per Dana share is final, and will only be increased if a competitor emerges.
Dana, based in Aberdeen, Scotland, last month rejected the offer, saying the company is worth at least 18 percent more. Chief Executive Officer Tom Cross declined to say whether a so-called white knight has materialized. Dana shareholders have until Sept 23 to accept the bid.
KNOC last month raised $2.8 billion in term loans from Societe Generale SA, Export-Import Bank of Korea, Korea Finance Corp., Shinhan Bank, Woori Bank, and Kookmin Bank for the bid, according to a filing.
Rating Affirmed
Moody's Investors Service affirmed KNOC's credit ratings after the bid, citing support from the government. Moody's ranks the company's debt at A1, the fifth-highest investment grade. Standard & Poor's has an A rating, one step lower.
The South Korean company is seeking to increase output to about 300,000 barrels of oil equivalent a day by 2012 from 135,000 barrels now. The explorer has said it plans about $6 billion worth of acquisitions and projects this year.
South Korean utilities snapping up stakes in overseas resources development projects and companies include Korea Electric Power Corp., the nation's largest utility, which completed the 4.67 trillion rupiah ($521 million) purchase of a 20 percent stake in PT Bayan Resources on Aug. 19.
The Seoul-based utility is considering a sale of at least $500 million of bonds to fund that takeover, according to two people familiar with the matter. Korea Electric in July also agreed to buy a coal mine in Australia from Anglo American Plc for A$403 million ($373 million).
Before it's here, it's on the Bloomberg Terminal.
LEARN MORE