Euro to Drop More Against Dollar Among Least-Liked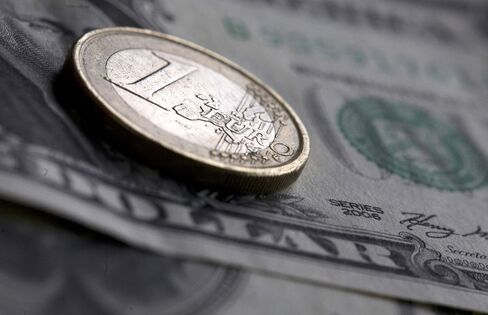 The euro is losing out to the dollar as renewed concern over the solvency of nations from Portugal to Ireland points to another slump for the common European currency.
Hedge funds and other large speculators have increased bets on a weakening of the euro to the highest level in almost two months, according to data from the Commodity Futures Trading Commission. Investors are paying close to the most in three months to insure against losses on Greek and Spanish bonds, while yields on Irish and Portuguese government debt surged to records relative to benchmark German bunds last week.
TD Securities Inc., the most accurate foreign-exchange forecaster in the six quarters ended June 30, and Bank of America Corp. say the euro will drop versus the dollar even as the U.S. economic recovery slows. While a weaker currency would boost German exports, the predictions show that a $950 billion European bailout fund hasn't been enough to shore up confidence amid credit downgrades of Portugal and Ireland.
"Both the euro and the dollar are weak currencies, but the euro-region's problems are more difficult to solve than those in the U.S.," said Derek Halpenny, European head of currency research at Bank of Tokyo-Mitsubishi UFJ Ltd. in London. "It's an ugly contest and the euro's going to win."
Weaker Euro Forecast
The euro slid 1.7 percent to $1.2679 last week, and declined 1.9 percent to 106.72 yen, within 2 yen of the weakest level in nine years. The single currency traded at $1.2862 and 107.74 yen as of 11:12 a.m. in New York today.
The currency shared by 16 European nations will end 2010 at $1.25 and depreciate to as low as $1.22 next year, according to the median forecast of at least 19 estimates compiled by Bloomberg as of last week. It will climb 1.1 percent to 109 yen by year-end, while the dollar will rise 4.9 percent to 88 yen, separate estimates show.
The euro rebounded 12 percent from a four-year low on June 7 through Aug. 6 as investors focused on worse-than-forecast U.S. economic data, while European statistics surpassed predictions. U.S. private payrolls increased a less-than-estimated 71,000 in July, a Labor Department report showed Aug. 6. Germany grew 2.2 percent in the second quarter from the first three months of the year, the fastest expansion in two decades, the Federal Statistics Office said a week later.
The European Union-led financial backstop fended off speculators betting on the euro's breakup as concern over swelling budget deficits sent borrowing costs soaring from Dublin to Athens to Madrid. After plunging in the days following the May 10 announcement, 10-year bond-yield spreads over German bunds have doubled in Ireland, Greece and Portugal.
Rally Fades
The euro's rally slowed as Portugal's debt grade was cut two notches to A1 on July 13 by Moody's Investors Service on prospects for weak economic growth. Standard & Poor's lowered Ireland's credit rating one step to AA- on Aug. 24, citing the rising cost to the government of bailing out Dublin-based Anglo Irish Bank Corp., which S&P said may reach 35 billion euros ($44.7 billion). The Finance Ministry said on Sept. 8 it will split the lender into a so-called good bank and an asset recovery entity.
Signs are also growing that Germany's economy, the engine of euro-region growth this year, is sputtering. Exports unexpectedly fell 1.5 percent in July, while factory orders slid, Federal Statistics Office and Economy Ministry reports showed last week. Labor Department data on Sept. 3 showed companies in the U.S. added more jobs than estimated last month, while July's figure was also revised higher.
Yen Outperforms
"I look at Europe now and say this is what we've been looking for," said John Taylor, who heads FX Concepts LLC in New York, the world's biggest currency hedge fund. "The U.S. payroll data was pretty good. Then the problems with Europe kicked us. That's the story, Europe is kicking us down the hole."
The euro and the dollar have both underperformed the yen, which has gained 13.8 percent this year, according to Bloomberg Correlation-Weighted Currency Indexes.
Japan's currency strengthened as record-low interest rates in the U.S. and Europe made so-called carry trades, in which the yen is sold for higher-yielding alternatives, less appealing. Three-month dollar Libor, a measure of interbank borrowing costs, was 6.3 basis points more than the equivalent yen rate at the end of last week, compared with an average spread of 252 basis points over the past 10 years.
The euro has slid 10 percent this year, while the dollar is 1.5 percent higher, the correlation-weighted indexes show.
Bond Spreads
Futures traders are raising bets the euro will weaken further. The difference in the number of wagers on a decline in the euro compared with those on a gain, or so-called net shorts, was 23,699 on Sept. 7, compared with net shorts of 25,569 a week earlier, the most since the week ended July 16, according to the Washington-based CFTC. They were at 3,731 the week ended Aug. 13, an eight-month low.
Credit-default swaps and the bond market also indicate renewed concern about the region. An index of Greek, Irish, Portuguese and Spanish swaps reached 461 basis points last week, approaching a record of 499 points set on June 24, CMA prices show. The yield on Irish 10-year government bonds rose to 381 basis points over similar-maturity German bunds on Sept. 8, the highest on record, while the Portuguese-German yield spread widened to 372 basis points, also the most ever.
The Association of German Banks said last week the nation's 10 biggest lenders may need about 105 billion euros in fresh capital to comply with new rules from the Basel Committee on Banking Supervision, crimping lending and risking slower economic growth. Frankfurt-based Deutsche Bank AG plans to raise at least 9.8 billion euros, partly to meet the new standards, Germany's largest bank said in a statement yesterday.
'Unavoidable Reckoning'
The euro's depreciation will gather pace next year as reduced government spending to shrink budget deficits across the region starts to bite, according to Adam Cole, head of global currency strategy at Royal Bank of Canada Europe Ltd. in London.
"A sharp step-up in financing requirements and the effects of austerity measures will lead to an unavoidable reckoning in the first half of 2011," said Cole.
Weakness in the euro-area economy may not be enough to counter the effects on the dollar of additional stimulus measures by the Federal Reserve if the U.S. recovery falters, according to Morgan Stanley.
Fed Chairman Ben S. Bernanke said Aug. 27 that more tools are available should the economy need them after the central bank adopted a policy of reinvesting the proceeds from its holdings of mortgage-backed securities into Treasuries.
Carry Trade Favorite
Bond investors from Newport Beach, California-based Pacific Investment Management Co., owner of the world's biggest bond fund, to Goldman Sachs Group Inc. in New York are projecting the U.S. central bank may push Treasury yields down to 1950s' levels with another round of quantitative easing.
Lower U.S. interest rates also make the dollar a favorite for carry trades. The Fed's benchmark target for overnight loans between banks is a range between zero and 0.25 percent, while the European Central Bank's main refinancing rate is 1 percent.
The yen has traditionally been the most popular currency to fund carry trades because Japanese investors tend to recycle the proceeds from the nation's trade surplus abroad in search of greater returns. The Bank of Japan has held its benchmark overnight lending rate below 0.5 percent since 1995.
"Whether there is QE or not, speculation of further easing is dollar negative," said Ronald Leven, executive director and currency strategist at Morgan Stanley in New York. "The slowdown in the U.S. will have an echo in Europe, but that's going to take time to play out."
Exports Supported
The bank revised its forecasts for the euro against the dollar on Sept. 7, predicting an advance to $1.36 by year-end, before sliding to $1.24 by the fourth quarter of 2011.
Europe's economy is seeing some benefits from a weaker euro. German exports jumped 8.2 percent in the second quarter from the first quarter, the nation's statistics agency said on Aug. 24. The euro tumbled from as strong as $1.3692 to as low as $1.1877 in the period.
As the region's recovery slows, growth is likely to lag behind the U.S. because of structural deficiencies such as operating a one-size-fits-all monetary policy for countries with diverse labor markets, economies and competitiveness levels, said Ken Dickson, a money manager in Edinburgh at Standard Life Investments, which oversees $220 billion, according to the company website.
QE Risk
"There's going to be continued pain in the non-core areas of Europe," he said. "As the performances in the different parts of Europe continue to drive in different directions, the case for a weaker currency to help with the transition will be strong."
While Moody's and S&P haven't threatened the U.S. with an imminent ratings downgrade, the economy has an unemployment rate of 9.6 percent, within 0.5 percentage point of the highest level in 26 years. At 9.1 percent of gross domestic product, the budget deficit for the current fiscal year will be the second-largest in the past 65 years, according to Congressional Budget Office projections.
"More quantitative easing in the U.S. is a risk, but the Fed is going to need a lot more evidence of economic weakness before it can make that decision," said Shaun Osborne, chief currency strategist at TD Securities in Toronto. "We see still ongoing strains in the euro-zone sovereign credit space and banking space, which may be the more dominant theme moving into year-end."