U.S. Stocks Rise as S&P 500 Completes Longest Rally Since June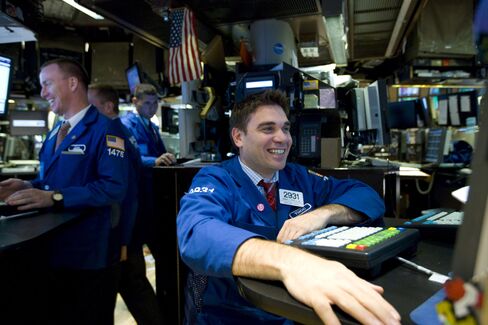 U.S. stocks rose, pushing the Standard & Poor's 500 Index to its biggest two-week gain since June, amid better-than-forecast American jobs data and as concern eased that Europe's sovereign debt crisis would derail the global economic recovery.
General Electric Co., Pfizer Inc. and Alcoa Inc. advanced at least 2.7 percent after demand for Portuguese and Polish debt rose and jobless claims fell to the lowest in almost two months. Oracle Corp. jumped 9.3 percent, posting its best week since March 2009, after hiring former Hewlett-Packard Co. Chief Executive Officer Mark Hurd. Moody's Corp. surged 7.8 percent after an analyst at Piper Jaffray Cos. raised his recommendation on the shares.
The S&P 500 rose 0.5 percent to 1,109.55 for the week, adding to the 3.8 percent gain for the five days ending Sept. 3. The 4.2 percent surge over those two weeks is the biggest since June 18. The Dow Jones Industrial Average gained 14.84 points, or 0.1 percent, to 10,462.77, after increasing 2.9 percent the previous week.
"The macro data has been coming in better than the market was expecting a few months ago," said Noman Ali, part of a group that manages $3 billion of U.S. stocks at MFC Global Investment Management in Toronto. "We expect the market to continue to move higher by the end of the year."
The S&P 500 rallied three of the four days that U.S. stock exchanges were open this week. The benchmark index has rebounded 8.5 percent since falling to its 2010 low on July 2 and trimmed its year-to-date loss to 0.5 percent.
Jobless Claims
Initial jobless claims dropped by 27,000 to 451,000 in the week ended Sept. 4, the lowest level in almost two months, Labor Department figures showed this week. Jobless benefits applications were projected to fall to 470,000 from a previously reported 472,000 for the prior week, according to the median forecast of 46 economists in a Bloomberg News survey.
Stocks rose the most this week on Sept. 8, when Portugal and Poland held bond auctions. That day the premium that investors demand to hold Portuguese 10-year government bonds instead of benchmark German bunds fell from the most on record after a sale of debt by the Iberian nation. The sale of Polish five-year bonds attracted the biggest demand since 2008 after the government promised to cut its deficit.
Alcoa, the biggest U.S. aluminum producer, gained 2.7 percent this week to $11.17, while Pfizer, the world's biggest drugmaker, advanced 3.2 percent to $16.99. General Electric climbed 3.8 percent to $15.98, leading a group of industrial shares up 1 percent this week, the third-highest gain of 10 industry groups, behind health-care and telecommunications companies.
Investor Confidence
Individual investor confidence in U.S. stocks posted the biggest two-week gain since March 2009, according to a survey by the American Association of Individual Investors. The proportion of respondents who were bullish rose to 43.9 percent, after falling to a 17-month low of 20.7 percent on Aug. 26, as disappointing reports on home sales and jobless claims heightened concern the world's largest economy would enter a second recession in three years.
"I don't think there's a whole lot of downside here anymore," Jeff Saut, who helps oversee about $235 billion as the chief investment strategist at Raymond James & Associates, speaking from St. Petersburg, told Bloomberg Television's Susan Li. "You got to extremely oversold levels and you got to extreme pessimism levels, equal to the levels we got to in March of 2009."
Adobe Surges
Adobe Systems Inc., the biggest maker of graphic-design programs, rallied after Apple Inc. said it will give software developers more leeway in how they create applications for its iPhone and iPad, a move likely to benefit Adobe, whose software had been panned by Apple's Steve Jobs. Adobe shares advanced 9.2 percent to $32.20, the biggest weekly rally since July 2009.
Genzyme Corp., the target of a takeover bid by Sanofi-Aventis SA of France, climbed 0.4 percent to $70.79, its fourth straight week of gains. Sanofi Chief Executive Officer Chris Viehbacher took his case to Genzyme's investors this week, according to two people who attended the meetings in New York. France's largest drugmaker secured about $10 billion of loans after two people familiar with the situation said it may need to raise the bid to about $19.1 billion to win the board's support.
The Federal Reserve said in a report this week that the U.S. economy maintained its expansion while showing "widespread signs of a deceleration" in mid-July through the end of August, according to a survey by 12 regional Fed banks. The report underscored the Fed's view that while the recovery from the worst recession since the Great Depression has cooled, the economy isn't relapsing into a contraction.
'Data Gets Better'
The U.S. economy grew at a 1.6 percent rate in the second quarter and is forecast to expand 2 percent and 2.3 percent this quarter and next, respectively, according to economists' estimates compiled by Bloomberg.
"We had a very soft patch economically, especially during the summer months," said Tom Wirth, senior investment officer for Chemung Canal Trust Co., which manages $1.6 billion in Elmira, New York. "My outlook is that some of the decline gets reversed during the fall as people come back in and the data gets better."
Oracle, the world's second-biggest software company, surged 9.3 percent to $25.05 after announcing Hurd's new post. At HP, Hurd more than tripled profit by cutting costs and expanding beyond the company's core business of computers and printers.
Moody's advanced 7.8 percent to $24.95. The New York-based credit-ratings company was raised to "overweight" from "neutral" by equity analyst Peter Appert at Piper Jaffray.