Pilots to Get More Rest Under Rule Prompted by Crash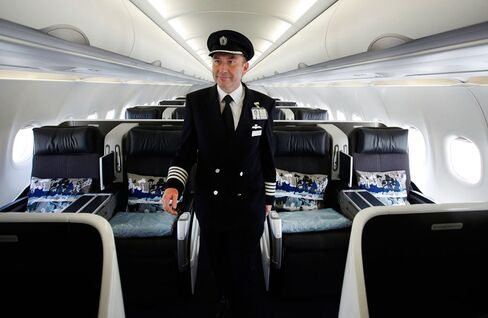 Airline pilots would get nine hours of rest between shifts, a 13 percent rise from current schedules, under the first proposed U.S. overhaul of fatigue rules in 15 years, Transportation Secretary Ray LaHood said.
The changes, prompted by an airline crash that left no survivors last year near Buffalo, New York, also would require pilots to get at least 30 consecutive work-free hours weekly, a 25 percent increase from existing rules, LaHood said today.
"This will help protect more than 700 million passengers and pilots who travel our nation's airways each year," he said. The rule, which costs $804 million over 10 years, may change before a congressional deadline of August 2011 to become final.
The Federal Aviation Administration, which LaHood oversees, is seeking to link decades-old fatigue rules with research showing numbers of takeoffs and landings and time-zone changes, not just hours worked, affect tiredness.
The proposal limits workdays to as few as nine hours when a pilot flies seven or more segments. Those who start between midnight and 4 a.m. also face a nine-hour limit. Pilots who begin between 7 a.m. and 1 p.m. could work as long as 13 hours.
Rules now don't recognize "the difference between day and night," said Bill Voss, president of the nonprofit Flight Safety Foundation in Alexandria, Virginia. The proposal recognizes sleep cycles and the cumulative effect of rest, and "those two things change everything," he said.
1940s-Era Rules
Pilots for carriers such as US Airways Group Inc. in some cases could be at the controls as long as 10 hours under the new rule, up from eight now. The maximum workday would be trimmed to 13 hours, from 16 under the current 1940s-era rules, last updated in 1985.
Crews are "very concerned" about the increase in maximum flight time, said Doug Pinion of the Allied Pilots Association, which represents crews at AMR Corp.'s American Airlines. "An increase beyond eight hours hasn't been studied well enough."
The proposal "overall is positive," including the increase in daily rest to nine hours, Pinion said. Unions have said an eight-hour break is insufficient, because after tasks such as waiting in airport security lines and traveling to hotels, pilots may have only a few hours for sleep.
The FAA in its plan includes time for commutes to hotels, so once pilots close room doors, they should have opportunities to rest for nine hours, Randy Babbitt, the FAA administrator, said at a news conference with LaHood.
Potential Hiring
When asked if airlines would need to hire more pilots to comply with the rule, Babbitt said, "They believe they can find ways to live with this, scheduling better." He added that it was "certainly possible" more crews would be needed.
The Air Transport Association, a Washington trade group for carriers such as American and Delta Air Lines Inc., said it backs rules that are based on science and improve safety. "We will be evaluating the FAA pilot-fatigue rule against that standard," the group said in a statement.
The FAA began overhauling the rules in June 2009, four months after a regional carrier flying for Continental Airlines Inc. crashed near Buffalo, killing 50 people, including the two pilots. The National Transportation Safety Board concluded the pilots' performances probably were impaired by fatigue, though it couldn't determine the extent of their tiredness or the role that may have played.
Pre-Flight Travels
Rebecca Shaw, 24, the co-pilot, had traveled all night from Seattle to Newark, New Jersey, before reporting to work for the flight on Feb. 12, 2009, the NTSB found. Captain Marvin Renslow, 47, commuted from Tampa, Florida, to Newark on Feb. 9 and spent two of three nights before the flight in a crew lounge without beds, the board said.
Renslow "had experienced chronic sleep loss," the board said in its report, which blamed the crash of the aircraft from Pinnacle Airline Corp.'s Colgan Air unit on his incorrect response to a cockpit stall warning.
The crash prompted a special June 2009 meeting of LaHood, Babbitt, the airlines and unions, on the issue of improving safety at regional airlines. The effort to update the pilot rest rules was announced later that month.
Five months later, the FAA withdrew a previous attempt to reshape the rule that had begun in 1995. That plan would have permitted 10 hours of flight time in a 14-hour workday. Industry groups objected, citing "significant costs," and unions opposed longer cockpit hours, according to the agency.
Babbitt "has done a very good job at finding common ground," said Voss, of the air-safety group. "Both sides are likely to be happy with this."
Before it's here, it's on the Bloomberg Terminal.
LEARN MORE