Sanofi-Aventis Said to Get $10 Billion Loans for Genzyme Bid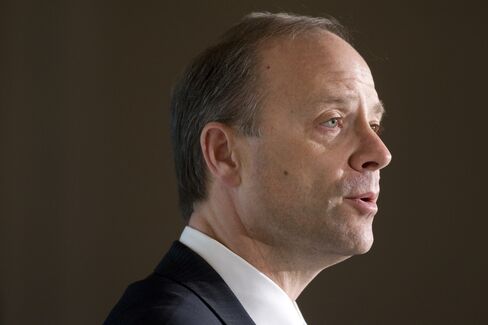 Sanofi-Aventis SA, France's largest drugmaker, arranged about $10 billion of underwritten loans to back its bid for U.S. biotechnology company Genzyme Corp., two people familiar with the situation said.
The loans may be refinanced by bonds after the acquisition is completed, said the people, who declined to be identified because the information is private. JPMorgan Chase & Co., BNP Paribas SA and Societe Generale SA are providing the financing.
Banks are providing the most loans to fund purchases by European companies since 2008 as they look to invest rising profits. BHP Billiton Ltd.'s loan underwriters attracted demand in excess of the $45 billion sought to fund the miner's bid for Potash Corp. of Saskatchewan Inc., a person familiar with the situation said.
"Banks have a lot of capital to deploy to the right clients, especially companies whose earnings have handily beat analysts expectations over the last six quarters, have delevered and are now the darlings of the capital market," said Mikhail Foux, a credit strategist at Citigroup Inc. in New York.
Sanofi spokesman Jean-Marc Podvin declined to comment on the details of the financing. The Paris-based company is bidding for Cambridge, Massachusetts-based Genzyme, the world's largest maker of medicines for genetic diseases, as products generating about 20 percent of its revenue face generic rivals by 2013.
M&A Financing Doubles
The drugmaker had 4.7 billion euros ($6 billion) of cash and 8.8 billion euros of debt at the end of 2009, according to its earnings report. Sanofi's second-quarter profit of 2.48 billion euros beat the average forecast in a Bloomberg survey.
The deals from Sanofi and BHP would help more than double the amount of loans companies in Europe raised this year to fund acquisitions to more than $100 billion, the most since 2008, according to data compiled by Bloomberg.
Demand has helped cut borrowing costs on five-year loans to companies with single A ratings to about 85 basis points over benchmark rates, from about 125 basis points a year ago, BNP Paribas data show.
Sanofi in July got 7 billion euros ($8.9 billion) of credit lines from 16 banks to refinance and extend the maturity of its debt. The company agreed to pay an initial interest margin of 45 basis points more than the euro interbank offered rate for the credit line, according to data compiled by Bloomberg. A basis point is 0.01 percentage point.
Sanofi's Chief Executive Officer Chris Viehbacher approached Genzyme investors in meetings in New York earlier this week after Genzyme's board last month rejected his $18.5 billion offer.