Katrina's Women Recall Lost Dog, Disappearing Pals: Interview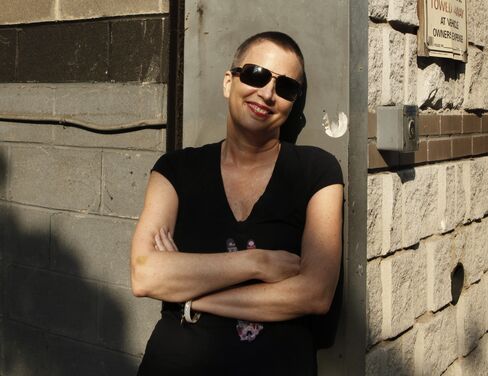 When Hurricane Katrina struck the Gulf Coast five years ago, Eve Ensler instinctively headed to New Orleans. She wanted to speak with women whose stories of surviving the disaster were likely to be lost.
A playwright and activist, Ensler has spent the past decade using the profits from her show "The Vagina Monologues" to underwrite the work of V-Day, a non-profit group committed to ending violence against women around the world. The play has been performed in 130 countries and raised over $75 million so far, according to the V-Day website.
In "Swimming Upstream," 16 of those women's voices will be heard in a show running this weekend -- last night in New Orleans and on Monday, Sept. 13, in New York. The cast includes six of them, augmented by two Tony Award-winning actresses LaChanze and Shirley Knight.
"Women were holding an enormous amount of the burden of Katrina," Ensler said in an interview in New York, "not just through the loss of homes and loved ones, but through sexual violence and in their attempts to keep their communities from failing."
Soon after arriving in the ravaged city, Ensler met Carol Bebelle, who runs the Ashe Cultural Arts Center. For over a year, Ensler met with a group of nascent writer-performers leading monthly workshops.
"I had been thinking that I'd write something about what I'd seen, but I met Carol and she said, 'Well, what would you think about our writing something?" And so they did.
Lost Dog
"I felt my humor die and my fury rise, my words were burnin' up from the fire in my throat," says Asali DeVan, whose propulsive monologues capture the anger, despair and, frequently, the hope that runs through so many of the stories.
The women were Mardi Gras dancers, gospel singers, poets and cultural activists, "all wanting to share their personal stories and testimony and turn them into something bigger," Ensler said.
Troi Bechet describes how the loss of her dog literally made her sick. "The constant agony of not being able to retrieve my dog, Curry, was injurious to my mental and physical health," she says in "Swimming Upstream."
While she and her husband were able to get a few possessions, barbed wire went up, preventing them from rescuing Curry, who eventually ended up with an adoptive family in Minnesota.
"The animal shelter that participated in his case agrees that he should not be returned," Bechet says. "This ordeal has left me with an irreparable broken heart."
Others mourn "the loss of lush green neighborhood and solitude," or "friends who no longer live here."
More Despair
Bechet's words provide a kind of narrative that runs though most of "Swimming Upstream."
"I never really did like to talk too much," she says at the beginning of the show. "Rather let a story speak for itself and baby, round here, it's plenty a story for tellin' and for livin' -- you know ya street just like ya front room, like a wide front room all us share."
As much as Ensler helped transform the disparate women into artists, she felt transformed as well.
"I was let into the souls and hearts and sorrow and joy of these women," she said. "I feel like I learned so much about race, kindness, community, what New Orleans was -- a place where people have their doors open and I got invited in."
Since Katrina, New Orleans has been further rocked by the recession and the BP oil disaster. The weariness from despair, she said, has now stirred a different kind of anger.
"One woman," she recalled, "recently said to me, 'I'm so tired of being resilient.'"
For information and tickets to "Swimming Upstream," call TicketMaster at 1-800-745-3000 or go to http://www.ticketmaster.com
The Apollo Theatre is at 253 W. 125th St. in New York.
(Jeremy Gerard is an editor and critic for Muse, the arts and leisure section of Bloomberg News. The opinions expressed are his own.)
Before it's here, it's on the Bloomberg Terminal.
LEARN MORE