Imam Asked Pastor Ready to Burn Koran 'What Would Jesus Do?'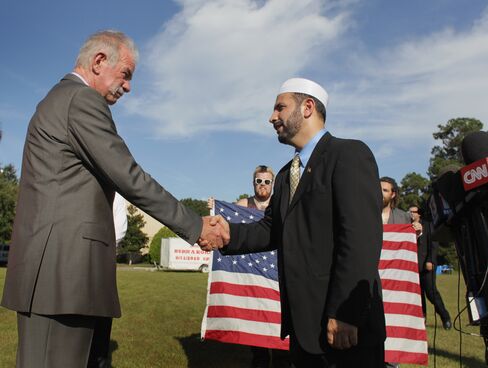 Sept. 10 (Bloomberg) -- Until a year ago, Terry Jones wasn't a public figure in Gainesville, Florida, or anywhere else.
Then seven children who attend the Dove World Outreach Center, where Jones is senior pastor, went to school wearing white T-shirts with red lettering saying "Islam Is Of The Devil." The Alachua County School District banned what it deemed "offensive" clothing, and the students' parents sued. The publicity seemed to encourage the 58-year-old pastor, said Eddie Gilley, director of Baptist Collegiate Ministries in Gainesville.
"It's like the little boy in the grocery store who throws a tantrum," Gilley said in an interview. "He only does it again if you pay attention."
By Thursday, Jones had commanded enough of it to warrant a telephone call from Secretary of Defense Robert Gates, who asked the minister to call off plans to set fire to copies of the Koran on Saturday, the ninth anniversary of the Sept. 11 attacks. Jones and his church had gone from what Gilley called "irrelevant" to international notoriety, spurring demonstrations in Afghanistan and Pakistan and eliciting a warning from President Barack Obama that the Koran-burning could endanger U.S. troops.
"They had engaged in controversial behavior before but were very, very marginal," said Gainesville Mayor Craig Lowe, who is gay and drew a protest before his election from Dove World Outreach, which posted a sign saying "No Homo Mayor" outside. "Now we are horrified that the whole world is associating Gainesville with this."
Canceling the Plans
Jones couldn't be reached for comment. Phone calls to his office were met with a busy signal. At a press conference this morning, Jones said he had canceled what he advertised as International Burn a Koran Day, repeating comments he made Thursday after meeting with Muhammad Musri, an imam and president of the Islamic Society of Central Florida, based in Orlando. At a televised news conference on the front lawn of Dove World Outreach on Thursday, Jones had said he made the decision after he received "a sign from God" in the form of an assurance from Musri that the Islamic center to be established near the World Trade Center site in New York would be relocated.
Musri, who appeared with Jones at the Thursday news conference, said there was no agreement to move the Park51 center, only a plan to discuss the possibility with the owner. Later, the pastor told the Associated Press he thought Musri "clearly lied to us." At today's press conference, Jones said he would fly to New York tonight in hopes of meeting with Imam Feisal Abdul Rauf, the Muslim leader behind the mosque plan.
'Violence in Islam'
"All they have to do is just move it a little bit," Jones said of Park51. "We are hoping we can come to a conclusion that can make everyone happy."
In Afghanistan, a man protesting the Koran-burning plans was shot and killed today after crowds attacked a NATO base, according to Reuters news service. Jones said he shouldn't be held accountable.
"I think that's absolutely terrible," Jones said. "I haven't even done anything, and it reveals the violence in Islam."
Musri, who first visited Jones on Wednesday, described him as "sincere but misguided." In Gainesville to attend an interfaith service at Holy Trinity Episcopal Church, Musri said he decided on the spur of the moment to go to Dove World Outreach Center. He walked past a sign promoting International Burn a Koran Day, and through a phalanx of law enforcement officers and reporters, and said he was surprised when an assistant to Jones told him the pastor would see him.
Discussing the Koran
"It seems that the whole world was there, which I think is part of the problem," Musri said in an interview.
Their discussion took place in a church office decorated with a poster from the Mel Gibson movie "Braveheart" and an American flag. Musri said the pastor didn't appear happy to see him at first.
"He asked me if I was armed and planned to hurt him and I said no, I come in peace," Musri said. "He is not a charismatic or sophisticated man, but he is very loud."
Jones, who told him he had never read the Koran, listened as the imam told him the Sept. 11 terrorists weren't inspired by the Islamic writings, Musri said.
"We were able to break some ice and get some genuine conversation on his concerns," Musri said. "I asked him, what would Jesus do in your position today? Would he love his neighbor? If we are your enemies, you are supposed to love your enemies. I think that resonated a bit."
Christianity 'Watered Down'
Jones, who wrote a book titled "Islam Is Of The Devil" and sells T-shirts and coffee mugs with the slogan on the church website, has made his case against the Muslim religion on YouTube, where he has posted more than 10 videos this year under the rubric "The Braveheart Show." Titles include "Is Islam the Anti-Christ" and "Islam Will Take Over If Christians Remain Silent."
He began publicizing the Koran-burning event in July.
"Christianity has gotten so watered down, I think that we felt it was time to do something radical," Jones said in a deposition he gave on Aug. 10 in the suit the parents filed against the school district in federal court, challenging the constitutionality of the district's action. A mediation conference held Aug. 31 failed to settle the case, according to court records.
Jones said his parishioners number about 50, down from a high of 100, and he offered an explanation.
"The things that we're involved in are just really way too hot for your normal Christian and your normal person, period," he said. "They are interested more in just having a good life."
Former Hotel Manager
The president of Dove World Outreach since 2001, Jones entered the ministry in 1979 while working as a hotel manager in Cape Girardeau, Missouri, according to his deposition. In the 1980s, he said, he and his family moved to Germany, where he led the Christian Church of Cologne. Members of the congregation eventually split with Jones, according to Der Spiegel.
It was while Jones lived overseas, he said in the deposition, that he learned about "the violence that is connected with Islam."
In his YouTube videos, Jones asserts that "there is no such thing" as moderate Islam, that Islamic law calls for violence, hates Israel and Christians, and that Islamic immigration to the U.S. should be barred.
"They are only coming to this country to take over, to try to enforce, through population growth, through political means, through educational means, to enforce and force their laws, their Islamic laws upon, us," he says. "In Europe, they have already done it."
Selling on EBay
Jones runs Dove World Outreach with his wife Sylvia, according to the church website. The 20-acre campus, in northern Florida about 68 miles (109 kilometers) from Jacksonville, is worth more than $1.6 million and lost part of its tax-exempt status this year because part of it is used in for-profit businesses, the Gainesville Sun reported.
In his deposition, Jones said he and his wife sell "vintage designer furniture" through TS & Company, which is located on the church property. His eBay profile says TS is a Christian firm that uses its earnings to help the needy in Gainesville. Jones said in the deposition that he also runs a ministerial training academy at the church and that four people are enrolled in the three-year program.
Standing outside Dove World Outreach on Thursday evening, 26-year-old Dave Ingram, who described himself as a minister in the church, said that with all the media attention, it might not matter whether the Koran event went on or was abandoned.
"We believe God is using this and has used this and will use this to spread the gospel," he said. "The phones are ringing off the hook."
To contact the reporters on this story: Chad Terhune at cterhune@bloomberg.net; Ashley Lutz in New York at alutz8@bloomberg.net; Jerry Hart in Miami at jhart@bloomberg.net.
To contact the editor responsible for this story: Gary Putka at gputka@bloomberg.net