China $20 Billion Trade Surplus May Add Yuan Pressure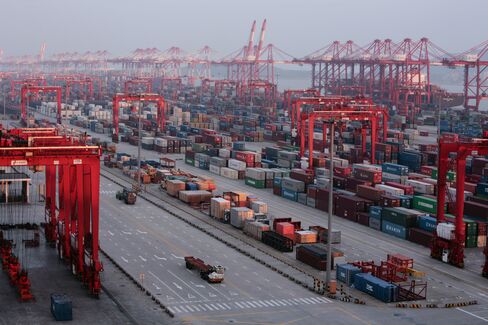 China posted a third straight trade surplus of more than $20 billion in August even as imports leaped, highlighting friction with the U.S. over claims that the nation's currency is undervalued.
Exports rose 34.4 percent and inbound shipments climbed a more-than-forecast 35.2 percent, leaving a $20.03 billion excess, a customs bureau report showed today. That compared with $15.7 billion a year earlier and the median $26.9 billion estimate in a Bloomberg News survey of 34 economists.
The yuan had its biggest weekly gain against the dollar since June as sustained surpluses may fuel American lawmakers' calls to escalate pressure on China. At the same time, the surge in imports may fortify Chinese officials' position that the nation is already making progress in boosting demand for overseas goods, independent of the exchange rate.
"Strong export growth and high trade surpluses weaken the argument that China cannot cope with currency appreciation," said Brian Jackson, an emerging markets strategist at Royal Bank of Canada in Hong Kong. August imports "point to solid domestic demand," he also said.
The yuan gained 0.5 percent for the week to 6.7692 per dollar at the close in Shanghai, according to the China Foreign Exchange Trade System. That compares with the 6.83 peg to the dollar that authorities maintained from July 2008 to June 2010.
Yuan Outlook
Non-deliverable yuan forwards indicate that gains against the dollar may be limited to about 1.4 percent in the next 12 months.
"With the yuan appreciating very slowly and U.S. mid-term elections drawing near, it's inevitable that Sino-U.S. tension will heat up again," said Ken Peng, a Beijing-based economist at Citigroup Inc., before today's release. "Chinese officials may face confrontations over the yuan" at forums including meetings of the International Monetary Fund and the Group of 20 nations in coming months, he added.
American pressure risks backfiring by sparking Chinese retaliation through sales of U.S. Treasuries, Morgan Stanley Asia Chairman Stephen Roach said today. It would be a "huge mistake" for the U.S. to enact trade restrictions on China over the yuan, he said in an interview.
Export Total
August exports were $139.3 billion and imports were $119.27 billion, the second highest levels on record in both cases. In July, the trade surplus amounted to $28.7 billion, while the total for the year through August narrowed 14.6 percent to $103.9 billion.
With imports indicating "robust" domestic spending, the data will help to diminish concern that the Chinese economy could be heading for a "hard landing," said Shen Jianguang, a Mizuho Securities Asia Ltd. economist in Hong Kong.
Economists' median forecasts were for a 35 percent increase in exports and a 27.5 percent gain in inbound shipments. In July, overseas shipments rose 38.1 percent and imports climbed 22.7 percent.
U.S. lawmakers including Senator Charles Schumer, a New York Democrat, have pressed the Obama administration to demand a speedier appreciation of the yuan.
Next week, the House Ways and Means Committee is scheduled to discuss whether China has made "material progress" on the issue and on what action Congress and the administration may need to take to address the nation's exchange-rate policy.
Geithner's Take
U.S. Treasury Secretary Timothy F. Geithner said Sept. 8 that "frankly they haven't let the currency move very much so far" and "we'd like to see them move more quickly."
China's foreign ministry said that external pressure won't dictate the nation's currency policy as Lawrence Summers, President Barack Obama's top economic adviser, visited Beijing this week.
Chinese Commerce Minister Chen Deming said Sept. 8 that commodity price declines and continued U.S. restrictions on exports have contributed to a larger-than-expected surplus. He said he hopes the annual total is less than last year's $196 billion.
"China's imports may rebound as the government boosts domestic investment to sustain growth and companies restock," said Sun Chi, a Hong Kong-based economist at Nomura Holdings Inc.
China's economic growth slowed to 10.3 percent in the second quarter from an 11.9 percent pace in the first three months of this year as the government trimmed credit growth from last year's record 9.59 trillion yuan ($1.4 trillion) and clamped down on property speculation.
Signs of a slowing U.S. economy and global recovery have raised concern about the outlook for shipments from China, the world's biggest exporter. A "drastic" slowdown in demand from the U.S., European Union and Japan combined with large gains by the yuan could slice 0.8 percentage point from economic growth this year and 1.8 percentage points next year, two State Council researchers wrote in Reform magazine last month.