Caterpillar Lobbying to Block U.S. Measure on China's Currency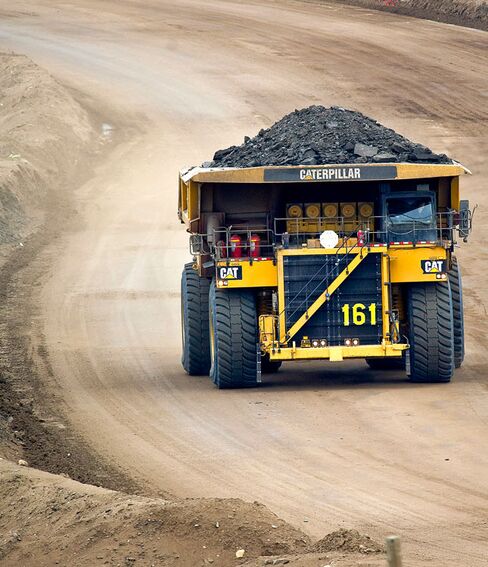 A trade group for businesses with investments in China, such as Caterpillar Inc., is lobbying to fend off U.S. legislation aimed at forcing the Chinese to raise the value of their currency.
The U.S.-China Business Council of more than 200 companies held meetings with staff for lawmakers on the House Ways and Means Committee to argue against the measure, said Erin Ennis, vice president of the Washington-based group. The bill would let companies seek higher tariffs on Chinese goods.
The measure "is totally counterproductive," William Lane, government relations director for Caterpillar, the largest maker of construction and mining equipment, said in an interview. "Some in Congress want to start a trade war and undermine our efforts to sell to our fastest-growing export market."
The China council, joined by the U.S. Chamber of Commerce and representatives of farm groups, is seeking to head off the House legislation as the committee prepares for a hearing on Sept. 15. Treasury Secretary Timothy F. Geithner is scheduled to testify on China's currency the next day.
A similar measure in the Senate has support from U.S. manufacturers, unions and lawmakers from both political parties.
"The chances are better likely than not that they are going to move a bill," Christopher Wenk, a Chamber lobbyist opposed to the bill, said in an interview. "There is frustration out there on China, and this is the political season."
The legislation, sponsored by Representatives Tim Ryan, an Ohio Democrat, and Tim Murphy, a Pennsylvania Republican, would let companies petition for higher duties on imports from China to compensate for the effect of a weak currency.
Microsoft Corp., Boeing Co. and Citigroup Inc. are among members listed on the website of of the U.S.-China Business Council, which says its mission "is to expand the U.S.-China commercial relationship."
Five-Year Effort
Lawmakers for five years have sought legislation that would put pressure on China over what they say is its undervalued exchange rate. Congress failed to send legislation to Presidents George W. Bush or Barack Obama. The House and Senate plan to recess weeks before the Nov. 2 elections.
"The business community is trying to run out the clock between now and Election day," said Lloyd Wood, a spokesman for the American Manufacturing Trade Action Coalition in Washington, which backs the legislation.
Supporters may have their best shot to get a measure passed in the next few weeks because of frustration that the yuan hasn't appreciated enough since China announced it would lift the currency's peg to the dollar on June 19.
The yuan has since gained 0.6 percent. Economists such as C. Fred Bergsten of the Peterson Institute for International Economics in Washington say the currency is undervalued by as much as 40 percent, giving Chinese exporters an advantage over foreign competitors.
Trade Surplus
Pressure may grow after China reported a third straight trade surplus of more than $20 billion in August as imports jumped, highlighting friction with the U.S. over claims that the nation's currency is undervalued.
The U.S. trade deficit with China was $145 billion from January through July, compared with $123 billion in the same period a year ago.
"In 2010, the trade deficit with China reduces U.S. GDP by more than $400 billion," Peter Morici, an economist at the University of Maryland in College Park, wrote this month in a report. "Unemployment would be falling and the U.S. economy recovering more rapidly, but for the trade imbalance with China and Beijing's protectionist policies."
The legislation is H.R. 2378 and S. 3134.
Before it's here, it's on the Bloomberg Terminal.
LEARN MORE