Anglo Irish Says 25 Billion-Euro Cost a 'Pretty Good' Estimate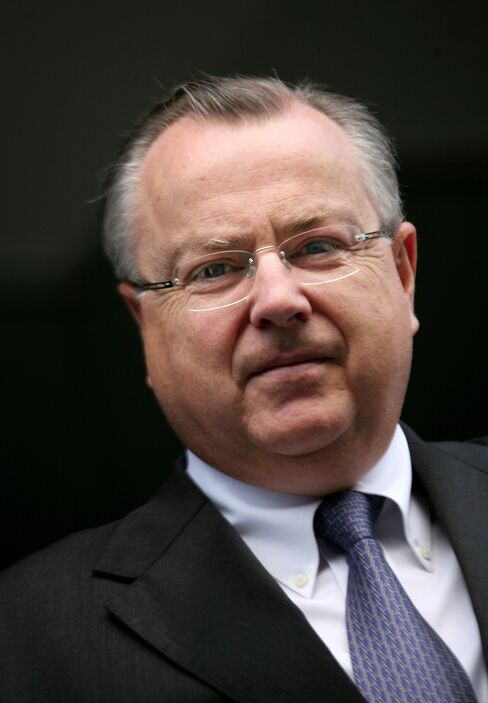 Anglo Irish Bank Corp. Chief Executive Officer Mike Aynsley said 25 billion euros ($32 billion) is a "pretty good estimate" of the total bailout cost for the bank.
"There will be some adjustments to that," he said in an interview on Bloomberg Television's "The Pulse" with Andrea Catherwood today. "It's not possible to entirely predict the exact numbers. But we feel that we're really coming to the end of the process now and we're not very far away."
Ireland has already pumped 22.9 billion euros into Anglo Irish, which was nationalized in January 2009. The government this week said it would split the bank in two and gave the financial regulator until next month to determine the final cost. Standard & Poor's last month said the cost may eventually rise to 35 billion euros, a figure the bank has disputed.
Aynsley said Anglo Irish "can't really reconcile" its bailout-cost estimate with the S&P figure.
"We suspect they're really using some pretty severe stress scenarios on an overall basis to come up with them," he said.
The government plan will see the creation of a so-called good bank that will retain the lender's deposits, and an asset- recovery bank, which will run down its loans over time.
Anglo Irish Chief Financial Officer Maarten van Eden said in an interview hours before the bank-split announcement that the lender had been experiencing "material" outflows of deposits amid uncertainty over its future. Aynsley said today the rate may be easing.
"Since the end of the first half we had a pretty volatile time in global markets," he said. "We've seen some outflows but we think it's starting to settle down which is pretty encouraging."
Before it's here, it's on the Bloomberg Terminal.
LEARN MORE