U.S. Stocks Rise After Jobless Claims Fall More Than Estimated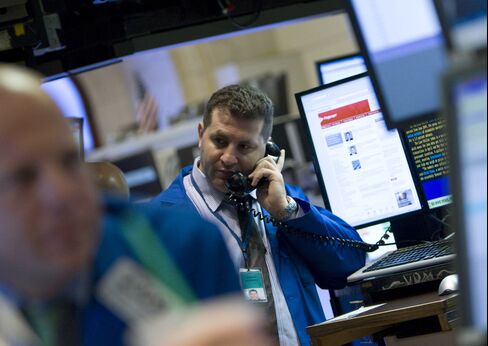 U.S. stocks advanced, sending the Standard & Poor's 500 Index higher for a second day, as a bigger-than-estimated decrease in jobless claims bolstered optimism in the economic recovery.
JPMorgan Chase & Co. rallied 2.5 percent after Morgan Stanley said banks will be able to boost dividends and buy back shares next year. Adobe Systems Inc. jumped 12 percent as Apple Inc. said it will relax developer restrictions on mobile applications. Equities trimmed gains as Bloomberg News reported Deutsche Bank AG is considering a $11.4 billion stock sale, renewing concern that European lenders need to raise capital.
The S&P 500 rose 0.5 percent to 1,104.18 at 4 p.m. in New York and earlier climbed to its highest intraday level since Aug. 11. The Dow Jones Industrial Average advanced 28.23 points, or 0.3 percent, to 10,415.24.
"The jobless-claims report is a nice sign that things aren't as dire as people were predicting," said Stewart Beach, who oversees $1.1 billion as chief investment strategist at Old Second National Bank in Aurora, Illinois. "It's a positive for stocks and taken together with the narrowing trade deficit number it's further evidence of a slow recovery rather than a double-dip recession."
The S&P 500 rose for the sixth time in seven days as the decrease in jobless claims and improving demand at European bond auctions tempered speculation that the global economy will slip back into a recession. The index pared a rally of as much as 1 percent today as three people familiar with the matter said Deutsche Bank has approached investment banks to assess interest in managing the stock sale. The U.S.-traded shares of Germany's largest lender fell 3.2 percent $59.99.
European Banks
"The losses imbedded in European banks may be larger than the stress tests indicated earlier this year," said Jason Brady, a managing director at Thornburg Investment Management in Santa Fe, New Mexico, which oversees about $60 billion. "If Deutsche Bank is selling shares to address that problem, then other banks have to raise more capital as well, but we don't know how much."
The S&P 500, the benchmark measure for U.S. equities, has fallen 9.3 percent from its 2010 high in April amid mounting evidence of a slowdown in the world's largest economy. The drop pushed the index's valuation to 12 times estimated profits in the next year, near the lowest since March 2009.
Initial jobless claims dropped by 27,000 to 451,000 last week, Labor Department figures showed, trailing the median economist estimate of 470,000 in a Bloomberg survey. The trade gap shrank 14 percent, the most since February 2009, to $42.8 billion, Commerce Department figures showed. Economists forecast a deficit of $47 billion, according to the survey median. Exports rose 1.8 percent to $153.3 billion, a two-year high.
Financials Gain
S&P 500 financial shares advanced 1.2 percent as Morgan Stanley said banks will be able to boost dividends and buy back shares next year, while analyst Richard Bove at Rochdale Securities named 17 banks as potential takeover targets.
JPMorgan rose the most in the Dow, rallying 2.5 percent to $40.10. SunTrust Banks Inc. and Fifth Third Bancorp, two of 17 companies named by Bove as possible takeover targets, advanced at least 2.9 percent to lead gains in banks. The 24-company KBW Bank Index rallied 1.6 percent and the gauge is up 7.3 percent this month.
Adobe gained the most in the S&P 500, rallying 12 percent to $32.86. The biggest maker of graphic-design programs gained after Apple said it will publish review guidelines for its App Store for the first time and relax restrictions on the development tools that software programmers use to create mobile applications.
Google, McDonald's
Google Inc., owner of the most-popular Internet search engine, rose 1.2 percent to $476.18. UBS AG said Google Instant service "should increase Google's search market share over time."
McDonald's Corp. fell 2.3 percent to $74.37 for the biggest loss in the Dow. The world's largest restaurant chain said same-store sales rose 4.9 percent in August. Analysts surveyed by Bloomberg had estimated an increase of 5 percent on average.
Corinthian Colleges Inc. rallied 11 percent to $5.44 on speculation the for-profit university will be acquired.
"The stock's responding to headlines about takeover speculation," said William Nichols, co-head of U.S. equities at Cantor Fitzgerald LP in New York. "That's why the stock rallied."
Stem-cell companies gained after an appeals court in Washington said government funding of embryonic stem-cell research may continue while the Obama administration appeals a decision banning U.S. support for the practice.
Geron Corp. climbed 7.8 percent to $5.27 while Aastrom Biosciences Inc. added 1.4 percent to $1.50.