Tate Loses UBS Backing, Raises Cash for New Wing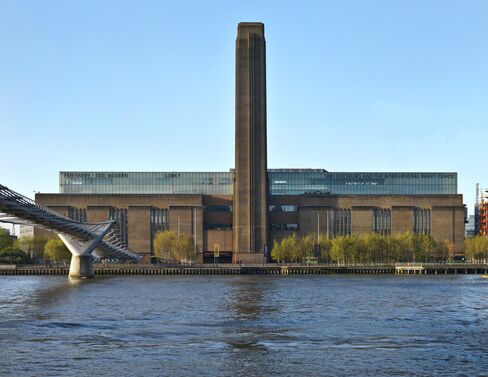 Tate Modern, London's riverside museum, has lost the sponsorship of UBS AG, and raised "roughly half" the cost of its planned 215 million pound ($330 million) extension, Tate Director Nicholas Serota said.
"Some sponsors come, others go," Serota said at the museum's annual press conference, a look-back at the last year. "It depends on the economic cycle."
UBS, Switzerland's biggest bank, in April 2008 posted a first-quarter loss of 12 billion Swiss francs (then $11.9 billion). The bank has since turned around: In July 2010, it reported its third consecutive quarterly profit of 2.01 billion Swiss francs.
"We have enjoyed our association with Tate, a fantastic, world class organization," Oliver Gadney, a spokesman for UBS in London said. "We will continue to support them as corporate members."
Tate Modern, a converted power station opened in 2000, has in recent years relied on an undisclosed amount of UBS backing to rehang its permanent collections, which can be seen free of charge. The museum aims to open the new building designed by architects Herzog & de Meuron in 2012, year of the London Olympic Games.
Serota -- flanked at the briefing by Tate Chairman John Browne, former chief executive of BP Plc -- said he couldn't yet name the newest donors to the Tate 2 project, and would announce its inaugural program in the spring of 2011. He said "people with money" were more willing to talk to him than last year.
Serota's Outlook
"I am absolutely certain that you will have something to see" in 2012, said Serota. "There are undoubtedly people who have the resources to help us at the level required to complete this project."
Future exhibitions announced today include:
- Joan Miro at Tate Modern (April - September 2011), his first retrospective in London since 1964;
- Gerhard Richter at Tate Modern (October 2011 - January 2012), the first major London survey in two decades, coinciding with the artist's 80th birthday;
- "Watercolour" at Tate Britain (February to August 2011), covering 800 years of artists using the medium.