Swiss Dwarf German Growth Led by Nestle-Novartis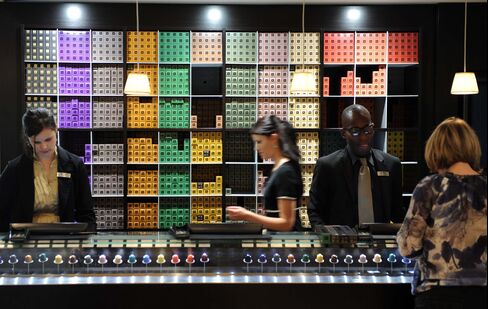 When pharmacy assistant Heinrich Nestle left Frankfurt in the 1830s to set up shop in Switzerland, his native country lost a future corporate tycoon.
Nestle SA now ranks as the world's biggest food company, helping the Swiss economy grow at twice the rate of the European Union. On a per capita basis, Switzerland hosts about eight times more of the world's 500 largest publicly traded companies than Germany, the region's biggest economy, according to data compiled by Bloomberg.
"Switzerland's many listed companies are a major asset to the country," said Claude Maurer, an economist at Zurich-based Credit Suisse Group AG. "They stabilize the economy by boosting exports, thus creating jobs and spurring consumption" in the Alpine nation of 7.8 million, he said.
The 30 largest Swiss companies reported earnings growth of 38 percent during the past four years, buoyed by exports from watchmaker Swatch Group AG, Nestle and drugmaker Novartis AG. Profits at Germany's biggest companies fell 50 percent in the same period amid the worst global recession since World War II, Bloomberg data show.
About half of Switzerland's gross domestic product will come from exports in 2010, compared with 38 percent in the EU, according to the bloc's statistics office. Worldwide demand for drugs, Swatch watches and Nespresso coffee capsules limited the country's economic contraction to 1.9 percent last year, while the European Union slumped 4.2 percent.
Geneva Index
Swiss GDP will grow 2 percent this year, according to the country's central bank. That's double the European Commission's estimated rate for the EU. In an index compiled by the Geneva-based World Economic Forum, Switzerland ranks as the world's most competitive economy because of its innovation and business culture. The U.S. placed fourth and Germany was fifth.
Global corporations "generate work from suppliers down to the smallest companies that run the staff canteen at Nestle," said Michael Grampp, head of research at the Swiss branch of accounting firm Deloitte LLP.
The central bank has fought to defend exports against this year's 15 percent increase in the Swiss franc relative to the euro by selling the currency. The effort has failed to stem the appreciation of the franc, which now stands close to parity with the dollar for the first time since the end of 2009.
Seventeen of the world's 500 biggest companies are Swiss, amounting to about one for every 500,000 residents, compared with one for every 4 million people in Germany, according to Bloomberg data.
'Island of Freedom'
The country's economic success and political stability began in the mid-1800s, said Silvan Lipp, a researcher at the Swiss business lobby group Economiesuisse. While most of Europe faced power struggles with monarchs, Switzerland's democracy allowed companies to focus on exporting goods and expanding in international markets, he said.
"From 1848, Switzerland was an island of freedom in Europe, and that's why companies could flourish," he said.
Nestle, who changed his name to the French Henri in Switzerland, probably left Germany as an "anti-monarchistic and liberal spirit," who wanted "to escape the repressions in his hometown," Albert Pfiffner wrote in a biography published in 1993. He also sought to complement his German education as a pharmacy assistant, Pfiffner wrote.
The company he founded today derives about 78 percent of sales from outside Europe. By contrast, Kraft Foods Inc. of the U.S. generates about 41 percent of revenue from outside its home market.
Pure Water
Nestle is based in Vevey, a town on Lake Geneva with about 18,000 inhabitants, and has a market capitalization of 186.6 billion francs ($183.9 billion) after shares rose 24 percent during the past 12 months in Zurich trading. The company raised its 2010 revenue forecast in August after first-half results exceeded analysts' estimates, led by sales of Nescafe and Pure Life water in the emerging markets.
Nestle makes Nespresso capsules in the towns of Avenches and Orbe, and plans to double production in Avenches to 9 billion units a year by 2012. The company's earnings probably will increase about 7 percent this year to 11.1 billion francs, according to analysts surveyed by Bloomberg.
Switzerland benefits from low taxes and flexible labor laws, said Patrick De Maeseneire, chief executive officer of Adecco SA, the world's largest supplier of temporary workers based in Glattbrugg near Zurich.
Low Taxes
Companies can eliminate staff with as little as a one-month notice period without giving a specific reason. Corporate tax rates in Switzerland were 19 percent in 2008, lower than the 23 percent average in the EU, according to a study by KPMG International.
Tyco Electronics Ltd., the world's biggest maker of electronic connectors, moved its headquarters to Switzerland from Bermuda in 2009. U.K. private security company Aegis Defence Services Ltd. is setting up a holding company in Switzerland, attracted by the country's taxation system, the London-based Times reported on Aug. 10.
"It's mainly big companies that are thinking about moving their headquarters to Switzerland," De Maeseneire said.
Before it's here, it's on the Bloomberg Terminal.
LEARN MORE