Ramsay, Top London Chefs Reveal Favorite Local Restaurants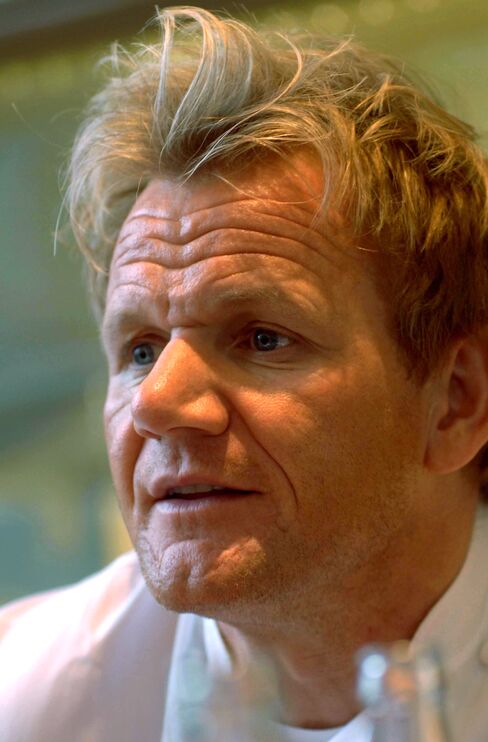 Where do chefs and restaurateurs like to go out for a bite to eat near their homes? I asked more than 40 members of London's culinary elite about their favorite local eateries. Here's what they had to say:
Tom Aikens (Tom Aikens): "The Butcher & Grill in Battersea. It's very simple food, simply prepared and there's a nice atmosphere."
Jason Atherton (ex-Maze): "The Fat Deli, in Balham. It's a family-run place and it does the best sausage sandwich in London, full stop. They also make their own pasta. I have the goat's cheese ravioli with rocket and pine-nut pesto. It's our little Saturday and Sunday morning place for the family." (Atherton plans to open Pollen Street Social Club.)
Will Beckett (Hawksmoor): "I don't know any decent restaurant in Dulwich. The nearest good restaurant is Trinity. It's top London-level cooking but with the informal style of service that you might expect from a neighborhood restaurant. There's a gastropub, the Rosendale, which has nice food."
Raymond Blanc (Le Manoir aux'Quat Saisons): "Bistrot Bruno Loubet. At last my respected friend Bruno is back cooking in London. His classic cuisine is rustic, originating mostly from his beloved southwest region of France. His elegant yet relaxed bistro is a joy to visit."
Heston Blumenthal (Fat Duck): "Maliks Indian restaurant in Cookham. I've been having takeaways from there every Monday almost since I opened the restaurant (in 1995) and we try to go there four or five times a year. The naan bread is the best and the food is fabulous. Two of my kids have made naan in the kitchen. It's such a release from the day-to-day stuff that I cook and taste every single day."
John Cadieux (Goodman): "Cafe Nawaz near London Bridge. It has great Indian food and you can bring your own beer. They always recognize you and it's fantastic. It's some of the best saag paneer I've had, and the chana masala. We have the butter chicken sometimes but I try not to eat meat on my days off."
Sally Clarke (Clarke's): "Lucky Seven. I love going with my son Samuel after school on nights when I'm too tired to cook. The standard of beef used in the burgers is great and I love the mixture of people to watch while we wait."
Richard Corrigan (Corrigan's Mayfair): "I haven't eaten locally in London in the past 18 months, but I had an amazing curry night at the O'Brien Chop House in Lismore, Waterford."
Raphael Duntoye (La Petite Maison): "I don't have a local, but I love to go to Brasserie Joel and I go to Dinings as well. Those are the only two places I go to eat."
Chris Galvin (Galvin La Chapelle): "I tend to go to posh places like L'Anima and Hawksmoor. I like St. John Bread and Wine. We go there a lot. And, of course, Tayyabs and Lahore Kebab House. They're terrific."
Brett Graham (The Ledbury): "The Cow in Westbourne Grove for Guinness and oysters but I don't really have a local favorite. I tend to try different places, except for the Golden Century, in Sydney. I should think I've been there 200 times."
Skye Gyngell (Petersham Nurseries): Sagar is one of my favorites. It's my local Indian. The menu focuses on authentic south Indian vegetarian food. I also love Moro, the River Cafe, Dinings and a new restaurant owned by a friend, the Dock Kitchen.
Anna Hansen (Modern Pantry) "I love Caravan in Exmouth Market, mainly because they serve the best coffee but it also has a brilliant ambience and they serve tasty and interesting small plates."
Henry Harris (Racine): "Monty's on Northfield Avenue. They do Nepalese specialties. I like the lamb tikka masala and they do a particularly fine naan. It's a family-run restaurant with pride not just in the food but the service, too, and the place is spotlessly clean."
Angela Hartnett (Murano): "St. John Bread and Wine. It's great food, good service and it's literally two minutes from my door. Nude on Hanbury Street does nice pastries in the morning, great carrot cake and good sandwiches. And Storydeli down the road does fabulous pizzas on great wooden boards. They have unusual flavors and they're nice and crisp."
Rowley Leigh (Le Cafe Anglais): "The Princess Victoria is my local pub. When I get a day off, I like to go and relax. The food's terrific and there's a wonderful herb garden you can sit and enjoy a glass of wine."
Giorgio Locatelli (Locanda Locatelli): "Market, in Camden Town. Our daughter Margherita has allergies and they've been catering for the family for three years. The food has been consistently good and it's fantastic still. That's exactly what a local restaurant should do: Look after locals."
Mark Hix (Hix): "The Viet Grill. It's good, simple, fresh Vietnamese food. It's authentic and good value. The menu's always changing to keep it interesting and the wine list is good for a Vietnamese restaurant."
Phil Howard (The Square): "Sonny's in Barnes. I've been visiting the restaurant for many years. It offers accomplished cooking in comfortable and hospitable surroundings just around the corner from my home. This is exactly the food I want to eat in a relaxed and local environment."
Atul Kochhar (Benares): "The Hare & Hounds, just in front of Osterley Park. It's very much a family pub. There's an area where kids can play while we have a bite to eat. It's a great place and the food is good."
Pierre Koffmann (Koffmann's): "Odette's in Primrose Hill, because Bryn's (Bryn Williams) food is very good. Every time I go, I have a wonderful meal."
Jeremy Lee (Blueprint Cafe): "I'm a Hackney lad so I tend up to end up in Rochelle Canteen. It's really great. And St. John Bread and Wine, which I also love. And Viet Grill --I go there a lot as well. Also, Mangal, 1 and 2."
Bruno Loubet (Bistrot Bruno Loubet): "The Brown Dog pub in Barnes. It's a secret, backstreet neighborhood gem. I love the relaxed atmosphere, good food and the truly local feel, which I can enjoy with my family and dogs."
Rebecca Mascarenhas (Sonny's): "Indian Zilla, in Barnes. A lot of Indian places are generic and not particularly good or bad but here the food is individual and deliciously spiced. It's like a West End restaurant on your doorstep."
Francesco Mazzei (L'Anima): "Little Sardegna is a small cozy place where the owner does everything -- cooks and serves. There's no menu but you can order what he has prepared during the day."
Nuno Mendes (Viajante): "Rochelle Canteen is top of my list. It only serves lunch. I like the communal tables, the open kitchen and the style of service. Top of everything is the food, which is very good. I also like Sedap. It's unpretentious and closer to the experiences I've had in Malaysia than anywhere in London. For Sunday brunch, Bistrotheque is amazing. The whole environment is artsy, it's nice to have a guy playing the piano and I like the food."
Thomasina Miers (Wahaca): "My neighborhood place is the Dock Kitchen, which is wonderful. There's always something new to try. We also go to the Chamberlayne, which is a pub, and a new restaurant, 8 Station Terrace, which has just opened. It's a tiny place and it's fantastic."
Russell Norman (Polpetto): "I lived for years in Swiss Cottage and I just adore Lemonia, in Primrose Hill. It's a genuine family welcome and it's a restaurant that works brilliantly. I currently live between Lewisham and Blackheath and quite often go to Buenos Aires Cafe, run by a husband-and-wife team. My third neighborhood is Soho, where I go to Koya. The staff is all Japanese, the service is so friendly and smiley, and the food is exceptional."
Shane Osborn (Pied a Terre): "We take the kids for a treat to Cafe Med in St. John's Wood. They have a magician on Sunday afternoon and the kids love that. He keeps them entertained so you can have a drink and a decent bite to eat. The food is fine. They have good steak frites and nice salads."
Camellia Panjabi (Chutney Mary): "China Club. They serve delicately flavored Chinese food, elegantly plated, with good service."
Gordon Ramsay (Gordon Ramsay): "Cheyne Walk Brasserie. It never disappoints and optimizes a good local restaurant, offering good food, served simply with great service."
Theo Randall (Theo Randall): "Lemonia, because it's a lovely place to take the family. We go there for Sunday lunch. The food is authentic and consistently good, the waiters have been there forever and it has a lovely atmosphere. If it's sunny, you can sit outside and afterwards you can go for a stroll on Primrose Hill. You keep wanting to go back."
Gary Rhodes (Rhodes Twenty Four): "Xian, on Orpington High Street. We are true regulars: 43 times last year, they told us. We've been going for 15 years. It keeps us here and we almost feel part of the family. I never get bored. The duck pancakes are stunning and the crispy squid is just divine."
Silvena Rowe (ex-Baltic): "Babur, in Forest Hill. It's a good Indian restaurant. I like the quality of the food it presents in a non-trendy neighborhood. It's clean and it's very good." (Rowe plans to open Quince at the Mayfair Hotel.)
Ruth Rogers (River Cafe) "We live in Chelsea on the King's Road so the closest thing we have to a local is the Wolseley. Sometimes we drop into Daylesford for breakfast."
Mark Sargeant (Swan): "Chapters in Blackheath. They have a Josper grill so it's a great place to go for steak and chips. They get USDA prime and great British Beef. Sometimes I get the Thames Clipper over to Canary Wharf to Canteen, and Roka is also fantastic."
Leonid Shutov (Bob Bob Ricard): "Vinoteca is a great local restaurant, just a perfect example: great food, great prices, always buzzing and where you can feel casual. It's hilarious to see the size of the kitchen where it's just one person cooking for the whole room and doing it perfectly."
Will Smith (Arbutus): "The Duke of Sussex in Chiswick. I like going for Saturday lunch. It's a mix of pub food and simple, well-flavored, robust Spanish dishes. There's great real ale and there's a nice garden to sit in."
Clare Smyth (Gordon Ramsay): "The Admiral Codrington. I really like going there on a Sunday. The food is fantastic. It's the best roast and a very talented chef. He has really good beef from Jack O'Shea."
Jun Tanaka (Pearl): "Edokko on Red Lion Street. It's the kind of place you can easily walk past but they do the most amazing sushi. It's a place where your expectations are low and you find it's really good."
Marcus Wareing: "Trinity. Adam Byatt's cuisine is inventive and creative: It's beyond what you'd expect from a neighborhood restaurant. You could easily put it in the West End. He does a fabulous pig's trotter on toast with quail eggs and sauce gribiche. It's an exciting place to eat. I love to take the kids to PizzaExpress."
Tristan Welch (Launceston Place): "La Trompette. It's a touch above your average neighborhood restaurant, which is nice. I like Franco Manca as well. It's beautiful pizza. I took the twins two weeks ago for their first pizza. They're 15 months and they didn't like it. I was really disappointed."
Ed Wilson (Terroirs): "Tayyabs for the best curry in the country. I've been going there for the past 12 years, long before it became so busy and popular."
(Richard Vines is the chief food critic for Muse, the arts and leisure section of Bloomberg News. Opinions expressed are his own.)