Peltz's Wendy's-Arby's Combo Unpalatable to Investors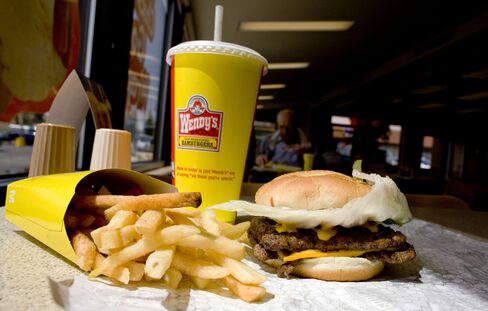 Two years ago billionaire investor Nelson Peltz wagered that burgers and roast beef sandwiches would go together. The Wendy's-Arby's combo engineered by Peltz's fund hasn't gone down well with some investors.
The third-largest U.S. fast-food chain is lagging behind its peers as Arby's struggles to lure recession-hit consumers. Since the $2.56 billion all-stock deal closed Sept. 29, 2008, the shares have fallen 17 percent before today compared with a 33 percent rise in the Standard & Poor's Supercomposite Restaurants Index.
"Our expectations have not been met yet," said Glenn Tongue, managing partner at New York-based T2 Partners, which as of June 30 owned 381,000 shares in Atlanta-based Wendy's/Arby's Group Inc.
While the merger still makes sense and he's encouraged by cost savings, cash flow lags behind T2's target, Tongue said.
Arby's, which sells more expensive sandwiches than its fast-food rivals, has been slow to adjust to today's bargain-seeking consumers, said Darren Tristano, executive vice president at Chicago-based industry tracker Technomic Inc.
As Subway Restaurants wooed them with the $5 foot-long sub and McDonald's Corp. pushed its Dollar Menu, Arby's stayed the course -- in early 2009 rolling out a sandwich called the Roastburger, which sold at a suggested $5.59 in a combo meal, in line with its other offerings.
"When the recession hit they just weren't as well positioned as competitors because of the success they'd had with higher price points," Tristano said in a telephone interview.
Profit Declines
Profit fell 28 percent in the second quarter, hurt by falling sales at Arby's, in which Peltz and his business partner Peter May have owned a controlling stake since 1993. Sales at Arby's North American restaurants open at least 15 months sank 7.4 percent, compared with a 1.7 percent fall at Wendy's.
The drop in share price may have made the company an acquisition target. In June, Peltz's Trian Fund Management LP, the biggest shareholder in Wendy's/Arby's, said a third party had expressed interest in participating in a possible takeover.
"They're a legitimate candidate to shop to private equity," Matthew DiFrisco, a senior analyst with Oppenheimer & Co., said in a telephone interview. "If you look at the valuation Burger King went for, it's very cheap."
On Sept. 2, Burger King agreed to be acquired by 3G Capital for $4 billion including debt, or 9 times earnings before interest, taxes, depreciation and amortization in the year ended June 30. Over the past five years, U.S. restaurant acquisitions closed at a median multiple of 8.2, according to data compiled by Bloomberg. Wendy's/Arby's market value including net debt is 7 times its EBITDA from the past 12 months.
Older Consumer
Peltz and Wendy's/Arby's Chief Executive Officer Roland Smith declined to comment. The shares rose 14 cents to $4.50 at 4:01 p.m. in New York Stock Exchange composite trading. Wendy's/Arby's has fallen 4 percent so far this year.
An Arby's revival won't happen soon, says Russell Umphenour, who left the board at the time of the merger.
"For Arby's to make a comeback it has to reinvent itself," Umphenour said in a telephone interview. "Somebody has to be willing to say this is a 3-year turnaround."
Founded in 1964, Arby's carved out a niche with thinly sliced roast beef sandwiches and curly fries. It set itself apart from behemoths like McDonald's by appealing to an older, higher-income, and better educated consumer, Tristano said. In 2001 the chain pushed further into this market by selling more expensive "market fresh" sandwiches.
Since then, Arby's has introduced cheaper fare, including a dollar menu featuring a junior roast beef sandwich, curly fries, or a jamocha shake. Meanwhile, the chain is testing 30 items under $3 as well as a $5 Steakhouse Toasted Sub Combo to improve sales and profits, group CEO Smith told analysts last month.
'Fresh Thinking'
The strategy may not work, said Jordan Krolick, the former chief development officer at Arby's and now president of consulting firm Tound & Drowth, LLC.
"The best chains fight battles they can win," Krolick said in an interview. "It's tough to compete with McDonald's. They sell a great a product for a dollar, and you can't match their advertising spending."
In May, Hala Moddelmog, the former president of the Church's Chicken fast-food chain, was named Arby's president. The company plans to hire a new advertising agency to help it "introduce fresh thinking" to its brand, Moddelmog said in a statement.
Price promotions and new products won't save Arby's by themselves, Dean Crutchfield, a principal at brand consulting firm Method in New York, said in a telephone interview. The company needs to explain itself better to consumers, he said.
"You've got a dollar menu that could generate traffic," Crutchfield said. "But what's the Arby's experience? I don't think they have that defined."
Before it's here, it's on the Bloomberg Terminal.
LEARN MORE