Papandreou Returns to Jobs Black Spot After Victory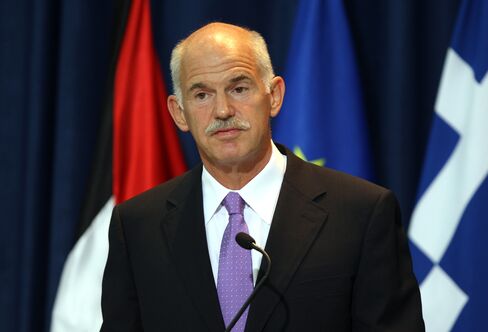 Prime Minister George Papandreou is returning to the northern Greek city that propelled him to power one year ago as his policies turn it into the country's unemployment black spot.
Thessaloniki and cities across northern Greece are bearing the brunt of Papandreou's austerity drive as he cuts spending to narrow the European Union's second-biggest budget deficit. Unemployment is the highest in Greece and companies including German retailer Aldi Sued are shutting down stores or moving to neighboring Bulgaria to tap cheaper labor costs. For those still in work, wage cuts are starting to bite.
It's a far cry from the promises of higher salaries and more government spending that Papandreou, 58, pledged when he visited Greece's second-largest city on the campaign trail a year ago.
"Last year when I heard him I thought he may do something, something may change," said Niki Paschou, 36, who's been unable to find a job in Thessaloniki for the past eight years. "Not anymore. Whatever he tells me, we won't believe him. People are very angry."
Papandreou is scheduled to speak at the Vellidio convention center tomorrow. His speech will be broadcast nationwide.
Unemployment in Thessaloniki and the surrounding region was 12.7 percent in June compared with the national average of 11.6 percent, the Hellenic Statistical Authority said today. In eastern Macedonia and Thrace, which borders Bulgaria and Turkey, it was 14.7 percent and in western Macedonia, 14.9 percent.
Growth Drive
Northern Greece swung behind Papandreou's Socialist Party in last year's election and holding onto the support of Paschou and others like her is Papandreou's latest challenge. Papandreou was earlier this year forced to push through spending cuts in the teeth of riots and strikes to satisfy the European Union, the International Monetary Fund and bond investors.
Now he needs to revive growth and boost jobs without compromising progress made in cutting the deficit.
Opinion polls show that Papandreou's Pasok party could lose its majority if new elections were held, though it's still the largest party. The next vote isn't due until 2013.
Current government policy won't help the economy return to growth, according to 69.3 percent of those surveyed in a poll by MRB Hellas SA and published by Real News on Sept. 5.
"Fiscal consolidation won't happen if the economy doesn't recover," said Diego Iscaro, an economist at IHS Global Insight in London. "The impact of all the tax increases and spending cuts are going to be felt more strongly in the second half. The first challenge is how to make the economy grow again given the poor state of fiscal accounts."
Austerity
Unions representing private and public sector workers are planning protests in Thessaloniki this week, renewing opposition to austerity measures.
In northern Greece, one in four manufacturing companies reported a loss last year, according to a survey of 300 members of the Federation of Industries of Northern Greece. Aldi Sued, the German discount retailer, said in July it will shut down its Thessaloniki-centered network of 38 stores in Greece.
"Enough is enough," said Efi Sarigioli, a hairdresser in Thessaloniki, which was named after a half-sister of Alexander the Great. Business at her salon has fallen by one third this year, leaving her with an income of about 1,000 euros ($1,275) a month. "I just need to know that soon things will recover."
'New Wealth'
Smaller groups are also planning protests. Patriotic Front, a new group that says Greece should renegotiate its debt rather than suffer years of "financial slavery," has called on residents of the city to rain old shoes down on Papandreou as he travels through its streets. Police officials are deploying 4,500 officers to prevent violence.
Papandreou said last year that Greeks must choose between "cutbacks" and "investment." "The country can come out of this crisis and the economy can return to growth and create new wealth," he said. He went on to win by 10 percentage points, the largest margin since 1981
One year later, the situation has changed. Greece was forced to ask for a 110 billion-euro rescue form the EU and the IMF after Papandreou revealed the deficit was twice the level previously reported. Investors still aren't convinced Greece will avoid a restructuring of its debt. The extra yield that investors demand to hold Greek 10-year bonds compared with German bunds rose as high as 957 basis points on Sept. 8, just 16 points short of the record touched on May 7.
Recession
The European Commission said Aug. 19 that the structural reform agenda, which includes opening up labor and product markets to boost competitiveness, needs to be accelerated to unleash growth potential.
The economy is forecast to shrink 4 percent this year, with Finance Minister George Papaconstantinou optimistic the contraction may be milder. The economy will shrink about 2.6 percent again next year. Papaconstantinou said last week he's considering alternatives to an increase in value-added tax for some services that will hurt businesses.
Nikos Plakas, 39, whose business assembling shoes has been hurt by cheaper competitors in Bulgaria, said he is expecting nothing from either Papandreou or other Greek politicians.
"They should get up and leave us alone," he said. "All 300 of them. We need some new blood."
Before it's here, it's on the Bloomberg Terminal.
LEARN MORE