Florida Pastor Still Seeks Meeting on New York Islamic Center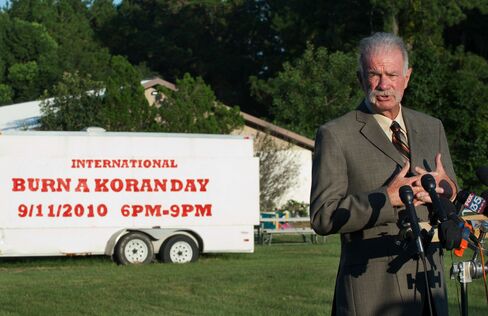 The pastor of a small Florida church who put off a scheduled Koran burning said he is still seeking a meeting about an Islamic center proposed for a location near the World Trade Center site.
Terry Jones, pastor of the Dove World Outreach Center in Gainesville, said he wants to meet with Imam Feisal Abdul Rauf about moving the center. As of last night, the minister said Rauf hadn't responded to Jones's demand for the New York imam to contact him by 3:20 p.m. Florida time yesterday.
"As of this time we had not heard from the imam, but we are still very, very hopeful that we will meet with him," Jones told reporters outside his church. Jones flew to New York and landed at LaGuardia airport late yesterday, ABC local news reported.
The pastor's threat to burn Korans today, the ninth anniversary of the Sept. 11 attacks on the U.S., sparked outrage among world leaders and warnings of violence against Americans, including soldiers in Iraq and Afghanistan.
President Barack Obama urged Jones to cancel the event and Defense Secretary Robert Gates called the pastor on Sept. 9.
Jones has made a series of statements that have sent mixed signals about whether he would follow through with the Koran burning. Earlier yesterday, he told reporters outside his church that he wanted to go to New York to meet with Rauf and persuade him not to build so close to the site of the World Trade Center, which was destroyed in the attacks.
"All they have to do is just move it a little bit," Jones said. "We are hoping we can come to a conclusion that can make everyone happy."
May Go Ahead
Jones said on Sept. 9 that he may decide to go ahead with the book burning because he was lied to about the proposed Islamic Center being moved.
The owner of the proposed center said there was no agreement to move the project.
"It's untrue that it's being moved," Sharif El-Gamal, owner of the property and chief executive officer of Soho Properties LLC, said in a telephone interview on Sept. 9. "The project will proceed as planned."
Jones, following pressure from Obama and the phone call from Gates, said he was assured that the center would be moved by Muhammad Musri, leader of the Islamic Society of Central Florida.
"We have agreed to cancel our event on Saturday," Jones said during a televised news conference on Sept. 9 in Gainesville.
No Agreement
Musri, who appeared with Jones at the news conference, said later there was no agreement to move the Park51 center, only a plan to meet and discuss it.
Musri said he was working to set up a meeting in New York today with Jones and Rauf to discuss the matter.
In an interview with ABC's "This Week with Christiane Amanpour," Rauf said that, if he moved the Islamic center, "the headline in the Muslim world will be Islam is under attack in America. This will strengthen the radicals in the Muslim world." ABC released a partial transcript of the interview.
In Afghanistan, a man protesting the Koran-burning plans was shot and killed yesterday after crowds attacked a NATO base, according to Reuters news service. Jones said he shouldn't be held accountable.
Also, Donald J. Trump offered on Sept. 9 to buy the site of the proposed community center for the price paid plus 25 percent. As part of the bid, any community center would be located at least five blocks farther from the World Trade Center site, Trump said.
Trump's Offer
Trump made the offer in a letter to Hisham Elzanaty, a businessman who has the lease for where the center would be built.
"My client considers" Trump's letter "a joke and even an insult," Wolodymyr Starosolsky, Elzanaty's personal attorney, said in an interview. He said the amount offered was "grossly insufficient."
At a White House news conference yesterday, Obama said: "The idea that we would burn the sacred text of somebody else's religion is contrary" to American principles. "My hope is that this individual prays on it and refrains from doing it."
Iraq's most senior Shiite cleric urged Muslims not to be provoked by the pastor's plan, and he called for tolerance toward Christians.
"We denounce the assault on the Holy Koran," Ayatollah Ali al-Sistani said in a statement on his website. "We urge Muslims, wherever they are, to exercise the utmost restraint" and "do not do what would harm Christians." Muslims yesterday observed the festival of Eid al-Fitr, marking the end of the fasting month of Ramadan.
In Shiite-led Iran, the Grand Ayatollah Lotfollah Safi Golpayegani warned of repercussions if Jones goes ahead, according to the Iranian state-owned Mehr news agency.
"I warn Christian leaders that, if such a catastrophic and inhuman incident takes place in the United States, we will hold the U.S. government and President Obama accountable," he said.
Blaspheming such a holy book is like blaspheming all holy books and all prophets, he said.
Before it's here, it's on the Bloomberg Terminal.
LEARN MORE