Massage Parlors Push Out Mom-and-Pop Shops in Downtown Milan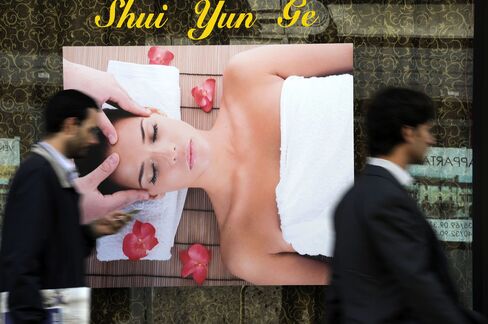 In Milan's fashion district, home to designers Dolce & Gabbana SpA and Prada SpA, one type of business is booming amid stagnant economic growth and slumping retail sales: massage parlors.
Almost 100 massage parlors have opened in Milan this year, a rate of about one every two days, at a time when butchers, grocery stores and hairdressers are shutting down as they struggle to pay rents.
"In the first half, we had a net loss of more than 100 shops in Milan due to the crisis," said Simonpaolo Buongiardino, an executive for the city's Confcommercio retailers' association. "On city-center streets, rents are just too high for small retailers."
Massage parlors, many operated by Chinese immigrants, are snapping up available retail space, helped in part by 2007 reforms to Italy's commercial rules that make it easier to open shops. Police and officials in Milan allege the businesses may actually be used for prostitution.
"We're investigating," said Deputy Mayor Riccardo De Corato, who's responsible for Milan's municipal police. "In almost 80 percent of the cases, they're fronts for prostitution."
Italy's business capital had 368 parlors as of July, compared with about 200 at the beginning of 2009, according to data compiled by Milan's chamber of commerce. By contrast, 824 retailers closed during the 12 months through June, as small retailers' revenue fell 3.9 percent in the second quarter.
Low Pay
Vacancy rates in central Milan rose to 3 percent in 2009 from 2 percent in 2007, said Mario Breglia, chairman of Scenari Immobiliari, a real-estate research firm with offices in Milan and Rome. The Italian economy may expand 1 percent this year, trailing estimates of 3.25 percent growth for Germany and 2.05 percent for Switzerland, according to analysts surveyed by Bloomberg.
Opening a massage parlor requires a relatively small investment, entails almost no fixed costs and workers are paid only a percentage of the revenue they generate, said Marco Wong, chairman of Chinese community association Associna, who added that some are used for prostitution.
The Chinese in Milan are "diversifying their investments as traditional businesses like restaurants suffer during the crisis," Wong said.
Chinese citizens run 77 of the 96 massage parlors opened in Milan this year, 166 in all, municipal statistics show.
While authorities have shut five massage businesses this year in Milan for prostitution violations, there's little they can do to keep new ones from opening since Italy liberalized its services industry in 2007 with the so-called Bersani laws, De Corato said in an interview. Massage parlors "don't need a specific license," he said.
'Happy Ending'
The increase in massage parlors may also be an unintended result of a government crackdown designed to get prostitution off the streets and deter potential clients through heavy fines.
Tougher penalties have "ushered in a return to receiving clients discreetly in homes and the proliferation of massage parlors, where massage isn't the main service offered," according to an Aug. 25 report by consumer research group Codacons.
"I didn't ask for anything extra, it was included in the price," said Federico, 33, who recently visited a Chinese massage parlor in central Milan. He declined to disclose his last name. "I paid 30 euros ($38) for a half-hour massage with a 'happy ending.' The atmosphere was really cozy. I may do it again."
Hemingway to Kafka
Organized prostitution has been banned in Italy since 1958. Until then, the trade was legal in bordellos, like the "bawdy houses" visited by soldiers in Ernest Hemingway's "A Farewell to Arms." While Franz Kafka found Milan's Duomo cathedral "tiresome" during a 1911 visit, he wrote enthusiastically about the city's "Real Eden" bordello in his diaries.
The Brera district, now known for its art museums and restaurants, was home to many brothels at the time.
Politicians periodically consider whether to reopen the brothels, including a 2008 proposal from Daniela Santanche, currently an undersecretary in Silvio Berlusconi's government. Lucio Malan, a senator in the premier's People of Liberty party, proposed a budget amendment in June to legalize prostitution and bring in as much as 3 billion euros in tax revenue.
Legal or not, retailers are concerned the parlors' presence hurts their business, Confcommercio's Buongiardino said.
"It's not a nice thing for customers to see," he said, acknowledging there's little that can be done to keep more parlors from opening.
Some Italian store owners are less concerned.
"They're discreet businesses," said Giuliana Berta, who runs a children's designer clothing outlet two doors away from a massage parlor in Milan's fashion district. "I'm more worried about where the money is coming from. That's what the authorities should be focusing on."
Before it's here, it's on the Bloomberg Terminal.
LEARN MORE