London Pinnacle Tower Owner Said to Be in Lease Talks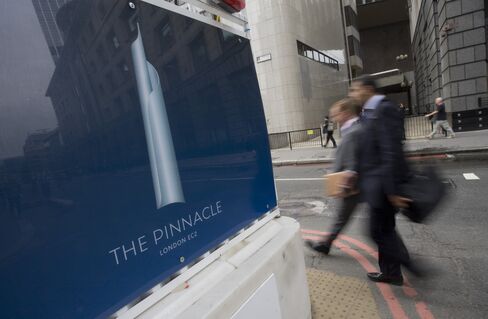 The developer of the City of London's tallest skyscraper is in talks to lease as much as a quarter of the tower to U.K. fund manager Schroders Plc, according to two people with knowledge of the discussions.
Schroders may rent as much as 250,000 square feet (23,000 square meters) in the 64-story Pinnacle, said the people, who asked not to be named because the information isn't public. Project manager Arab Investments Ltd. said a lease that big would allow the company to secure a loan of 750 million pounds ($1.2 billion) to proceed with the tower's construction.
"We're going out there saying we will be aggressive because we need the development finance," said Khalid Affara, managing director of London-based Arab Investments. "I'm confident I will sign a tenant to enable this project to continue."
Yemen-born Affara, 43, is vying with the U.K.'s largest developers to secure tenants for towers being built in London's main financial district. British Land Co., Land Securities Group Plc and Great Portland Estates Plc plan to build almost 2 million square feet of skyscrapers in the district over the next three to five years. Most need to get tenants in place before they can get loans for construction.
Projects Shelved
The Pinnacle is the only new City office building in the works that's scheduled to open after 2011. Most office projects were shelved in the financial crisis, resulting in a squeeze on prime London office space that has pushed up rents.
U.K. commercial property development fell at the sharpest rate for fourteen months in August, Savills Plc said today in a statement. The property broker cited concerns about the market's prospects and the rate of bank lending.
Affara confirmed that Arab Investments is in talks with a potential tenant. Schroders is one of about five companies seeking more than 200,000 square feet of space in the City, said Rupert Perkins, a leasing agent at real estate broker King Sturge.
Schroders, the U.K.'s second-largest publicly traded fund manager by assets, has asked real-estate broker Knight Frank LLP to "undertake a preliminary assessment of the City market as part of our longer-term planning process," spokeswoman Georgina Robertson said in an e-mail. The company has no "active requirement" for space, she said.
Banks Wary
Banks are reluctant to lend money for developments like the 1 million square-foot Pinnacle unless an adequate amount of space is secured in advance. That wasn't the case before the financial crisis, when lenders funded projects with no tenants.
The Pinnacle Ltd., a group of Middle East investors backing the tower, has only enough money now to build a core four stories high, Affara said. The group has until November 2011 to repay a 140 million-pound loan from HSH Nordbank AG that it took out to purchase the site near the tower known as the Gherkin.
"It's a complicated build by a developer who has a limited track record in this field," Perkins said. "Any potential tenant would have to bear that in mind when considering the other towers."
Affara has overseen three office developments in the City of London. The largest was a 156,000-square-foot building at 36 Gracechurch Street and the others were about 70,000 square feet each. British Land and Land Securities, which are both planning skyscrapers near the Pinnacle site, together own or manage more than 5 million square feet of offices in the area.
High Rents
One bank is about to agree to terms on being the lead arranger of the Pinnacle's funding package, depending on a major letting, Affara said. The Independent on Sunday newspaper identified that bank as HSBC Holdings Plc in a July 25 report. Robert Baker, a spokesman for HSBC, declined to comment.
Arab Investments wants one company to take as much as 250,000 square feet of space on the third to 10th floors, Affara said. The developer, based in London's Mayfair district, plans to charge about 60 pounds a square foot in rent for those floors, he said. The average cost of renting the best City offices was about 50 pounds at the end of the second quarter, Jones Lang LaSalle Inc. estimates.
The tower's highest floors will be the last offered and may cost as much as 90 pounds a square foot, he said. That would be a record price in the City of London, where average prime rents have never exceeded 70 pounds a square foot.
The Pinnacle was commissioned in 2005 by Deutsche Immobilien Fonds AG, the German fund manager now known as Union Investment Real Estate GmbH, which owned the Bishopsgate site. Arab Investments bought the project for about 200 million pounds in 2007.
Tallest Building
"As we began to look at the site's potential within the cluster of tall buildings that was evolving, we began to realize that it was the site for the tallest building in the City," Lee Polisano, the architect who designed the Pinnacle, said in a telephone interview.
The tower's spiral design tapers into a pinnacle, and will stand at the centre of most of the City's planned towers.
Four blue cranes rise 84 meters over the Pinnacle site on Bishopsgate as the tower's construction nears ground level. The cranes, more commonly used on oil rigs, will grow to 290 meters during the development, according to Affara. The section of street, a two-minute walk from Liverpool Street Station, would collapse if not for a row of 20-meter struts propping it up from below.
The tower will be 288 meters (945 feet) high when it's completed. It's not allowed to exceed 1,000 feet because that would interfere with air traffic, Affara said.
No Takers Yet
No company has formally committed to renting space in the Pinnacle since development started two years ago. Davies Arnold Cooper, a London-based legal firm, is in negotiations to rent about 60,000 square feet, Affara said. Rachael Davison, a spokeswoman for the firm, declined to comment. The company is currently providing Arab Investments with legal advice, Affara said.
Leases on about 15 million square feet of central London office space are due to expire over the next five years, according to Knight Frank. City of London expirations will peak over 2014 and 2015, when leases on about 7.2 million square feet will end.
"Availability in the City is heading down fast," said Mark Slim, a leasing agent at broker CB Richard Ellis Group Inc. "There's not a lot of choice for tenants in terms of big floor plates and big buildings." Arab Investments last week appointed CB Richard Ellis as joint leasing agent on the tower, along with its existing broker, Savills Plc.
"Two or three" providers of serviced offices are waiting to sign lease agreements on the Pinnacle, said Affara, without naming them.
Mideast Backers
The investment group backing the tower includes Saudi Arabia-based wealth manager Sedco and fund manager Pramerica Real Estate Investors Ltd. The Pinnacle Ltd. has invested 350 million pounds in the project, according to Affara.
"Their pockets aren't deep like the Qataris, to build the whole thing out of cash," said Affara, referring to the Shard, a rival project half a mile from the City that will be the U.K.'s tallest building. The developer of the 72-story tower being built near the river Thames is a venture between Sellar Property Group and the Qatar Central Bank. It's due to be completed in 2012.
"We understand we're going through a very hard time," Affara said, referring to the global economy. "But these are very strong investors behind this transaction and they will not allow it to go under."
Before it's here, it's on the Bloomberg Terminal.
LEARN MORE