Lagerfeld Tribute Lures Finance Fashionistas, Chanel Dress Fans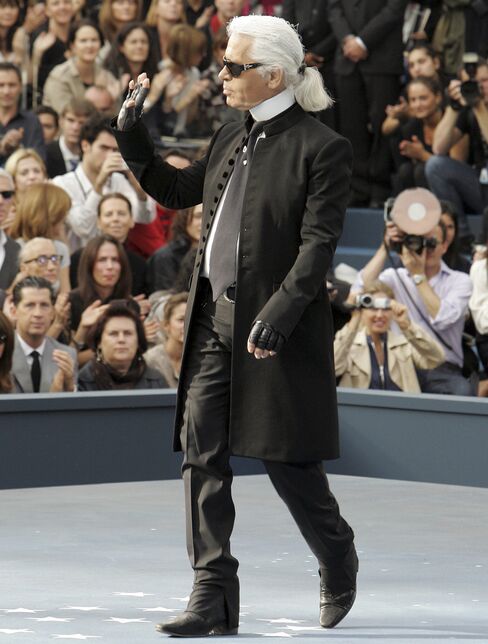 When Elizabeth Peek greets Karl Lagerfeld tomorrow, she'll presumably pass fashion muster in a white, sleeveless Chanel dress designed by the man himself.
At a luncheon in Manhattan's Avery Fisher Hall, Lagerfeld will receive the Fashion Visionary Award from the Museum at the Fashion Institute of Technology, where Peek, a former investment analyst, serves as chairman of the Couture Council's board of directors.
"Karl has helped maintain the timeless classic look of Chanel but with a fashion-forward, modern feeling," said Peek in a phone interview. "You also don't look like your grandmother."
Peek will be among more than 500 Lagerfeld fans flaunting Chanel dresses, scarves, handbags and other haute couture designs at the fifth annual event, to which Chanel Inc. made a generous donation. The luncheon's Wall Street supporters include Bear Stearns Cos. LLC and BNY Mellon Wealth Management.
Once the word got out that Lagerfeld would receive the first visionary honor, the response "was overwhelming" and tickets sold briskly, said Valerie Steele, the museum's director. The $1,000-a-person event will be the institution's most successful fundraiser, Steele said.
Those who got tickets then turned to their closets or nearby Chanel boutiques to find a dress that would catch Lagerfeld's eye. Some guests revealed the dress they were wearing to friends so that they would be discouraged from copying them, Steele said.
The attendees with Wall Street ties include Peek, philanthropist and former partner at Wertheim Schroder; Alexandra Lebenthal, chief executive officer of Lebenthal & Co.; and Marie-Josee Kravis, president of the Museum of Modern Art's board and wife of financier Henry Kravis.
La Scala Costumes
Lagerfeld, born in Hamburg, is one of the fashion world's most enduring designers. As Chanel's creative director for the past 27 years, he oversees the design of Chanel's clothing, shoes, accessories, handbags and jewelry.
He rose to prominence in the 1960s as a freelance designer for brands such as Fendi and Chloe. He created costumes for productions at the La Scala opera house in Milan and distinguished himself as a photographer.
When Lagerfeld joined Chanel in 1983, he quickly revitalized the fashion house with contemporary twists on Chanel's classic dresses. He made the label a leading seller of haute couture and ready-to-wear clothing for women.
Coco and Karl
Gabrielle "Coco" Chanel opened her first store in 1910 and went on to create classics such as the little black dress and Chanel No. 5 perfume. She died in 1971.
"Coco and Karl are both modernists in their own way, which was unique to their time," Barbara Cirkva, president of Chanel Inc.'s fashion, watches and jewelry division in the U.S., said by phone.
Several dozen of the more than 50,000 items in the FIT museum's collection are from Chanel as well as many of Lagerfeld's designs, including one of Steele's favorites, a black dress with trompe l'oeil jewelry.
"It's like going to a fashion show of a designer you really like," she said about the tribute to Lagerfeld. "You'd want to be wearing his or her clothing."
Before it's here, it's on the Bloomberg Terminal.
LEARN MORE