Incubator Bank Failure Triggers Deposit Insurance Cap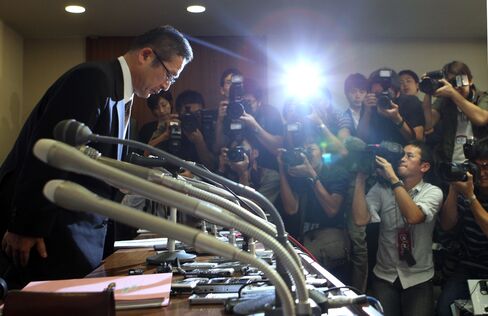 Incubator Bank of Japan Ltd. declared bankruptcy today, triggering the government's 10 million yen ($119,000) government deposit insurance cap for the first time in 40 years.
The collapse of the closely held, small-business lender comes after former chairman and Japan Financial Services adviser Takeshi Kimura was charged in August for impeding a regulatory probe. The Tokyo-based bank has about 3,300 depositors with accounts exceeding 10 million yen, Financial Services Minister Shozaburo Jimi said at a press conference today.
Incubator Bank was ordered in May to suspend some operations by the regulator after breaching Japanese banking rules. The failure is the first since Ashikaga Bank Ltd. filed for bankruptcy in 2003 after the government suspended deposit insurance caps to prevent turmoil amid multiple bank failures.
"The Incubator Bank is a special case and quite unlike failures of the past, which were very much cases of mopping up the messes left by the bubble collapse," Yoshinobu Yamada, an analyst at Deutsche Bank AG, said in a report today.
Japan's Topix Banks Index fell 0.1 percent at the 3 p.m. close of Tokyo trading. Credit Organization of Small and Medium-Sized Enterprises Co., a Tokyo-based lender operating in southern Japan, which owns 8,075 shares of Incubator Bank, tumbled 11 percent on the Jasdaq exchange. The benchmark Topix index rose 0.8 percent.
Financial System Stable
Incubator Bank had net liabilities of 180.4 billion yen as of Aug. 31, Haruki Kohata, the bank's president, said at a press conference in Tokyo today.
Central bank Governor Masaaki Shirakawa said in a statement that the nation's financial system remains stable after reports of the collapse. Finance Minister Yoshihiko Noda said there won't be any impact on the banking system.
What's most important is that "the bank sincerely addresses issues facing depositors," Noda said at a press conference in Tokyo. "I expect the Deposit Insurance Corporation of Japan to control that and I will be watching carefully."
Incubator Bank held total deposits of 610 billion yen, assets of 494 billion yen and had lending of 448 billion yen and 829 employees as of June 30, according to the Financial Services Agency.
Japanese authorities suspended the 1971 cap on deposit insurance in 1996, instead offering blanket guarantees to dissuade people from withdrawing their savings during a financial crisis that was triggered by the collapse of an asset-price bubble earlier in the decade. It resumed the limit on deposit guarantees in 2005.
'Special Bank'
Fitch Ratings said the payout of the deposit insurance won't affect its ratings of Japanese lenders because Incubator Bank isn't "systemically important." Incubator is a "special bank" that relies on time deposits and doesn't have an account with the Bank of Japan, Fitch said in a statement.
The Financial Services Agency filed a criminal complaint against Incubator Bank in June for a series of alleged cover-ups of e-mails by bank officials in June 2009 and March of this year, when the regulator conducted an investigation. The complaint came after the financial watchdog suspended some Incubator Bank operations in May.
Kimura, a former Bank of Japan banker and adviser to the Financial Services Agency during the Junichiro Koizumi administration, resigned in May after his bank posted a net loss of 5.1 billion yen in the year ended March. Kimura and three other bank officials were charged by the Tokyo District Prosecutors Office last month for breaching local bank laws.
Suspended Operations
Following the bankruptcy announcement today, the lender's operations have been suspended through Sept. 12 including its branch offices.
"My husband is worried about our deposit money -- that's why I came to visit the branch," said Yuko Nakamura, 32, who deposited 10 million yen at the bank in May to capture a 0.6 percent interest rate on a one-year fixed deposit. "From now on, we have to be more careful even if some banks offer better interest rates," she said, standing outside a closed branch office in Tokyo's Shinbashi district.