Greece May Need to Roll Over EU Loan, JPMorgan Says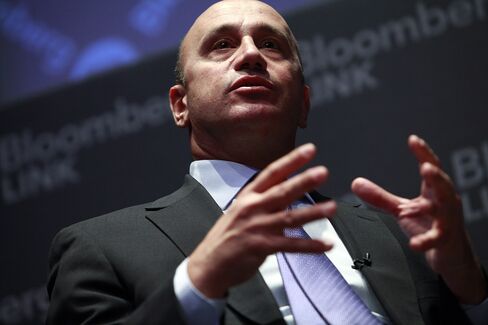 Sept. 9 (Bloomberg) -- Greece may need to extend a 110-billion-euro ($140 billion) bailout from the European Union and the International Monetary Fund by an extra three to six years to avoid a default on its debt, JPMorgan Chase & Co said.
"I don't think they have a choice, really, given their deficit is so large," said Pavan Wadhwa, head of European interest-rate strategy at JPMorgan in London. "Either other countries roll over the loans, effectively forgiving debt, or Greece restructures its debt and the market starts to freeze up again. They will need more help after the package expires if they were to avoid an outright default."
The IMF-EU plan, announced in May, is planned to end in 2012. Investors have dumped Greek bonds after the government announced last year a budget shortfall of 13.6 percent of gross domestic product, the second-highest level in the EU. Greece plans to cut its deficit to 8.1 percent of gross domestic product this year and 7.6 percent in 2011.
Greek 10-year bonds rose for the first time in five days today, pushing the yield down 11 basis points to 11.70 percent.
The nation won't restructure its debt and will stick to austerity measures it pledged as part of the bailout, Petros Christodoulou, head of the nation's debt management agency, said earlier today in London.
'Very Supportive'
"No one is even contemplating or thinking about" debt restructuring, Christodoulou told Andrea Catherwood on Bloomberg Television's "The Pulse" program. "The general public is very supportive of our measures."
The level of foreign compared with local holders of debt is an important distinction, according to Wadhwa.
"Italy also has high debt, but half, or more, of its bonds are held by local investors," said Wadhwa. "In Greece, around two-thirds of its bonds are held by foreigners."
Investors who want to buy Greek bonds should focus on short-dated securities because the country is fully funded until 2012, he said.
To contact the reporter on this story: Anchalee Worrachate in London at aworrachate@bloomberg.net
To contact the editor responsible for this story: Dave Liedtka at dliedtka@bloomberg.net