Genzyme Investors Push for Sanofi Bid of $75 a Share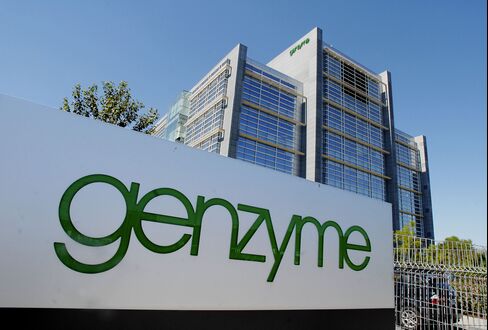 Sanofi-Aventis SA may need to raise its bid for Genzyme Corp. to at least $75 a share, or about $19.1 billion, to gain support from board members at the U.S. biotechnology company, including those loyal to investor Carl C. Icahn, according to a person familiar with the process.
Cambridge, Massachusetts-based Genzyme's board unanimously rejected a $69 a share offer made public by Sanofi on Aug. 29 because it didn't fairly value future drug revenue, said the person, who declined to be named because talks are private.
Icahn, with 13.1 million Genzyme shares as of June 30, gained control of two of 13 board seats in June as a compromise with the company to prevent a proxy battle. Ralph Whitworth, a co-founder of Relational Investors LLC, joined the board in April, along with another director he selected in June as part of Genzyme's agreement with the fund. Relational Investors owns 10.6 million Genzyme shares as of June 30.
"Icahn is pushing for a sale; Icahn and Whitworth probably have a lot to say to the board," said Michael Obuchowski, chief investment officer of First Empire Asset Management, holder of about $600,000 in Genzyme shares, in a telephone interview today. "$75 to look at the books is a fair thing for Sanofi to do, and $75 would be something that you would really have to pay attention to."
Icahn and Whitworth didn't return calls for comment.
Genzyme Rises
Genzyme shares rose 16 cents, or less than a percent, to $70.63, at 4:01 p.m. in Nasdaq Stock Market composite trading. The stock has increased 30 percent since July 22, the last day of trading before Sanofi's interest was made public. Sanofi shares increased 68 cents, or 1.4 percent, to 48.47 euros at the close of Paris trading.
"No other offer has been made or discussed with Genzyme's board, management or shareholders," Sanofi spokesman Jean-Marc Podvin said today in a telephone interview. Genzyme spokesman Bo Piela declined to comment on the negotiations or whether his board was meeting today.
Sanofi Chief Executive Officer Chris Viehbacher met with Genzyme investors this week to make his case for a takeover, according to three people who attended. Viehbacher told shareholders he isn't getting feedback from Genzyme on his offer, two of the people said.
'Paying More'
"Sanofi's saying we have no problem paying more and we just want to have a talk with someone at the company, and they're not returning our calls," said Mark Schoenebaum, an analyst at ISI Group Inc., who attended a Sept. 7 meeting in New York with Viehbacher and Jerome Contamine, Sanofi's chief financial officer. "Sanofi's preference is a friendly deal."
Sanofi, France's biggest drugmaker, is bidding for Genzyme, the world's largest maker of medicines for genetic diseases, as products generating about 20 percent of its revenue face generic rivals by 2013. Genzyme's treatments are less likely to face generic competitors because they're made from living cells and are harder to copy than traditional pills made from chemicals.
"We estimate 90 percent probability of a successful sale of Genzyme, six months to deal finalization, and a final sale price of about $80 a share," said Joshua Schimmer, an analyst with Leerink Swann & Co., in a Sept. 3 report. "If Genzyme is not acquired, we believe shares will trade to the high-$50s."
Before it's here, it's on the Bloomberg Terminal.
LEARN MORE