Foster's May Attract Bids After Rejecting Wine Offer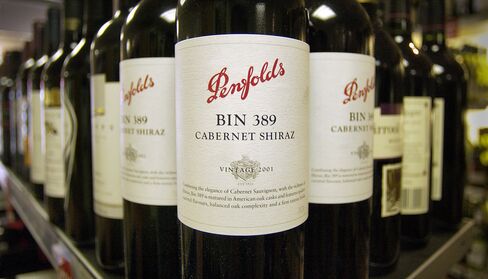 Foster's Group Ltd. may attract buyout offers from rival brewers including SABMiller Plc after a bid for its winemaking unit sparked interest from suitors who might want to break up the company.
SABMiller is working with JPMorgan Chase & Co. to study the beer business of Foster's, Australia's largest, according to a person with direct knowledge of the matter, who declined to be identified because the talks are private. Private-equity firms including Kohlberg Kravis Roberts & Co. and TPG Capital are working on bids, the Financial Times reported today, citing an unidentified source. Foster's has said its wine and beer units can be valued more "appropriately" when separated.
Foster's rejected a bid worth as much as A$2.7 billion ($2.5 billion) for its wine business on Sept. 8, saying it "significantly undervalues" the unit. The spurned offer, from a private-equity firm Foster's didn't identify, may prompt the brewer's rivals to team up with investors or other partners to acquire and then split up the beer and wine units, said Carl Short, an analyst at Standard & Poor's.
"Since the private-equity firm is interested in the wine business, others may be too, and a breakup bid may be on the cards," said London-based Short. "I don't think any of the brewers would want to be saddled with the wine business, so it's good for them to know there are others to take it."
Penfolds, Beringer
Foster's Chief Executive Officer Ian Johnston has said he plans to spin off Treasury Wine Estates, maker of Penfolds and Beringer, which has lost almost half its book value as grape gluts and an appreciating Australian currency slashed earnings.
Johnston, who first announced plans for the split on May 26, yesterday affirmed plans to spin off Treasury in 2011, after rejecting the private-equity offer. The stance was reiterated today by spokesman Troy Hey, who declined to comment further.
Cerberus Capital Management LP was behind the bid for Treasury Wine Estates, the Australian newspaper reported today, without saying where it got the information.
The bid "suggests Foster's could possibly avoid the demerger and the associated costs," said Melissa Earlam, an analyst at UBS AG in London. "It queries whether that needs to happen at all, or whether you could bypass that whole process."
Foster's rose yesterday to the highest level in 2 1/2 years as the bid reassured investors of interest in the wine business, which has had A$2.7 billion in writedowns since 2004.
Beer Unit
The brewer's shares gained 0.2 percent today to A$6.35 at the 4:10 p.m. close in Sydney and have climbed 23 percent since the May announcement of plans to spin off the wine unit, compared with a 7.4 percent advance in the benchmark S&P/ASX 200 index in the period.
Carlton & United Breweries, the beermaking unit of Foster's, could be worth A$10.8 billion, Deutsche Bank AG estimates, a multiple of 10 times estimated earnings before interest, taxes, depreciation and amortization for 2011. CUB, as the company is known, makes Victoria Bitter, Australia's best-selling beer.
SABMiller is considering a 7 billion-pound ($10.8 billion) offer for Carlton & United, the Sunday Times reported Aug. 22, without saying where it got the information. Asahi Breweries Ltd. of Japan hired advisers to look at the beer business, the Times reported Aug. 24.
SABMiller has also hired Royal Bank of Scotland Group Plc to study its options in relation to Foster's, according to another person with direct knowledge of the matter, who declined to be identified because the talks are private.
Bright Food
Nigel Fairbrass, a London-based spokesman at SABMiller, declined to comment.
China's Bright Food Group Co. received information from bankers about Foster's wine and beer businesses, the Australian Financial Review reported June 8, without saying where it got the information. Tsingtao Brewery Co. is also interested in the brewing operations, the Beijing-based Economic Observer reported on its website the same day.
The rejected bid for the wine unit "leaves the way open for one of the brewers to make a joint bid with a company desiring the wine business," said Short, "or to bid alone and take a view on how much they could sell the wine unit for afterwards."
Foster's spent about A$7 billion and a decade building the world's second-largest wine business, trailing only Victor, New York-based Constellation Brands Inc. After the writedowns and divestments, the remaining wine assets have a book value of A$3.1 billion and are unlikely to be sold by the company for anything less, according to analysts at Citigroup Inc.
'Consortium Bid'
"The attractiveness of a consortium bid for wine and beer is now more obvious and less expensive for the beer consolidator," Citigroup analysts including Andy Bowley and Craig Woolford wrote in a note to clients yesterday. "We therefore believe a bid for the whole business cannot be ruled out prior to a demerger."
Still, the analysts' "base case" is that a split will take place with no more bids for beer or wine, they added.
The company's desire to split may also be hampered by the departure of Chief Financial Officer Angus McKay, according to Simon Hales, an analyst at Evolution Securities. McKay will leave the company later this year, Foster's said Sept. 2 and no replacement has been named.
"The lack of a CFO isn't going to help the sale process short term or the overall demerger next year; it puts things at risk of delay," said Hales. "I'm sure they're actively looking for a replacement, and they will have other people in the business driving the process forward, but I think it's unhelpful."
Before it's here, it's on the Bloomberg Terminal.
LEARN MORE