China Inflation Date Change Triggers Speculation of Rate Rise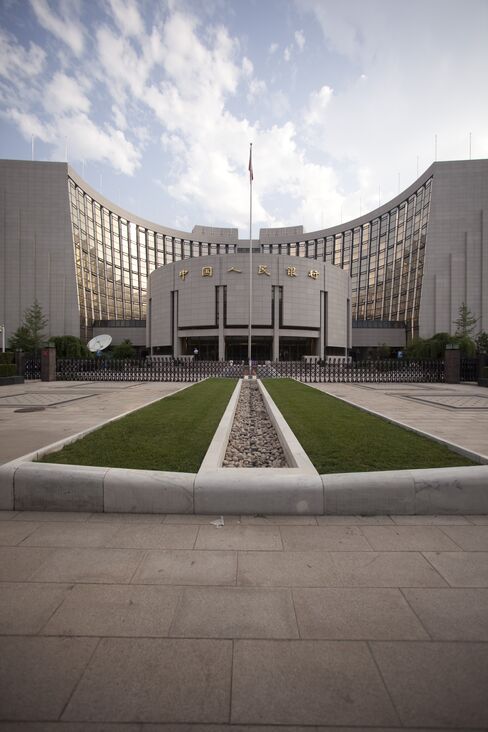 Sept. 10 (Bloomberg) -- China brought forward the release of August economic indicators by two days, spurring speculation the central bank may be preparing to raise a benchmark interest rate before markets open on Monday.
Data including consumer prices and industrial output will be reported tomorrow instead of the previously scheduled Sept. 13, the National Bureau of Statistics said in an e-mail yesterday. Central bank and statistics bureau press officials weren't immediately available to comment last evening.
Investors are speculating that the central bank may raise the deposit rate to combat the erosion of savings by inflation, according to analyst Chen Jianbo. Inflation may have accelerated to 3.5 percent in August, based on the median estimate of 31 economists in a Bloomberg News survey, while the one-year deposit rate is 2.25 percent.
"The statistics bureau has almost never reported data on weekends before," said Chen, a Beijing-based fixed-income analyst at BOC International (China) Ltd. The central bank "may need data announced that will support an increase in deposit rates," he said.
The statistics bureau previously said the data schedule was tentative and may be subject to change.
An interest-rate increase is unlikely "because top policy makers are concerned about growth and more biased toward thinking the risk of high inflation is limited," Goldman Sachs Group Inc. economists said in a Sept. 6 note.
Stocks Slide
The Shanghai Composite Index fell by the most in two weeks yesterday amid speculation that rising property prices could lead to additional tightening measures by the government.
China's economic expansion cooled to 10.3 percent in the second quarter from an 11.9 percent pace in the first three months of this year as the government trimmed credit growth from last year's record levels and clamped down on real-estate speculation. Gains in manufacturing indexes released on Sept. 1 suggested that the nation's slowdown is stabilizing.
China needs to better manage inflation expectations, Li Dongrong, assistant governor of the People's Bank of China, told a conference in Beijing yesterday, according to a transcript of his speech posted on QQ.com, a news website.
In July, consumer prices rose 3.3 percent from a year earlier.
To contact Bloomberg News staff for this story: Belinda Cao in Beijing at lcao4@bloomberg.net
To contact the editor responsible for this story: Chris Anstey at canstey@bloomberg.net