BMW, French Laundry's Keller Cook Up New Partnership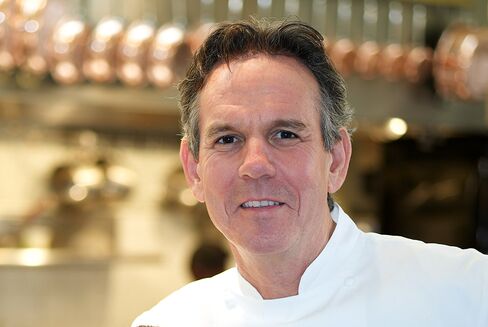 Bayerische Motoren Werke AG, the world's largest maker of luxury autos, has a new ingredient to target high-end customers: Chef Thomas Keller.
The automaker, based in Munich, whose research shows the No. 1 hobby of its customers is fine dining, today announced a partnership with the owner of the French Laundry and Per Se restaurants as part of an effort to market to customers with gourmet tastes.
BMW will provide a ActiveHybrid 7 sedan for select customers at the French Laundry as part of the restaurant's concierge service. The ActiveHybrid 7 has a manufacturer's suggested retail price starting at $102,300, according to Edmunds.com, a California-based provider of industry data.
"Our guests at the French Laundry are people who have BMWs or are looking at BMWs," Keller said in an interview before today's announcement. "It's a luxury brand and we're certainly a luxury experience."
Keller's restaurants are considered some of the finest in the U.S. His Per Se in New York and French Laundry in Yountville, California have received three stars from Michelin, the guide's top tier.
The niche marketing effort aims to generate word-of-mouth interest in both BMW and the French Laundry, Jim O'Donnell, president of the carmaker's North American unit, said in an interview before today's announcement. "It's nothing like advertising on the Super Bowl -- it's minuscule in comparison -- but the benefits could be rich," he said.
'Elevated Experience'
Keller is a long-time fan of BMW. His first car was a 1978 BMW 320i, which he restored four years ago, he said. For daily use, he drives a 5-Series wagon.
"What we're trying to achieve is an elevated experience at the French Laundry," Keller said in a telephone interview from the Cog Hill Golf & Country Club in Lemont, Illinois, where he was attending the BMW Championship golf tournament.
Keller already had an informal relationship with BMW, based largely on his fondness for the automaker. BMW provided ActiveHybrid X6 SUVs for guests at the opening last year of Bouchon, Keller's restaurant in Beverly Hills, California.
"Hopefully some of the people who are coming are not all BMW customers and they'll enjoy the experience and get closer to the brand," O'Donnell said.
'Testing the Waters'
The parties are also exploring other possibilities, including holding cooking events that would appeal to BMW customers and fans of Thomas's work. "It's testing the waters," O'Donnell said.
O'Donnell has said he wants BMW to become the top-selling luxury brand in the U.S. in 2012, taking the title from Lexus, which has seen increased competition from the German brand and from Mercedes-Benz.
Lexus remained the sales leader through August with 145,490 sales, an 11 percent increase, according to the company's numbers. Mercedes said its namesake brand sold 139,867 vehicles in same period, up 18 percent. BMW's U.S. brand sales increased 7.8 percent to 139,236 vehicles.
BMW said Keller planned to serve a "BMW-inspired recipe" that will be featured today on the French Laundry dinner menu, which will include "Four Story Hill Farm Apple Fed Pork Loin with Bratwurst."