Vatican Calls Planned Koran Burning 'Outrageous'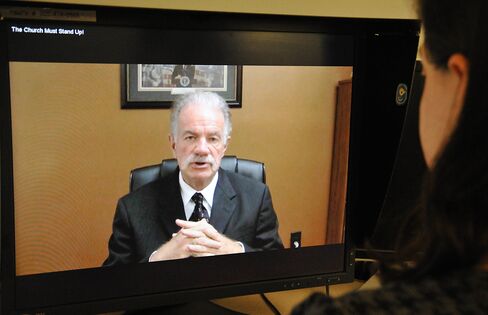 The Vatican condemned a Florida pastor's plan to burn Korans on the anniversary of the Sept. 11 attacks, and U.S. Secretary of State Hillary Clinton said burning the Islamic holy book is a "disgraceful plan."
The terrorist attacks "cannot be counteracted by an outrageous and grave gesture against a book considered sacred by a religious community," the Vatican's Pontifical Council for Inter-Religious Dialogue said today in an e-mailed statement. Every religion "has the right to respect and protection."
Terry Jones, pastor of the Dove World Outreach Center in Gainesville, told CNN yesterday that he's "weighing" what to do after U.S. General David Petraeus, commander of international coalition forces in Afghanistan, warned the event would endanger U.S. troops. White House spokesman Robert Gibbs yesterday echoed the general's warning, saying the Koran burning would put U.S. troops "in harm's way."
In a video posted on the church's website, Jones said the event was in response to anti-American sentiment expressed by some Muslims abroad. Sept. 11 is the ninth anniversary of the terrorist attacks in New York City and the Pentagon that killed almost 3,000 people.
'Solidarity'
The anniversary calls for "deep sentiments of solidarity" with the victims of the attacks and their families, according to today's statement from the Vatican.
"We are hoping that the pastor decides not to do this," Clinton told an audience at the Council on Foreign Relations in Washington today.
Pope Benedict XVI sparked criticism from the Muslim world after delivering a lecture at the University of Regensburg in Germany on Sept. 12, 2006. He cited a 14th-century text that described Mohamed as a prophet who brought "evil and inhuman" things, "such as his command to spread by the sword the faith he preached."
Benedict hadn't intended to offend Islam, Vatican spokesman Federico Lombardi said after the lecture. The pope expressed regret twice for his comments, saying he had quoted "a medieval text" that did not "express in any way my personal opinion."