Nadal Step Closer to Federer by Reaching U.S. Open Semifinals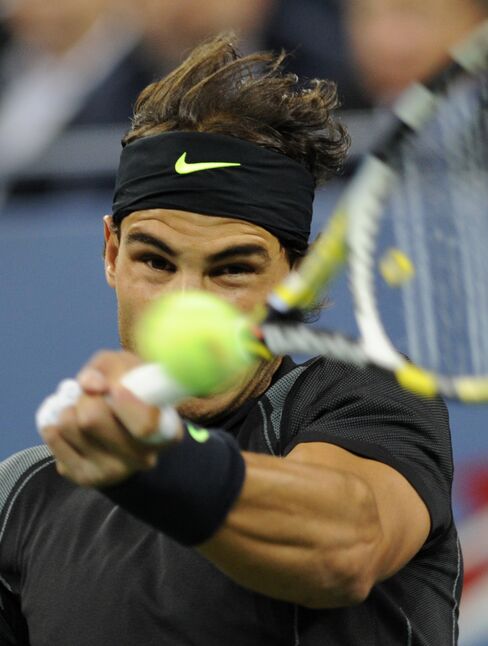 Rafael Nadal moved one step closer to a showdown with Roger Federer in the U.S. Open final, advancing to the semifinals with a straight-set victory over fellow Spaniard Fernando Verdasco.
Nadal lost a game on his serve for the first time at the season's final Grand Slam tournament and then recovered for a 7-5, 6-3, 6-4 win last night at the National Tennis Center in New York. He'll next face Mikhail Youzhny, who outlasted Stanislas Wawrinka in a five-set match, while Federer plays Novak Djokovic.
The only men's players in the tournament yet to lose a set, Nadal and Federer have met seven times in Grand Slam finals -- at Wimbledon, the French Open and the Australian Open. The only major title they haven't faced each other for is at the U.S. Open, where the 29-year-old Federer is a five-time champion and Nadal is seeking a win to complete a career Grand Slam.
"For sure Roger is the favorite," Nadal said. "No one doubts that. I am in semifinals, so I don't think about the final. I hope to keep playing well and have my chance."
Nadal, 24, who lost in the U.S. Open semifinals the past two years, has a 7-4 career record against Youzhny, who said he hopes to deny a Nadal-Federer final even though he realizes it's the match most tennis fans want to see.
"I love to be bad person in this case," the 12th-seeded Russian said during a news conference.
Semifinal Matches
The men's semifinals will be played tomorrow, while the women play for a spot in the final today.
Defending champion Kim Clijsters of Belgium plays two-time winner Venus Williams, the only American left in the tournament. Clijsters is seeded second and Williams is third after top seed Caroline Wozniacki of Denmark, who plays Vera Zvonareva, the Russian No. 7 seed, in the other semifinal.
Wozniacki and Zvonareva have split their four career meetings, with Wozniacki taking the most recent match in straight sets in the final of a hard-court event last month in Montreal. Clijsters and Williams are also deadlocked, each winning six of their 12 meetings. Clijsters has won the past four matches between the two, including two at the U.S. Open.
"She looks more hungry than ever," Clijsters said after her semifinal win. "This is probably some of the best of Venus that I've seen for a while."
Nadal Loses Serve
Nadal, the men's No. 1, had won 62 straight service games before Verdasco broke him at love in the third game of their opening set amid swirling winds at Arthur Ashe Stadium.
Nadal fought back with two breaks of his own, including the second one to win the set when Verdasco was serving and trying to force a tiebreaker. After another service break gave him a 4-2 lead en route to winning the second set, Nadal jumped in the air and gave a double fist pump.
Nadal entered last night's match with an 89-0 record when winning the first two sets at one of the four majors. He quickly made it 90-0 by breaking Verdasco's serve in the first game of the third set, and remains unbeaten in 11 career matches against his countryman.
Youzhny needed four hours to beat Wawrinka. The Russian matched his semifinal appearance at the 2006 U.S. Open by coming back for a 3-6, 7-6 (9-7), 3-6, 6-3, 6-3 win against the 25th-seeded Swiss, who upset American Sam Querrey and Briton Andy Murray in the two previous rounds.
"This court adapts very well to his game. It's going to be very difficult to beat him," Nadal said of Youzhny. "I have to play aggressive because if I am losing court against him, it's going to be impossible to come back."
Federer made the semifinals two days ago with a straight-set win over Robin Soderling, the man who upset him in the quarterfinals of this year's French Open. Djokovic reached the semifinals for the fourth straight year by defeating Gael Monfils.