Obama Says U.S. Can't Afford Tax Cut for Wealthy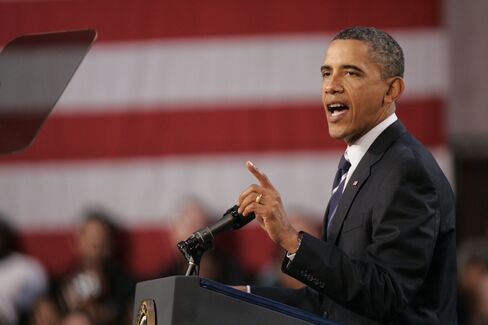 President Barack Obama said the country can't afford to extend tax cuts for the wealthiest Americans and he accused Republicans of pushing the "flawed policies" that led to the worst recession since the 1930s.
Obama said in a speech yesterday in Ohio that he realized that the recovery has been "painfully slow." As a remedy, he urged Congress to enact measures to give businesses more tax breaks, keep tax cuts for middle-income Americans and let rates rise for the richest taxpayers.
He mixed a defense of his economic initiatives with a pitch to voters in November's congressional elections.
"People are frustrated and angry and anxious about the future," Obama said at Cuyahoga Community College West Campus in Parma, outside Cleveland. "I understand that. I also understand that in a political campaign, the easiest thing for the other side to do is ride this fear and anger all the way to Election Day."
Obama's insistence on letting the top tax rates expire at the end of this year sets up an election-year confrontation with Republicans, who are seeking to win control of the House and Senate with campaigns focused on the economy and the federal budget deficit.
Targeting Boehner
Obama singled out House minority leader John Boehner for criticism, mentioning him eight times in a 47-minute speech. Boehner, who likely would become House speaker if Republicans take over that chamber, attacked Obama's economic plan in Cleveland on Aug. 24.
"There were no new policies from Mr. Boehner," Obama said. The Ohio Republican offered "the same philosophy that led to this mess in the first place: cut more taxes for millionaires and cut more rules for corporations."
Those policies "gave us the illusion of prosperity" while the broader economy was weakened, Obama said.
The tax cuts passed under former President George W. Bush are set to expire at the end of the year. Obama wants to extend the lower rates for those earning less than $200,000 per individual or $250,000 per couple.
Obama said keeping the tax cuts for the wealthiest "would have us borrow $700 billion over the next 10 years to give a tax cut of about $100,000 to folks who are already millionaires."
If the top rates expire, the 3.8 million filers who fall in the $200,000 to $500,000 income range would pay an average $532 more in 2011 taxes, according to a study by the nonpartisan congressional Joint Committee on Taxation.
Higher Taxes
The biggest burden would fall on the 608,000 taxpayers who make between $500,000 and $1 million and the 315,000 earning more than $1 million; the first group would pay $6.5 billion more, or an average of almost $10,000, and the second group would owe $31 billion more, or almost $100,000 on average, the analysis said.
Boehner and Senate Republican leader Mitch McConnell of Kentucky are advocating a compromise on income taxes that would keep rates the same for all taxpayers for two years. The idea was suggested by Obama's former budget director, Peter Orszag, in a column in the New York Times published Sept. 6.
"If the president is serious about finally focusing on jobs, a good start would be taking the advice of his recently departed budget director and freezing all tax rates," Boehner said in a statement after Obama's speech.
No Veto Threat
Obama said the Republicans are trying to hold the middle-income tax cuts "hostage" to keeping the top rate cuts.
In an interview broadcast today on ABC's "Good Morning America," Obama declined to issue a veto threat if legislation extending tax cuts includes the wealthy.
"What I am saying is that if we are going to add to our deficit by $35 billion, $95 billion, $100 billion, $700 billion, if that's the Republican agenda, then I've got a whole bunch of better ways to spend that money," the president said.
Asked three times whether he would veto an extension of cuts to the wealthy, Obama replied, "There are a whole bunch better ways to spend the money."
Obama also wants Congress to take up proposals to spend $50 billion to repair and rebuild the U.S. transportation infrastructure, permanently extend a research and development tax credit and let businesses deduct the full cost of capital investments in the year the expenditures are made, instead of writing them off over periods of as long as 20 years.
Corporate Taxes
Douglas Holtz-Eakin, who was the top economic adviser to Obama's 2008 Republican opponent, Arizona Senator John McCain, said the infrastructure spending and the tax credit would do little to encourage hiring or short-term growth.
Holtz-Eakin suggested that instead of more spending, which would have to be reduced in the future, the government should lower the corporate tax rate.
"Do things now that will help long-term growth," he said in an interview with Bloomberg Television. "You have to focus on businesses because they are financially solvent."
All of Obama's proposals are subject to congressional approval. House and Senate members return to Washington next week and will be in session for a few weeks before breaking to campaign.
Obama repeated what he said is the theme of the midterm congressional elections.
"It's still a choice between sliding backward and moving forward," he said. "That's the choice you'll face in November."
Target Audience
By criticizing Boehner repeatedly and by name, Obama may be trying to remind his supporters why they backed him in 2008 and why they should vote for Democratic lawmakers in November, according to Linda Fowler, professor of government at Dartmouth College in Hanover, New Hampshire, who studies midterm elections.
"The target audience is really independents," Fowler said. "It's the president's job to kind of be the sheep dog and herd them back into the party for the purposes of this election."
In the ABC interview, Obama said he is trying to make sure "people understand" the differences between Democratic and Republican candidates. Democrats are "not going to do well" if the election becomes just a referendum about how voters feel about the current state of the economy, he said.
Before it's here, it's on the Bloomberg Terminal.
LEARN MORE