New Meadowlands Has Horrible Edibles; Go With Deli: Food Buzz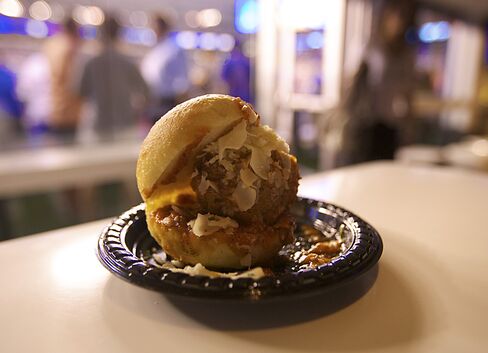 Sipping a Tom Collins a few steps behind Giants quarterback Eli Manning at the New Meadowlands Stadium, I realized that $40,000 may buy you and a date access to a field-level lounge, but it doesn't get you cocktails, which are $12 and awful.
A pair of Jets seat "licenses" is even pricier, topping out at $60,000. (The onetime fee allows you to keep buying your season tickets year after year.) And that's why this life-long fan will watch from home as the two New York football teams open their seasons this Sunday and Monday in their new, $1.6 billion arena.
The pizza's free but so bad I almost yearned for a Domino's slice. Miserable Manhattans, poured into a plastic cup with neither shaking nor stirring still help you forget about the turnpike-quality concessions and pricing on par with tuition at New York University.
Like sausage and politics, the New Meadowlands is slick and shiny on the outside, suspect within. The steel jungle gym of an exterior emits gorgeous green and blue lights at night; the interior's concrete walkways do their best impression of a maximum-security prison. It's the most expensive, least impressive of the area's three new stadiums. And it's the only one without in-seat wait service.
Where's the Roof?
My third-row seats, face value $700 apiece, were about the price of dinner for two at Per Se. Per Se at least offers a roof, which the stadium does not (good luck to fans at the February, 2014, Super Bowl).
If you've shelled out top dollar for Coaches or Mezzanine club seats, you can retreat to climate-controlled lounges where most views of the action are obstructed or nonexistent. Everyone else will watch on flat screens in the Captain Morgan Club, where a rum & cola will set you back $18.
"It includes an extra shot of alcohol," says the barkeep. Classy.
Want a $4.75 bottle of water? I almost spilled it because the cashier kept the cap. "It's so fans don't throw the tops at players," she explained. The teams don't hold patrons in high regard, though I was allowed to keep my bottle top in a fancy club, where I could hit the opposing team's linebackers more easily.
Nice Steaks
Food is included in the Coaches Club ticket price; the David Rockwell-designed buffet dished out overcooked penne a la vodka, rubbery kosher chicken nuggets and mushy cannoli. There are medium-rare skirt steaks, succulent beef tenderloins, juicy stuffed turkey and spicy chili.
The fare at best is generic and utterly boring. The opposite is true at our other new stadiums: At Citi Field for example, Mets fans can snack on New York's best local fast food, including burgers from Danny Meyer's Shake Shack, crispy fries from Box Frites, great tacos at El Verano Taqueria and David Pasternack's fresh, meaty lobster rolls.
The Coaches Club, in contrast, embarrasses our country's culinary capital with retrograde, flavorless Tex-Mex chicken tortillas, tuna fish-like lobster rolls and soggy fries. A "custom grind" Brooklyn Burger from the Mezzanine Club tastes nothing like the good sliders I've had in Kings County. Other sports complexes hire well-known regional chefs and restaurateurs; the Meadowlands picked the mass-market Food Network to provide $11 short rib hot dogs.
Instead, have the deep-fried franks for $6.00. Or gorge on the least crowded and most authentic vendors in the general concessions area -- the bridge-and-tunnel Italian deli stands.
Try a stellar roast pork sandwich (with sharp cheese and spicy pepper), a decent egg and pepper hero or a $15 beef roulade whose heady, salty ham-stuffed interior comes out best when you toss the dry, forgettable bread. Wash it all down with good dark beer.
The New Meadowlands Stadium is at 102 Route 120, East Rutherford, New Jersey. Information: http://www.giants.com or http://www.newyorkjets.com/. Direct train service via Penn Station.
(Ryan Sutton writes about New York City restaurants for Muse, the arts and entertainment section of Bloomberg News. The opinions expressed are his own.)
Before it's here, it's on the Bloomberg Terminal.
LEARN MORE