Gillard Keeps Power by Wooing Australia Independents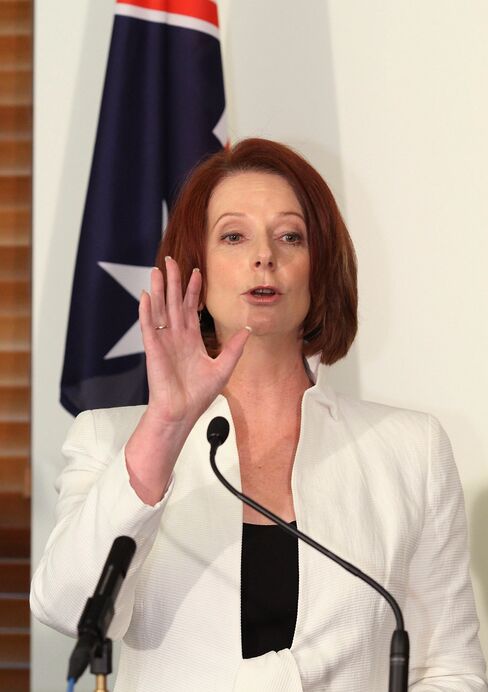 Julia Gillard held on to power as Australia's first female prime minister after two independent lawmakers agreed to prop up a minority Labor Party government to resolve the country's closest election in 70 years.
Gillard was forced to negotiate power-sharing agreements with the Greens Party and three independents after losing her party's overall majority in the Aug. 21 election. Finding consensus may make it harder to meet campaign pledges to tax iron ore and coal projects, set penalties for emissions and overhaul immigration.
"We'll be working with all of the independents and the minor parties in the parliament, irrespective of the decisions they took yesterday," Deputy Prime Minister and Treasurer Wayne Swan told reporters in Canberra today. "This government's commitment to responsible economic management, strong economic management, is in no way affected."
Independents Robert Oakeshott and Tony Windsor, who represent districts outside major cities, agreed yesterday to back Gillard in return for A$9.9 billion ($9 billion) of investment, more than half of which comes from the planned mining tax, to improve health and education in rural areas. Their support, which prevented opposition leader Tony Abbott from taking power, only extends to passage of the national budget and a guarantee not to vote down a Gillard government.
'Precarious Government'
"This is a precarious government," said Brian Redican, a senior economist at Macquarie Group Ltd. in Sydney. "Getting legislation through will be harder, will take longer, include compromises and more money will be spent on satisfying the independents."
The Australian dollar rose to 91.46 U.S. cents at 4.23 p.m. in Sydney time from 91.06 yesterday. It had reached 91.81 U.S. cents on Sept. 6, the highest level since Aug. 9, before the two independent lawmakers backed Gillard.
Swan said the government remains committed to introducing its 30 percent levy on coal and iron ore profits at companies such as BHP Billiton Ltd. and Rio Tinto Group to help pay for infrastructure, improved retirement benefits and a corporate tax reduction. Oakeshott said he would like an "open public discussion" on the proposal and Gillard acknowledged yesterday that she had no guarantee parliament would pass the laws.
"The independents will talk to the government about the mining tax and we will be seeking their support for the final design of the tax," Swan said.
Stocks Fall
The benchmark S&P/ASX 200 Index, fell 0.8 percent to 4,537.2, while BHP dropped 1.4 percent to A$37.91 and Rio declined 1.2 percent to A$73.44 at the 4.10 p.m. close of trading in Sydney.
Gillard, who alienated some Labor supporters by ousting predecessor Kevin Rudd in June and watering down his mining proposal, narrowly avoided becoming the shortest-serving prime minister in 42 years. She will be joined by about 34 female lawmakers in the 150-member lower house, electoral commission figures show. There are about eight women chief executive officers among Australia's 200 largest companies.
Gillard was born in the Welsh town of Barry and moved to Australia as a four-year-old. A former student activist, she made her name as a lawyer with Slater & Gordon in Melbourne before winning a parliamentary seat in 1998. As Rudd's deputy she oversaw the A$16.2 billion schools program that she described last month as a "mess" that attracted contractors who overcharged.
Trustworthiness
Abbott, 52, opposed Gillard's mining tax and attacked her trustworthiness during the campaign, a charge that resonated with voters who grilled her in a televised town hall meeting last month about Rudd's ouster. Abbott also campaigned with his wife and family to highlight differences with Gillard, who isn't married and has no children.
Oakeshott and Windsor joined the sole Greens Party member of parliament and a fellow independent in agreeing to back Gillard, giving her the minimum 76 seats needed in the 150-seat lower house to form a government. One seat claimed by Labor remains too close to call, according to the Australian Electoral Commission. Labor had a 12-seat majority before the election.
"It is a government that's utterly without a mandate," Abbott told Sydney-based 2GB radio today. "Twice now Julia Gillard has become Prime Minister but on neither occasion it's been by popular vote. The first time she was installed by the factions. The second time she's been installed by the two independents."
Education, Internet Coverage
Gillard said the next round of health and hospital funding would be "dedicated to rural Australia." Priority will also be given to education and building a national broadband Internet network to cover rural districts, she said.
Both Windsor and Oakeshott said the need to develop Australia's broadband coverage and address climate change were key considerations during two weeks of negotiations.
'We've been bogged in the politics of telecommunications for over a decade," Windsor told reporters in Tamworth today. "If we want to be competitive in the world, we've got to pick up speed."
Building a A$43 billion National Broadband Network and charging companies for pollution were among Gillard's campaign cornerstones. Telstra Corp., the nation's biggest phone company, will phase out its copper-wire network as part of the broadband plan.
"This is our opportunity to use the parliament strategically," Windsor said. "We went through decades where country policy was put together by city-based, marginal-seat mentality policy makers."