Fed Banks Saw 'Widespread Signs of a Deceleration'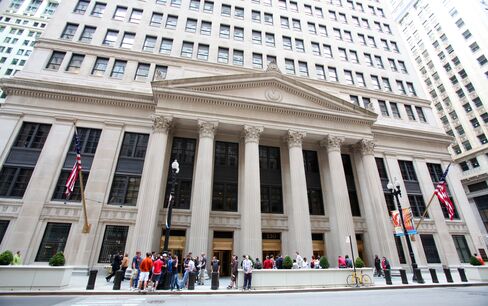 The Federal Reserve said the U.S. economy maintained its expansion while showing "widespread signs of a deceleration" in mid-July through the end of August, according to a survey by 12 regional Fed banks.
Five regional banks reported "economic growth at a moderate pace" and two pointed to "positive developments or net improvements." The remaining five banks said conditions were mixed or decelerating.
The report underscores the Fed's view that while the recovery from the worst recession in seven decades has cooled, the economy isn't relapsing into a contraction. In a speech last month in Jackson Hole, Wyoming, Fed chairman Ben S. Bernanke said "the preconditions for a pickup in growth in 2011 appear to remain in place."
In the previous regional report, released July 28, the Fed said "economic activity has continued to increase, on balance." Two Fed districts reported the economy "generally held steady," while two others said the pace of growth "had slowed recently."
The Standard & Poor's 500 Index rose 0.6 percent to 1,098.87 at 4:09 p.m. in New York after climbing as much as 1.1 percent. The yield on the 10-year Treasury note rose to 2.65 percent from 2.60 percent late yesterday.
'Major Disappointment'
The report is "a continuation of the view that was discussed at Jackson Hole that the chairman put forth," John Taylor, an economist at Stanford University and creator of an interest-rate formula used by central banks, said in an interview on Bloomberg Radio. "It's not a double dip, it's not another recession within a recession. But it is a major disappointment in terms of a recovery."
The regional survey, known as the Beige Book for the color of its cover, offers anecdotal evidence that will help central bankers determine whether more stimulus is needed to reduce a jobless rate stuck near a 26-year high and protect a recovery from the deepest recession since the 1930s. The policy-making Federal Open Market Committee next meets Sept. 21.
"As compared to the August employment report which gave the Fed some ground to move away from further easing, the Beige Book showing conditions are worse now than in the first half of the year, suggests they might want to consider stimulus again," said Christopher Low, chief economist at FTN Financial in New York.
Jobless Rate
Private employers added 67,000 jobs in August, more than forecast, and the jobless rate rose to 9.6 percent as more people looked for work. Total payrolls, including government agencies, shrank by 54,000, reflecting the dismissal of temporary workers hired to conduct the 2010 census.
"They're clearly making a distinction between slowdown and recession. They do not see recession but they do see slower growth," said Low, who expects the Fed to resume quantitative easing in 2011, based on his forecast for slowing growth.
For now, Fed officials say growth will pick back up in 2011. John Williams, the research director of the San Francisco Fed, said today that his bank expects growth of as much as 4 percent in 2011.
"I am confident we will find safe harbor, even if we feel a little seasick right now," said Williams, in a speech in Salt Lake City. "I won't pretend that some very serious problems aren't still with us, but I see a double dip into recession as highly unlikely."
Slowdown Signs
The New York Fed reported "signs of decelerating" in the district, including "further deceleration" in manufacturing. The Philadelphia region said business conditions were "mixed," while the Richmond Fed said "signs of slowing or contracting economic activity became more prevalent." The Atlanta region's economy "continued to slow" and Chicago's "moderated" in July and August, the Beige Book said.
Reports received by regional Fed banks "suggested continued growth in national economic activity during the reporting period of mid-July through the end of August, but with widespread signs of a deceleration compared with preceding periods," today's report said.
The report showed that manufacturing maintained its expansion while showing signs of slowing. Consumer spending "appeared to increase on balance," though shoppers were limiting purchases of non-essential items. Home sales were "very low" or "declining" in most Fed districts following the expiration of a government tax credit.
Consumer Spending
Caterpillar Inc. may add as many as 9,000 workers worldwide this year, Doug Oberhelman, chief executive officer of the Peoria, Illinois-based company, said last month in a New York meeting with analysts. Caterpillar has added 3,650 employees globally this year as production increased. About 1,250 of those have been in the U.S.
Wage pressures were limited, the Fed said, though some districts "noted increased upward pressures in a narrow set of sectors experiencing a mismatch between job requirements and applicant skills."
A mismatch in the jobs market may also explain some of the high unemployment rate, Minneapolis Fed President Narayana Kocherlakota said today in a speech in Missoula, Montana. For example, workers in Nevada's distressed housing markets may not be able to move to Western markets where oil and gas jobs are difficult to fill, he said.
"The mismatch problems in the labor market do not strike me as readily amenable to the kinds of monetary policy tools currently available to the Fed," Kocherlakota said, though other government policies may help.
Unemployment Rate
President Barack Obama, speaking in Parma, Ohio today, said he recognizes that the recovery has been "painfully slow" and called on Congress to enact measures to cut taxes for businesses and middle-income Americans while letting rates rise for the wealthiest.
In Milwaukee on Sept. 6, the president called for $50 billion for a program to fix roads, railways and runways and modernize the air-traffic control system.
The programs come less than two months before the 2010 congressional elections, which are becoming a referendum on the President's handling of the economy. Voters are split on Obama's performance, with 46 percent approving and 47 percent disapproving, according to a Gallup poll yesterday.
'Limited' Price Increases
Today's Fed report said consumer spending "appeared to increase on balance despite continued consumer caution that limited nonessential purchases." Price increases for consumers "remained quite limited."
The Fed's preferred gauge for the trend of inflation -- the core personal-consumption expenditures price index, minus food and energy -- rose at an annual rate of 1.4 percent in July, below the Fed's target for inflation of 1.7 percent to 2 percent.
Home sales declined in recent months, the Fed said.
"Most District reports highlighted evidence of very low or declining home sales, which many attributed to a sustained lull following the expiration of the homebuyer tax credit at the end of June," the report said. Changes in home prices "were mixed, with most Districts reporting stability or declines of late."
The declines in home sales occurred even as mortgage rates reached record lows. The average rate for 30-year fixed-rate home loan fell to 4.32 percent for the week ended Sept. 2, according to an index from mortgage finance company Freddie Mac.
Commercial Space
"Demand for commercial, industrial, and retail space generally remained depressed," the Fed said, though commercial real estate "showed signs of stabilization in some areas."
Even as bank lending languishes, corporate-debt sales are being spurred by investment-grade borrowing costs hovering near the lowest on record. Companies including Home Depot Inc. and Dell Inc. led the busiest day for corporate bond issuance in more than seven months, selling $16.4 billion yesterday, according to data compiled by Bloomberg.
"Most Districts reported little or no change from existing low levels of commercial and industrial lending, as businesses remained quite cautious about expansion plans," the Fed said, also noting that "consumer lending remained sluggish in general."
Today's Beige Book reflects information collected on or before Aug. 30, and was summarized by staffers at the San Francisco Fed. In the June 9 Beige Book, the Fed reported improvement in all 12 districts.
Before it's here, it's on the Bloomberg Terminal.
LEARN MORE