SEC Urges Approval of Citigroup Subprime Settlement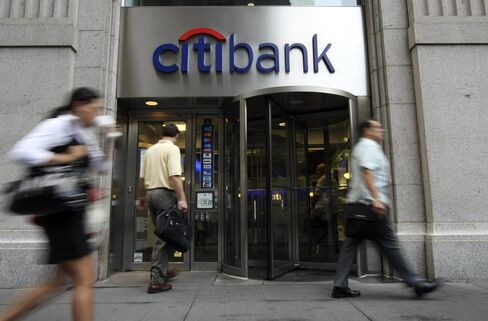 Sept. 8 (Bloomberg) -- The U.S. Securities and Exchange Commission urged a U.S. judge to approve Citigroup Inc.'s $75 million settlement with regulators over claims the bank misled investors by failing to disclose $40 billion in subprime-related holdings.
U.S. Judge Ellen Huvelle was initially dissatisfied with the written proposal and had sought more information before approving the accord. She had given lawyers a deadline of today to submit a new round of court filings.
The penalty "takes into account the seriousness of the misconduct," the SEC wrote today. "It is sufficiently substantial to send a clear message that misleading statements by a corporation on issues of importance to investors cannot go unaddressed."
The company made misstatements on earnings calls and in financial filings about assets tied to subprime loans as the housing crisis unfolded in 2007, the Securities and Exchange Commission said July 29 in a complaint filed in federal court in Washington. Some disclosures omitted more than $40 billion in investments, the SEC said.
The judge said Citi could make a filing by Sept. 13 and then scheduled a Sept. 24 hearing.
U.S. judges have sought more information or delayed approval of at least two bank settlements by regulators since August 2009.
Accord Rejected
A U.S. judge in New York in February approved a $150 million Bank of America Corp. settlement with the SEC over alleged misstatements about the purchase of Merrill Lynch & Co. after he had initially rejected a $33 million accord. Last month, a U.S. judge in Washington questioned a "sweetheart deal" between the U.S. and Barclays Plc, which was accused of violating U.S. financial sanctions against Cuba, Iran, Libya, Sudan, and Burma.
Former Citigroup Chief Financial Officer Gary Crittenden, who left the bank last year, agreed to pay $100,000 to settle claims he didn't disclose the risk after getting internal briefings. Arthur Tildesley, Citigroup's former head of investor relations, will pay $80,000 to settle claims that he helped draft disclosures that misled investors, the SEC said.
Citigroup, Crittenden and Tildesley agreed to settle the case without admitting or denying the SEC's allegations.
Responding to questions from the judge, the SEC said in today's filing it only pursued claims against Crittenden and Tildesley because "no other individuals were tied to the misleading disclosures more closely than Messrs. Crittenden and Tildesley."
Subprime Risks
The filing also identified more than a dozen company executives that had only been listed as "senior management" in the prior legal documents, following Huvelle's request.
Citigroup executives repeatedly stated in 2007 that the New York-based bank had reduced its exposure to subprime mortgage securities by 45 percent to $13 billion, as investors and analysts clamored for information about the deteriorating market, SEC attorneys said in court filings.
On an Oct. 15, 2007, conference call with analysts and investors, Crittenden said the company's "subprime exposure" was $13 billion at the end of second quarter and had declined during the third quarter.
The figure he cited omitted "super-senior" tranches of collateralized debt obligations and financial guarantees known as liquidity puts that allowed customers to sell debt securities back to Citigroup if credit markets froze, the SEC said. Those products added more than $40 billion of subprime risk that the bank didn't disclose to investors, the SEC said.
Potential Losses
The bank, once the world's biggest by assets, got a $45 billion taxpayer bailout in 2008 after losses on subprime mortgages and CDO holdings withered confidence and almost triggered a run on deposits.
Citigroup executives including former Chief Executive Officer Charles O. "Chuck" Prince were questioned at an April hearing by the Financial Crisis Inquiry Commission about whether the bank fully disclosed potential losses.
Estimates were in flux, because the subprime market was rapidly deteriorating, Prince told the financial crisis panel.
"At the time, the financial people were working very intensely with the fixed-income people to try to determine exposures," Prince said during the April 8 hearing. "This was an unprecedented time in which markets were crashing."
'Reluctantly' Approved
In the SEC v. Bank of America case, U.S. District Judge Jed S. Rakoff in New York said he "reluctantly" approved the settlement of two suits in which the agency accused the Charlotte, North Carolina-based bank of misleading investors following the announcement that it would acquire Merrill Lynch.
He criticized the accord as "half-baked justice at best" and "inadequate and misguided," though said it was an improvement over the prior accord.
In the Barclays case, U.S. Judge Emmet Sullivan in Washington was critical of the deferred prosecution deal, pointing out that people caught robbing a bank don't get deferred prosecution and the option to return ill-gotten gains.
"Why isn't the government getting tough with the banks?" Sullivan asked, before approving the accord the following day.
The case is Securities and Exchange Commission v. Citigroup Inc., 10-cv-01277, U.S. District Court, District of Columbia (Washington).
To contact the reporter on this story: William McQuillen in Washington at bmcquillen@bloomberg.net.
To contact the editor responsible for this story: David E. Rovella at drovella@bloomberg.net.