China 'Tightening' Speculation Follows Property Surge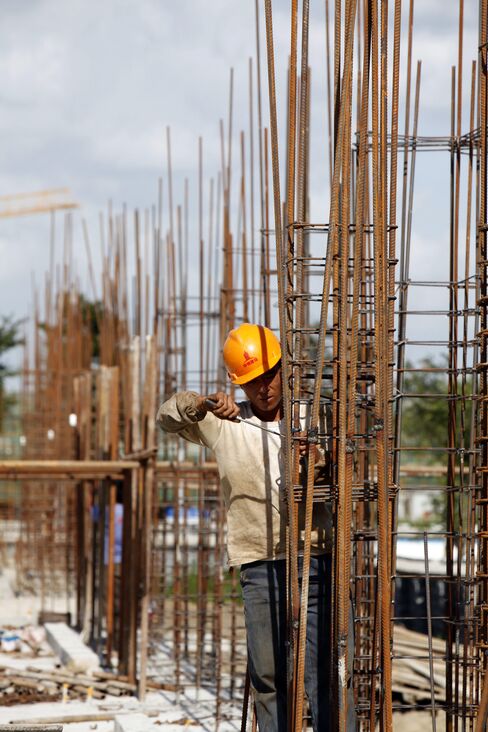 China's attempts to cool the real-estate market may be faltering as sales surge, prompting speculation the government may issue more tightening measures.
Housing transactions in cities including Shanghai jumped in August from July, according to real-estate data providers. China Vanke Co., the nation's biggest developer, said sales increased 149 percent from a year earlier. Government property data is due to be released as soon as Sept. 10.
Real-estate stocks tumbled today after a newspaper reported that the government may introduce a second round of measures to cool the market and Citigroup Inc. said extra steps are "very likely." The government is seeking to limit the risk of asset bubbles after flooding the economy with money to drive a recovery from the financial crisis.
"The key drivers of the property bubble are excess liquidity and lack of investment alternatives, which are still largely in place," said Ken Peng, a Beijing-based economist for Citigroup.
Property stocks fell 1.5 percent, the worst performer of five industry groups on the benchmark Shanghai Composite Index, which closed 0.1 percent lower.
Also today, the overseas edition of the People's Daily reported that some developers had "exceptional" sales after cutting prices for new projects, citing Ba Shusong, deputy head of the financial institute of the State Council's Development Research Center.
Extra Measures
Extra tightening measures may include restrictions on pre-sales of apartments and curbs on the discounts banks can offer on mortgages, according to Citigroup's Peng. Officials may also accelerate programs to increase the supply of housing, more strictly enforce existing restrictions on mortgages, and again consider introducing a property tax, he said.
The 21st Century Business Herald reported today that measures may include stopping loans to developers, compulsory lowering of home prices and a ban on third-home purchases. It cited an unidentified person close to the Ministry of Housing and Urban-Rural Development.
Jing Ulrich, chairwoman of equities and commodities at JPMorgan Chase & Co., took the opposite view, saying that government plans to boost the supply of affordable housing will lower prices and additional measures aren't needed.
In Shenzhen, housing transactions jumped 84 percent in August from July, according to Soufun Holdings Ltd. Sales rose 56 percent in Guangzhou, 31 percent in Shanghai and 23 percent in Beijing, it said.
Asian Risks
Policy makers across Asia are grappling with the risk of asset bubbles forming and posing risks for banks as home prices surge. Singapore last month increased down payments for second mortgages and imposed a stamp duty on property held for less than three years.
China's banking system has weak risk management and is exposed to potential systemic risks that can't be ignored, Liu Mingkang, chairman of the China Banking Regulatory Commission, said in a statement on the agency's website today.
China's housing prices are rising along with sales, as Soufun data show a 12.3 percent monthly appreciation for Beijing homes in August and gains of almost 7 percent in Shenzhen and 6.6 percent in Guangzhou. The website said the Beijing price data didn't include welfare housing, which is included in government numbers.
'Rhetoric' Versus Reality
Shanghai's new home sales rose 70 percent in August from July, according to property consultant Shanghai UWin Real Estate Information Services Co. New home prices in the city on average jumped 9.5 percent, the real-estate data company said.
China's policies to restrain the market have been "more rhetoric than reality," International Strategy & Investment Group said yesterday.
China intensified a crackdown on speculation in April after prices jumped by a record in March and economic growth surged in the first quarter. Measures have included a ban on loans for third-home purchases and raising mortgage rates and down-payment requirements for second-home purchases.
Property prices in 70 cities rose 10.3 percent in July from a year earlier, the slowest pace in six months, according to official data.
"Abundant liquidity and huge investment demand together will likely defy any tightening measures in the property sector," Citigroup's Peng said. "As a result, effective tightening will have to come at the cost of significant economic slowdown."
China's real-estate market is in a "very big bubble" that may last until the government increases interest rates and introduces a real-estate tax, StarRock Investment Management said Sept. 2.