Cardholders Prefer Debit as Credit-Card Use Declines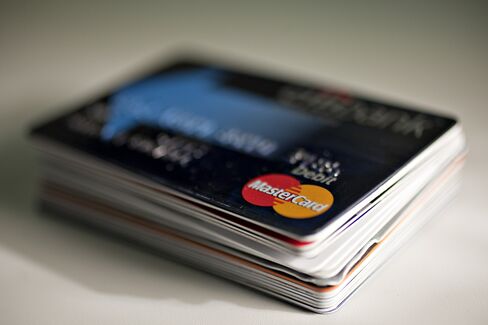 Americans are shunning their credit cards and using debit to avoid incurring more debt, said Javelin Strategy & Research.
Total payment volume for debit cards surpassed credit-card volume for the first time in 2009 and will continue to eclipse it in 2010, according to a report released today by the Pleasanton, California-based market-research firm that specializes in financial services.
At San Francisco-based Visa Inc., the world's biggest payments network, the total payment volume for debit cards increased by 7.9 percent in 2009 to $883 billion as credit-card volume declined by 7.3 percent to $764 billion. Volume for debit cards at No. 2 MasterCard Inc. in Purchase, New York, rose by 5.8 percent and 2.8 percent at No. 4 Riverwoods, Illinois-based Discover Financial Services.
"Consumers are turning from one form of plastic to another," said James Van Dyke, president and founder of Javelin. "Credit cards are falling out of favor as cardholders become more cautious and look for more conservative payment methods."
Fifty-six percent of consumers said they had used a credit card in the past month compared with 87 percent who said they had in 2007, according to the study, which surveyed 3,294 people in November 2009 for that question. Other findings were based on data collected online from 5,211 respondents in March 2010 and 5,000 consumers in November 2009. If the rate of decline continues, 45 percent of consumers will reach for a credit card in 2010, the study said.
Moderate Spending
Consumers are spending moderately and focusing on paying down debt, resulting in decreased credit-card use, Van Dyke said. Consumer spending in the U.S. rose 0.4 percent in July and on Aug. 27 at the Kansas City Federal Reserve's annual monetary policy symposium in Jackson Hole, Wyoming, Fed Chairman Ben S. Bernanke said "consumer spending may continue to grow relatively slowly in the near term."
Revolving debt, which includes credit cards, declined $4.4 billion in July, the Fed said today.
Write-offs for loans deemed uncollectible dropped to 9.3 percent in July from 10.28 percent in June, Moody's Investors Service said Aug. 25 in a statement, the first time the rate fell below 10 percent since April 2009. Overdue loans, a signal of future write-offs, declined to 4.93 percent from 5.08 percent. Delinquencies of 30 days to 59 days, the earliest gauge of potential losses, fell to 1.22 percent from 1.25 percent.
Long-Term Shift
Another cause for reduced credit-card use is financial reform aimed at protecting consumers, which has decreased the number of new cards given and cut available spending limits, the Javelin report said. Federal legislation that limits overdraft fees, caps on fees banks charge merchants for debit-card transactions and credit-card legislation mean banks have to recoup losses and are only giving cards to the most creditworthy borrowers, the study said.
Younger people also favor debit over credit because of the immediate nature of making a payment, which means the shift to debit will be long-term, said Van Dyke. And since younger cardholders favor the convenience of debit cards, they won't turn to cash or checks, he said.
Purchase transactions generated by credit and debit cards in the U.S. totaled more than 27 billion from Jan. 1 through June 30, according to the Nilson Report, an industry newsletter in Carpinteria, California. Debit-card purchases accounted for 65 percent of all sales, up from 62.3 percent, the Nilson Report said.
Home Depot Shoppers
Shoppers at Home Depot Inc., the largest U.S. home-improvement retailer, are spending more on debit cards and less on its private-label card, according to Dwaine Kimmet, treasurer and vice president of financial services.
"People are being more cautious," Kimmet said today in an interview at the retailer's Atlanta headquarters. "They don't want to be relying on credit cards."
Home Depot said last month that its private card accounted for 21 percent of second-quarter sales, down 4 percentage points from a year earlier. Debit sales rose to 18 percent, said Kimmet, declining to specify the amount of the increase.
Prepaid Cards
Prepaid and gift cards will also become more popular as regulations lead to the end of free checking, increased fees and restructured rewards, said the Javelin report. Card issuers will market these cards to consumers who don't have bank accounts as well as college students whose parents will buy cards with spending limits, Van Dyke said. The use of prepaid cards is projected to increase to 9.3 percent of total online retail purchase volume in 2014 from 5.8 percent in 2009, the report said.
For consumers who opt to take a new credit card, the decision of which card to apply for is based primarily on annual fees, interest rates and rewards. Eighty percent of survey respondents said no annual fee was the most important factor, followed by 62 percent who said it was a low interest rate and 41 percent who cited a rewards program.
"This reinforces the trend of cautious consumers, who focus on the negative things that they have to watch out for with credit cards," Van Dyke said.