Cambridge Knocks Harvard Off Top in University League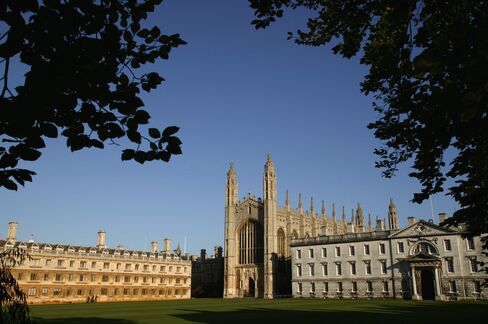 The University of Cambridge has knocked Harvard University off the top of the QS World University Rankings, as the U.K. establishment's number of academic citations rose.
Cambridge reversed places with Harvard, which had headed the list since 2004, as it was voted the best for research quality, QS, a provider of information to higher education, said in a statement. Yale retained its third place from last year.
"The surprise to some will be a U.K. institution at the top of the table instead of a U.S. institution," Ben Sowter, head of division for the QS intelligence unit and a University of Nottingham graduate, said in a telephone interview. "Cambridge has taken a good step forward in their citations per faculty measure and Harvard has taken a slight step back on their faculty-student measure, perhaps due to a well-documented hiring freeze that happened in 2008."
The QS rankings are compiled by surveying each institution's reputation among academics and employers, the proportion of international students and staff, the number of citations and the ratio of students to staff. More than 15,000 academics were surveyed.
'Excellence' of Research
"While university league tables tend to over-simplify the range of achievements at institutions, it is particularly pleasing to note that the excellence of the transformative research -- research that changes people's lives -- carried out at Cambridge is so well regarded by fellow academics worldwide," Steve Young, senior pro-vice-chancellor, said in a statement on the university's website.
It costs 3,290 pounds ($5,089) a year to study an undergraduate course at Cambridge during 2010-2011 compared with $34,976 a year at Harvard, according to each university's website.
The QS top 10 featured six U.S.-based universities and four from the U.K., with the University of Oxford in sixth place behind University College London in fourth and the Massachusetts Institute of Technology in fifth.
Switzerland's ETH Zurich was the highest placed university outside of the U.K. and U.S. in 18th place, ahead of Montreal-based McGill University and Australian National University in Canberra completing the top 20.
"Germany, Spain, Italy and France, to a certain degree, have done much better this year so we're seeing a reasonably significant step forward for continental Europe," Sowter said. "Asia, in broad terms, continues to go from strength to strength."
The University of Hong Kong was the highest-ranked Asian university, moving up a place to 23rd.
Times Higher Education will be publishing its own list of world university rankings later this month, the London-based publisher said in an e-mailed statement. The publisher said that it was QS's former partner.