Blumenthal's Hinds Head Named Michelin's U.K. Pub of the Year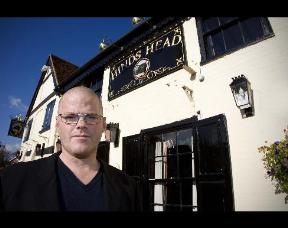 Heston Blumenthal's village inn the Hinds Head, in Bray, west of London, was today named pub of the year by Michelin, which recommended more than 500 such establishments across the U.K. and Ireland for eating out.
The Hinds Head serves traditional English fare such as pea-and-ham soup, oxtail-and-kidney pudding, and treacle tart, rather than the snail porridge and other experimental dishes for which chef Blumenthal is better known at the nearby Fat Duck.
"Our guide shows that pubs are not dying, they are merely changing," editor Derek Bulmer said in an e-mailed release. "The traditional drinking pub has undoubtedly been suffering, but those that are making efforts with their food are flourishing."
London pubs added to the guide this year include the Compass (Islington), the Fellow (King's Cross), the Green (Clerkenwell), the Cadogan Arms (Chelsea), the Canton Arms (Stockwell), the Palmerston (East Dulwich), the Larrik (Regent's Park) and the Orange (Victoria).
"Michelin's Eating Out in Pubs 2011" is priced at 14.99 pounds.
(Richard Vines is the chief food critic for Muse, the arts and leisure section of Bloomberg News. Opinions expressed are his own.)
Before it's here, it's on the Bloomberg Terminal.
LEARN MORE