Stiglitz Says Europe Made Wrong Bet With Austerity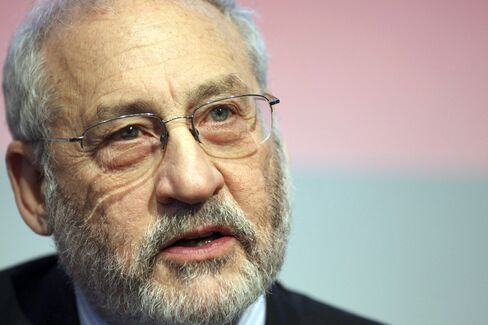 European governments made a "wrong bet" by pushing for austerity after the global recession, resulting in slower economic growth for the region and the U.S., Nobel Prize-winning economist Joseph Stiglitz said.
"Europe has made a wrong bet with austerity," Stiglitz, 67, told reporters today in Budapest. If Germany, the U.K. and France remain committed to budget cutting, "that will have systemic consequences for the entire Europe."
Europe's economy is at risk of sliding back into recession as governments reduce spending to rein in budget deficits, Stiglitz, a former chief economist at the World Bank and now a professor of economics at Columbia University in New York, said in an interview with Dublin-based RTE Radio on Aug. 24.
"A weaker Europe means the United States will be able to export less and the likelihood of an export-led U.S. recovery becomes less," Stiglitz said today. "Evidence is overwhelming that growth in the U.S. and Europe will be significantly below potential, significantly lower than the levels needed to bring down the level of unemployment."
Euro-area governments stepped up efforts to bring deficits in line with the European Union limit of 3 percent of gross domestic product after the Greek debt crisis eroded investor confidence in the single currency. While the region's economy expanded at the fastest pace in four years during the second quarter, the recovery is showing signs of weakening.
The pace of growth may not be maintained because recent "stronger-than-expected" data was partly boosted by "temporary" factors, European Central Bank President Jean-Claude Trichet said Sept. 2.
Irish Example
The ECB said last week that it expects the economy of the 16 nations sharing the euro to expand about 1.6 percent in 2010 and 1.4 percent in 2011. It previously forecast growth of 1 percent this year and 1.2 percent next.
Ireland's struggle to revitalize its economy after the country's worst recession on record shows the risks of focusing on deficits, Stiglitz said.
Standard & Poor's last month cut Ireland's credit rating to AA-, the lowest since 1995, on concern the cost of supporting the nation's struggling banks will swell the budget deficit. The government plans to narrow the gap to 3 percent of GDP by 2014 after it swelled to 14.3 percent last year, the highest in the euro region.
"The belief that markets will get new confidence has been shown wrong" by Ireland's austerity drive, Stiglitz said.