Sanofi's CEO Pitches Genzyme Investors on Takeover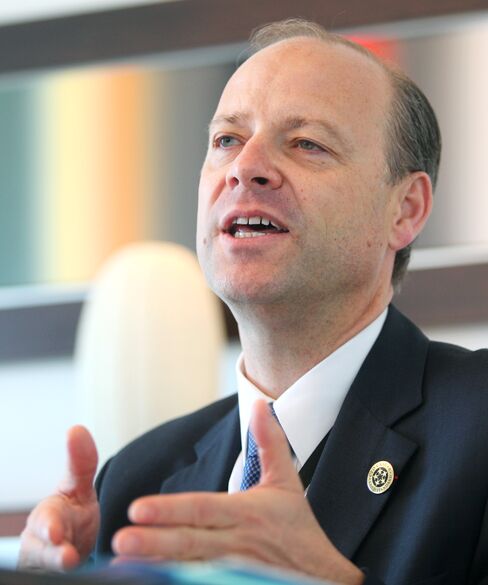 Sanofi-Aventis SA's Chief Executive Officer Chris Viehbacher took his case for a takeover directly to Genzyme Corp.'s investors in meetings in New York yesterday, according to two people who attended.
Viehbacher told investors he isn't getting feedback from Genzyme management on his Aug. 28 offer of $69 a share, or about $18.5 billion, said the people, who declined to be named because the talks were private. The CEO also said he has the full support of Sanofi's board for a deal, according to the people.
Genzyme investors had been seeking at least $80 a share, based on potential revenue growth after production deficiencies responsible for drug shortages get resolved, shareholder Lionel Melka, the chief investment officer for Bernheim Dreyfus & Co., said last week. The biotechnology company rose to $71.01 in Nasdaq Stock Market trading yesterday. That was the highest closing price since July 22, the last day of trading before Sanofi's interest was first reported.
"Due to the great interest in Sanofi-Aventis' offer, Mr. Viehbacher has decided to set aside time to meet with a selection of Genzyme shareholders to discuss the proposal while in the country for other previously scheduled meetings," Paris- based Sanofi said in an e-mailed statement.
'Fair Value'
Viehbacher said there are no ongoing talks with Genzyme's management, according to the people who attended meetings at the InterContinental hotel in midtown Manhattan yesterday. He told investors Sanofi didn't want to bid against itself without being able to conduct due diligence on Genzyme, the people said.
Genzyme has made its position known, said Bo Piela, a spokesman for the Cambridge, Massachusetts-based company. Genzyme CEO Henri Termeer said last week that he's open to selling the biotechnology company at a "fair value," and that Sanofi's $69-a-share offer isn't enough.
"You never come in first with your maximum bid," said Michael Yee, a RBC Capital Markets analyst based in San Francisco, in a telephone interview on Sept. 2. "You always think, there will be higher bids. The deal gets done."
Sanofi rose 96 cents, or 2.1 percent, to 47.79 euros at 5:39 p.m. Paris time. The stock has gained 5 percent since its interest in Genzyme was made public, compared with an 8 percent advance in the Bloomberg Europe Pharmaceutical Index.
Genzyme fell 54 cents to $70.47 in Nasdaq Stock Market composite trading at 4 p.m. New York time.
Orphan Drugs
Genzyme is the world's largest maker of medicines for genetic diseases, and its products are less likely to face generic competitors because they're made from living cells and are harder to copy than traditional pills made from chemical compounds. The therapies are designated as orphan drugs by the FDA because they are for diseases without other treatment options, giving them added patent protection.
Sanofi hadn't ruled out the possibility of a hostile bid for Genzyme, with no competing offers for the U.S. company, one person familiar with the negotiations said on Aug. 25. The French company hasn't started a so-called due diligence review of Genzyme, the person said at the time.
"Sanofi isn't going away," said Sven Borho, a partner with OrbiMed Advisors in New York, in an Aug. 25 interview. OrbiMed holds about 2.5 million Genzyme shares.
Before it's here, it's on the Bloomberg Terminal.
LEARN MORE