Samsung May Use Android in TVs to Fight Sony, Apple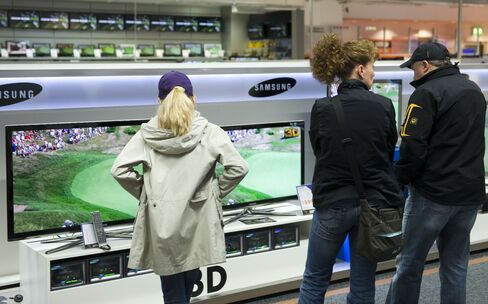 Samsung Electronics Co., the world's largest television manufacturer, may make sets run by Google Inc.'s software to compete with Sony Corp. and Apple Inc. in the market for TVs that access movies, shows and games online.
"We will have to see, but we are reviewing" whether to use Google's Android operating system, Yoon Boo Keun, head of Samsung's TV business, told reporters today on the sidelines of a forum in Seoul. A key question is whether South Korean movie, TV and music providers will cooperate with Google, he said.
Samsung's lead position as a TV maker may come under threat as viewers seek models that allow them to buy third-party video games and programs that do anything from forecasting the weather to measuring the string tension of a tennis racket. Apple fueled its expansion into music players and phones by developing the iTunes software that made it easier to buy and organize songs, TV shows and games and is expanding the model to television.
Google is taking on Apple partly by developing Android as an operating system that will work with Google TV, which is being developed with Sony and Intel Corp. Mountain View, California-based Google originally developed Android as an operating system for phones that can surf the Internet.
"Android's share in the smartphone market is increasing, so if you want to strengthen your product line-up, it's an operating system that you would normally want," said Jin Sung Hae, a Seoul-based analyst at Hyundai Securities Co.
Apple's $99 Box
Samsung Electronics rose 1 percent to close at 788,000 won in Seoul trading, trimming its decline this year to 1.4 percent.
Apple released a $99 TV set-top box earlier this month that delivers movie and TV show rentals from the Internet. The company has about 250,000 apps available, compared with about 70,000 for Google's Android operating system.
Sony in May unveiled the prototype of a TV set that will deliver video and music over the Internet in partnership with Google. The TVs are expected in stores by Christmas.
Samsung, which uses its own Bada operating system as well as Android for its phones, is also developing an operating system that can be used for both phones and TVs, Yoon said.
Apple TV will rent high-definition TV programs for 99 cents and first-run movies for $4.99 and will work with Netflix Inc.'s online service, Apple's Chief Executive Officer Steve Jobs said last week. To provide the TV rental service, Apple struck deals with Walt Disney Co.'s ABC and News Corp.'s Fox, Jobs said.
'War Clouds'
Yoon said competition among TV makers in the market for such TVs will probably peak in 2012. He spoke after a government-sponsored forum on how South Korean companies should prepare for the race to win a slice of the global next-generation TV market.
"It's a situation where war clouds hang over the market, with the fate of the nation and companies at stake," Choi Pyeong Rak, president of Korea Electronics Technology Institute, said during the forum.
Sales of Web-connectable TVs will increase about sixfold to 87.6 million sets between 2009 and 2013, according to forecasts by ISuppli Corp.
About 50 percent of Samsung's 3-D TVs offer Web-browsing features, and the portion will increase in coming years, Yoon said. Samsung will likely meet its sales target for TVs this year and will roll out more lower-priced 3-D TVs next year, he said.
Samsung aims to sell 35 million liquid-crystal-display TVs and 4 million plasma TVs this year, including more than 2 million sets that offer 3-D features. The company, which started offering 3-D sets in the U.S. in March, sold more than 1 million units by Aug. 31, giving it an 88 percent share of the U.S. 3-D TV market.
Profit at Samsung's digital media division, which makes TVs, fell 69 percent from a year earlier to 360 billion won ($306 million) during the second quarter.
Pavel Alpeyev in Tokyo at palpeyev@bloomberg.net
Before it's here, it's on the Bloomberg Terminal.
LEARN MORE