Morgan Stanley Cuts Dollar-Euro Forecast on Fed Easing Policy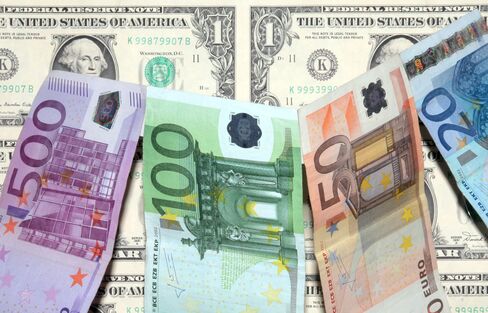 Morgan Stanley cut forecasts for the dollar against the euro, citing the increasing likelihood of the Federal Reserve further easing monetary policy.
The euro will end the year at $1.36 before weakening to $1.32 in the first quarter of 2011, $1.28 in the second quarter, $1.26 in the third quarter and $1.24 in the fourth quarter, Morgan Stanley currency strategists led by Stephen Hull in London, wrote in a research report today. The bank previously forecast a decline to $1.16, then $1.12, $1.12, $1.14 and $1.17 in the following quarters, according to Bloomberg data.
"We expect that any further easing in U.S. monetary policy is likely to benefit the euro primarily, as many of the obvious currencies to own -– commodity currencies and those with strong domestic balance sheets -– are already very expensive," Hull wrote.
The euro was 1.1 percent weaker at $1.2735 as of 3:51 p.m. in London.
Before it's here, it's on the Bloomberg Terminal.
LEARN MORE