Luzhkov Crowds Out Putin Bonds With Higher Yield: Russia Credit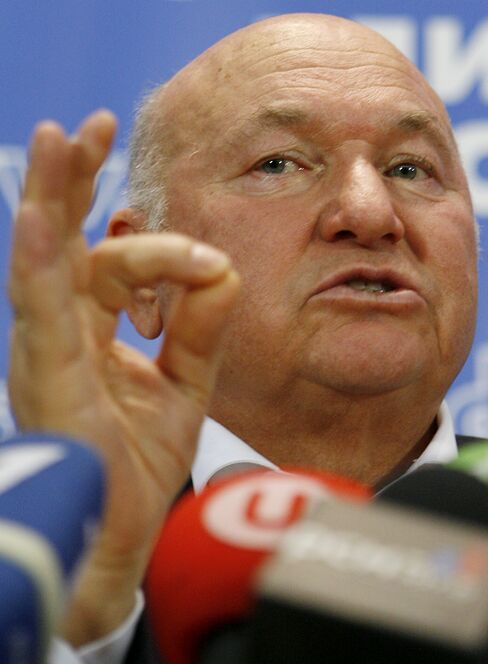 Moscow's first bond sale in five months is luring investors away from the Russian government's second-biggest debt auction on record by providing higher yields.
The city is selling 9.7 billion rubles ($315 million) of bonds due 2022 today at yields as high as 7.95 percent, or 27 basis points more than the same securities in the market as of Sept. 6. The sale comes the same day as Russia is offering 65 billion rubles of federal notes, or OFZs, at a maximum yield premium of 5 basis points over market rates, or 7.45 percent for 2016 bonds and 6.23 percent for 2013s. The city and nation have the same Baa1 rating from Moody's Investors Service.
While Mayor Yuri Luzhkov's administration has stayed out of the bond market since April to cut borrowing, Prime Minister Vladimir Putin's government is stepping up issuance after falling behind on its debt plan. Russia has raised 23 percent of the 1.2 trillion rubles targeted for this year to finance the country's budget deficit, according to data from the central bank. The government offered a record 75 billion rubles of OFZs last week and raised 16 percent of that amount.
"We'll be looking more at Moscow rather than OFZs," said Alexander Ovchinnikov, a vice president of global markets at Troika Dialog in Moscow, Russia's oldest investment bank, which buys both Moscow and OFZ debt on behalf of clients. "Moscow is an attractive investment while the case for the OFZ market is not so clear."
Tax Revenue
Investor confidence in Luzhkov's administration is improving as increased receipts from corporate taxes helps reduce borrowing. Company tax revenue will be at least 50 billion rubles more than budgeted in 2010, enabling the city to take on 40 billion rubles less debt than the 146 billion rubles planned, Sergei Pakhomov, chairman of Moscow's Debt Committee, said in an interview on Aug. 10. Moscow has raised 39.4 billion rubles through debt sales this year and plans 30 billion rubles of debt auctions this month, Alexander Kovalenko, first deputy head of Moscow's debt committee, said in an interview last week.
A rally in Moscow's ruble bonds due 2022 lowered the yield to 7.68 percent on Sept. 6, from as high as 8.6 percent in May. Moscow is offering 9.7 billion rubles of the 2022 notes at a yield of 7.85 to 7.95 percent, and 10 billion rubles of 2018 bonds yielding between 7.45 and 7.65 percent in today's auction, Kovalenko said.
"The investor base is generally similar" for OFZs and Moscow city bonds, said Alex Ermak, a senior fixed-income analyst in the treasury department of OAO Sberbank in Moscow, Russia's largest lender. "Demand for Moscow bonds will likely be higher because they are offering a substantial premium."
Plugging Deficit
Moscow, Europe's largest city, with 10 million people, has total debt of 311.5 billion rubles, data compiled by Bloomberg show. The city's income per capita is triple the national average, according to Fitch. Russia's capital receives 40 times more revenue than the southern republic of Ingushetia, the country's poorest region, Deputy Finance Minister Anton Siluanov said Aug. 20.
Putin's government is issuing debt to plug a budget deficit the government said in June could reach 5.4 percent of gross domestic product this year, after the economy shrank by a record 7.9 percent in 2009.
The Finance Ministry offered the most bonds last week since the central bank began collating data on government debt auctions in 2003. The government this week published guidance on the yields bondholders should expect at its auction for the first time. It will offer 40 billion rubles of 2016 bonds at a yield of 7.35 to 7.45 percent and 25 billion rubles of 2013 notes yielding between 6.16 and 6.23 percent, the Finance Ministry said in a statement on its website dated Sept. 6.
OFZs due August 2016 yielded 7.4 percent and federal bonds maturing in January 2013 yielded 6.18 percent, according to Bloomberg data on Sept. 6.
Ruble, NDFs
Deputy Finance Minister Dmitry Pankin and Konstantin Vyshkovsky, head of the Finance Ministry's debt department, weren't available to comment when contacted at their offices in Moscow yesterday.
The ruble retreated 0.7 percent to 30.8300 per dollar yesterday. Non-deliverable forwards, or NDFs, which provide a guide to expectations of currency movements and interest rate differentials and allow companies to hedge against currency movements, show the ruble at 31.0512 per dollar in three months.
The yield on Russia's dollar bonds due in 2020 rose 4 basis points to 4.65 percent, the highest since Aug. 31. The price of country's ruble notes due November 2014 was unchanged, leaving the yield at 6.85 percent.
Default Swaps
The cost of protecting Russian debt against non-payment for five years using credit-default swaps rose 4 basis points to 166, according to data provider CMA. The contracts pay the buyer face value in exchange for the underlying securities or the cash equivalent should a government or company fail to adhere to its debt agreements.
Russia credit-default swaps cost the same as the contracts for Turkey, which is rated four levels lower at Ba2 by Moody's. Russia swaps cost as much as 40 basis points less on April 20.
The extra yield investors demand to hold Russian debt rather than U.S. Treasuries rose 11 basis points to 224, according to JPMorgan Chase & Co.'s EMBI+ Indexes. That compares with 161 for debt of similarly rated Mexico and 217 for Brazil, which is rated two steps lower at Baa3 by Moody's.
The so-called yield spread on Russian bonds is 63 basis points below the average for emerging markets, down from a 15-month high of 105 in February, according to JPMorgan Indexes.
Floating Rate
Standard & Poor's rates Moscow's long-term local-currency debt BBB, one step below Russia's BBB+ ranking.
Moscow's bonds due November 2018 have a floating coupon rate that's calculated from an equation that includes the central bank's seven-day repurchase rate, the three-month MosPrime rate and a spread set at 2 percent for the first three years, according to Dmitry Dudkin, head of fixed-income research at Moscow-based investment group UralSib Financial Corp.
"The floating rate on the eight-year is a little bit complicated," said Eugene Belin, head of fixed income at Citigroup Inc. in Moscow. Citigroup is sticking to OFZs that mature in no more than three years, Belin said. "We're much more interested in the short-end of the curve," he said
Demand for OFZs that mature in three years or less has exceeded bonds with longer maturities in the past three weeks of auctions, according to central bank data. Concern about quickening inflation over the next few years is spurring investors to shy away from longer-maturity government debt, Belin said. The Economy Ministry last week raised its forecast for inflation this year to as much as 8 percent from as little as 6 percent, as the country's worst drought in at least 50 years boosts food prices.
Cheaper Costs
"We like OFZs for better liquidity and also it is good that they are offered in different maturities, including the short end," said Elena Kolchina, head of fixed-income products at Renaissance Asset Management in Moscow. "Most investors are still conservative and prefer the short end."
Paul McNamara, a fund manager at London-based Augustus Asset Managers Ltd., said he'll be buying Moscow's bonds because they're cheaper to buy and sell. Russian sovereign bonds, including OFZs, are settled on the country's Micex exchange, whereas Moscow debt can be settled free of payment, he said.
"Moscow has always been the default holding for foreigners, it's one of the only ways we can buy in to Russian high quality paper," McNamara said in a phone interview. "Moscow is the most prosperous part of Russia so it's a good second best."