Foster's Gains After Rejecting $2.5 Billion Wine Bid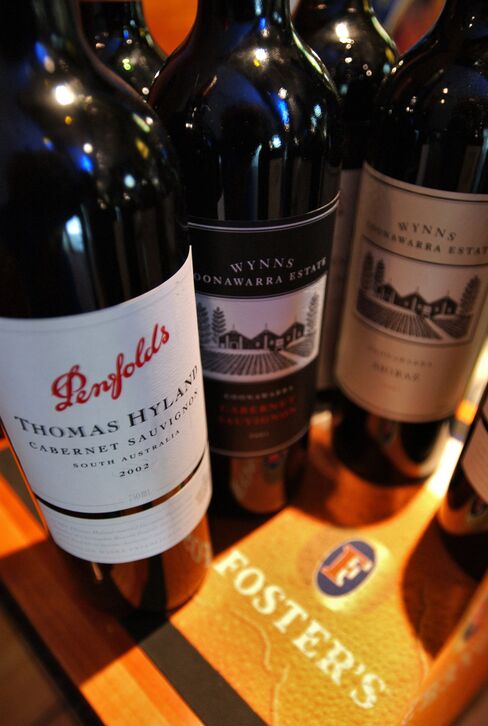 Foster's Group Ltd. rose to the highest in two and a half years in Sydney trading on speculation suitors will raise bids for its wine unit after the company rejected an offer worth as much as A$2.7 billion ($2.5 billion).
The world's second-largest winemaker gained 4.4 percent to A$6.34 in Sydney trading, the highest intraday price since Jan. 14, 2008.
Foster's, also Australia's biggest brewer, may spin off its wine business next year after A$2.7 billion of writedowns in the past decade almost halved the unit's book value to about A$3.1 billion amid grape gluts and a rising Australian dollar. News reports have linked the company to potential offers from London- based SABMiller Plc., Japan's Asahi Breweries Ltd., as well as China's Tsingtao Brewery Co. and Bright Food Group Co.
"You may well see higher bids come through," said Will Seddon, who helps oversee A$350 million at White Funds Management in Sydney, including Foster's shares. "It's a positive in that there is interest in the wine business as well as the beer business."
The board considered the "indicative, non-binding" cash offer worth between A$2.3 billion and A$2.7 billion from an "international private-equity firm" before saying it will pursue existing plans to split the beer and wine assets into separate companies in 2011, Melbourne-based Foster's said in a statement today. It didn't say who made the bid.
Brand Valuations
The Foster's wine business owns labels such as Beringer of Napa Valley and Penfolds of Australia, selling 36 million cases of wine a year to generate A$1.9 billion in revenue.
"The board's rejection of the bid proposal supports our view that it will not divest the wine business for less than book value," Andy Bowley, an analyst at Citigroup Inc., said in a note to clients today. "Significant intangible assets remain on the balance sheet in the form of brand valuations," said Bowley, who rates the stock "hold."
Today's gain boosted the climb in Foster's shares this year to 15 percent, compared with a 6.8 percent slide for the benchmark S&P/ASX 200 Index.
Chief Executive Ian Johnston announced plans for the split in May, betting that separate companies would be more valuable to investors.
Victoria Bitter
On Aug. 22, the Sunday Times reported SABMiller may make a 7 billion pound ($11 billion) bid for the Carlton & United Breweries division, which makes Victoria Bitter, Australia's most popular beer.
The company's wine business may be worth as much as A$4 billion given its brands, vineyards and inventory, analysts at Morgan Stanley said in a May 31 report.
At A$2.7 billion, the offer values Treasury Wine at 12.2 times earnings before interest, tax and accounting adjustments for vineyards and inventory in the 12 months through June. At current prices, Foster's is trading at about 11 times earnings.
The offer for the wine unit "significantly undervalues Treasury Wine Estates and its future prospects," Foster's said today. "The board will continue to consider any proposal that is in the best interests of shareholders."
Troy Hey, a Melbourne-based spokesman for Foster's, declined to identify the buyout firm, citing confidentiality agreements. He spoke by telephone today and declined to comment further.
Stalling Beer Demand
The beverage maker began building its wine business in 1996 as part of an A$7 billion expansion as it sought new growth to limit the impact of stalling Australian beer demand.
Foster's has written the business down as profit margins narrowed. That includes a A$1.2 billion charge taken this year when Johnston announced plans for the spinoff.
Foster's made its first wine acquisition in 1996 with the A$482 million purchase of Mildara Blass Ltd. It paid A$2.7 billion for California's Beringer Wine Estates Holdings Inc. in 2001, and its A$3.2 billion purchase of Southcorp Ltd. in 2005 cemented its ranking as the world's second-biggest winemaker.
Victor, New York-based Constellation Brands Inc. is the world's largest winemaker by sales.