European Stocks Fall on Debt Concern; Banks, Mining Shares Drop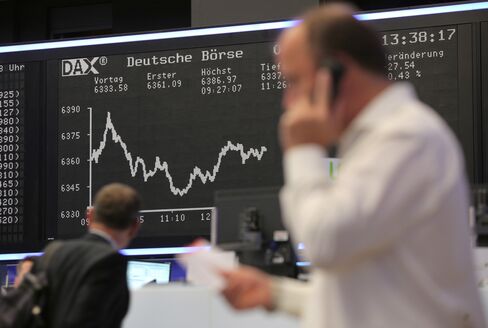 European stocks retreated from a four-week high, led by declines in financial shares, on lingering concern that the sovereign-debt crisis will hold back the global recovery.
Societe Generale SA and Banco Santander SA fell more than 2 percent, leading banking shares lower. BHP Billiton Ltd. and Rio Tinto Group slipped at least 1.4 percent as Australian Prime Minister Julia Gillard clinched a deal to keep power. Nokia Oyj rallied 4.5 percent as Morgan Stanley upgraded the stock.
The Stoxx Europe 600 Index lost 0.5 percent to 259.76 at the 4:30 p.m. close in London, as about five stocks fell for every one that gained. The gauge, which advanced the most since July last week as reports showed accelerating growth in U.S. and Chinese manufacturing and increased hiring by American companies, is 4.6 percent below this year's high on April 15.
"Investors will keep worrying about a possible double dip in the next few weeks," said Michael Koehler, head of strategy at Landesbank Baden-Wuerttemberg in Mainz, Germany. "Until we see if we keep getting better fundamental data, setbacks are not unlikely. Banks still face problems in regards to their capital ratio, which will weigh on sentiment for financials in the next couple of days."
German Factories
A government report today showed German factory orders unexpectedly fell in July as demand in the euro region weakened. Earlier, Australia's central bank extended its pause in raising interest rates as concern that the global economic recovery may falter trumped evidence of an accelerating expansion at home.
National benchmark indexes retreated in all of the 18 western European markets except Iceland and Denmark. France's CAC 40 fell 1.1 percent and the U.K.'s FTSE 100 lost 0.6 percent. Germany's DAX Index slipped 0.6 percent.
BNP Paribas SA and Societe Generale, France's biggest banks, lost 2.2 percent to 52.73 euros and 3.9 percent to 42.61 euros, respectively. The Basel Committee on Banking Supervision is readying new capital and liquidity rules for world leaders to agree upon when the Group of 20 meets in Seoul in November.
A default by Greece could trigger the collapse of banks with large sovereign-bond holdings, says Konrad Becker, a financial analyst at Merck Finck & Co. in Munich. "A default by one EU country would lead to an evaporation of trust in banks," he said. "If investors aren't willing to invest in banks anymore, then many banks will go bust in months, not years."
Greece, Spain
National Bank of Greece SA, the nation's biggest bank, fell 7.1 percent to 10.46 euros, driving the benchmark ASE Index down 3.3 percent, the biggest fall among 18 western European markets. EFG Eurobank Ergasias, the second-largest Greek lender, lost 7.1 percent to 5.35 euros.
Spain's Banco Bilbao Vizcaya Argentaria SA declined 2.2 percent to 9.76 euros, while Banco Santander, the nation's biggest lender, retreated 1.7 percent to 9.64 euros. Spanish Finance Minister Elena Salgado said her government may support a levy on banks, El Economista reported. Spain's IBEX 35 Index lost 1.4 percent.
Barclays Plc fell 2.7 percent to 314 pence. Britain's third-largest bank named President Robert Diamond chief executive officer, succeeding John Varley.
Diamond, 59, will become deputy CEO next month before Varley steps down at the end of March, the lender said in a statement today. Jerry del Missier and Rich Ricci will become co-CEOs of the investment banking unit that Diamond oversaw.
Allied Irish Banks Plc and Bank of Ireland Plc lost 5.8 percent to 76 euros cents and 5.9 percent to 72 euro cents, respectively. The Irish lenders had their ratings cut to "neutral" from "outperform" at Dublin-based securities group Davy, which cited concerns over whether the government bank guarantee will be extended.
Minority Government
BHP Billiton, the world's largest mining company, dropped 1.4 percent to 1892.5 pence, while Rio Tinto, the third-biggest, slid 1.8 percent to 3,447.5 pence. Gillard is set to remain as Australia's first female prime minister as two independent lawmakers agreed to support her minority government after the closest election in 70 years.
Gillard's government is "determined" to press ahead with its election promise to introduce a mine profit tax in Australia, Treasurer Wayne Swan said. "That's a commitment that we have made and we are working through that," he said at a media conference in Canberra.
London Stock Exchange Group Plc slid 1.9 percent to 681.5 pence. Xavier Rolet, chief executive officer of LSE, said the outlook for trading volume remains "quite subdued." Rolet was speaking in an interview on Bloomberg Television's 'On The Move' with Francine Lacqua.
Return Cash
Infineon Technologies AG, Europe's second-largest chipmaker, tumbled 3.6 percent to 4.33 euros amid concern the company is not planning to return cash to shareholders.
"In the last week investors speculated they would receive cash from the sale of Infineon's wireless unit and now nobody knows what the company will do with the money," said Andreas Lipkow, an equity trader at MWB Fairtrade Wertpapierhandelsbank AG in Frankfurt. "Management hasn't given much information."
Infineon last week agreed to sell its wireless unit to Intel Corp. for about $1.4 billion.
Nokia surged 4.5 percent to 7.50 euros, its biggest rally since May 10, as the largest maker of mobile phones was raised to "overweight" from "underweight" at Morgan Stanley.
"Nokia's next flagship product, the N8, is off to a good start," London-based analysts Patrick Standaert and Ashish Sinha wrote in a report today. "The N8 could help Nokia deliver on its traditional fourth-quarter market share regain."
Merger Talks
British Airways Plc gained 2.8 percent to 227 pence as Chief Executive Officer Willie Walsh said he would resume merger talks with Qantas Airways Ltd. if the Australian company was interested, the Australian Financial Review reported. Still, there wasn't "any evidence" that Qantas Chief Executive Officer Alan Joyce wanted to pursue a deal at this stage, Walsh said in an interview with the newspaper.
Micro Focus International Plc soared 5.6 percent to 334.5 pence as the U.K. business software maker said it appointed Mike Phillips as chief financial officer with immediate effect.
De La Rue Plc, the world's biggest printer of banknotes, fell 3.2 percent to 682 pence, the lowest level since 2005. The company signaled a breach in banknote paper quality will clip first-half pretax profit by at least 35 million pounds ($53 million).
Before it's here, it's on the Bloomberg Terminal.
LEARN MORE